All set? 
Start your Twitter Ads campaign
Bidding and auctions FAQs
There are 3 key components to how much you pay for Twitter Ads. Read on to learn how auctions, ad score, and bidding works. 
The Twitter Ads auction
Twitter Ads serve using an auction, where advertisers bid against each other to have their ads shown to the audience they're targeting. Unlike a traditional auction, Twitter Ads auctions consider not only the price the advertiser is willing to pay, but also the quality of the ad. Each time your ad wins an auction, it will serve once to a person on Twitter. We call this "an impression". 
Your ads will automatically enter the auction once your campaign is running, and the auctions your ads enter are determined by the targeting criteria for your campaign. For example, if you target the interest "basketball", your ads will compete in auctions to serve to people on Twitter who are interested in basketball. Our auction algorithm will compare your ad to other ads which are also targeting that interest, and the ad that wins the auction will be shown to that person.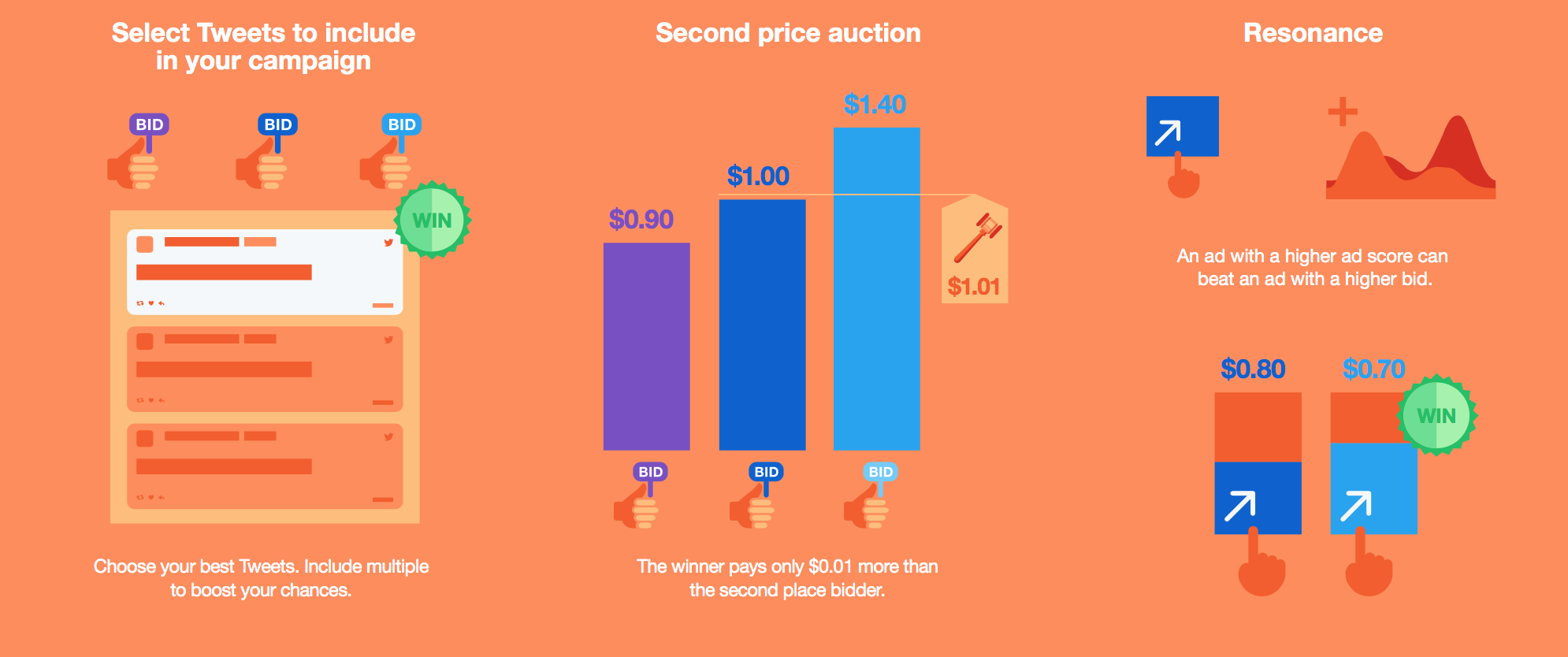 If the person who sees your ad performs the billable action of your campaign (i.e. clicks on your ad), Twitter will charge you for that action using what we call a second price auction model. This model ensures that you will only ever pay incrementally more than needed for your ad to beat out the second place ad in the auction. For example, if you bid $1.40 and beat an otherwise identical ad bidding $1.00, your campaign will be charged $1.01 if the person it was shown to makes the billable action.
Remember, if a person does not take the billable action, you are not charged for the impression.
Ad score
It's important to have competitive bids so your ads can compete with other advertisers and serve to people on Twitter.
However, your bid is not the only thing taken into account in the auction. The quality of your ad is equally important.
Each ad that you create will be given a "quality score", which is used along with your bid to compete in auctions. Quality score is determined by taking factors into account such as: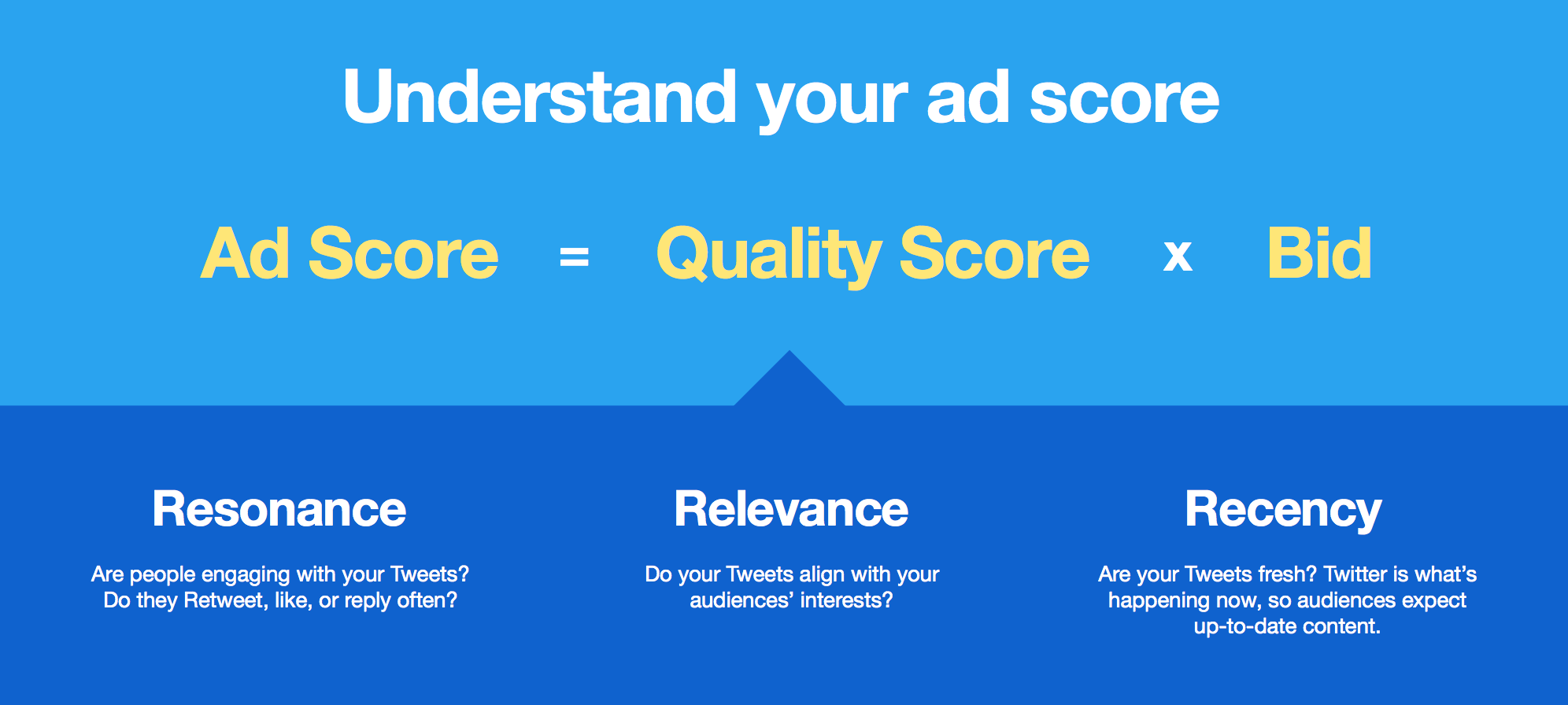 Resonance: Are people engaging with your ad? Do they click, like, and/or Retweet it often?
Relevance: Do your Tweet content align with your audience's interests?
Recency: Are your Tweets fresh? Twitter is what's happening now, so our auctions reward up-to-date content.
To win auctions and maximize your campaign's success, your ads must have both a good quality score and bid. We call this combination your "ad score," which is what determines who wins the auction and serves ads on our platform.
Find helpful tips on how to Tweet the best content and maximize your ad score. 
Bidding on Twitter Ads
We have 3 bid types on Twitter Ads; which one you select will be based on your goals:
Automatic bid
Automatic bid type is designed to auto-optimize your bid to maximize results at the lowest price (within your budget). We recommend this bid type for new advertisers. Instead of having to set your bid yourself, your bid will be chosen on your behalf to ensure competitive serve within the auction. Automatic bid is the easiest way to quickly get your campaigns live and serving impressions on the platform.

Maximum bid
Maximum bid type allows greater control over how much you pay per billable action. In this bid type you choose exactly how much you're willing to pay for a billable action (your maximum bid), and your results will not be charged over this price. This bid type is helpful for experienced advertisers who know exactly how much they're looking to pay per billable engagement at scale.

Target bid
Target bid type is an option in our Follower and Website clicks and conversion campaign objectives, where you can name the bid you'd like to pay per billable action. Your campaign will then auto-optimize your bids to achieve a daily average cost that meets or beats your target. You will pay the actual average cost for all link clicks in a day. If you change your bid over the course of a day, it will average to the highest cost you set.


We provide real-time suggestions on what other advertisers are bidding during your campaign setup, so you'll always be able to set a competitive bid (if you're using maximum or target bid type). You will not need to set your bid if you choose the automatic bid type.

Bidding and auctions FAQ's