Promote your website on Twitter
Follow these quick tips to create a Twitter Ads campaign that will increase traffic to your website and encourage visitors to act once they get there.

Website Cards are the best way to bring traffic from Twitter to your website. Promoted Tweets with Website Cards have 43% higher engagement rates than Tweets with links*.

To take the steps outlined below, visit ads.twitter.com, select Create new campaign in the top right hand corner, and then choose Website clicks or conversions from the dropdown list. This gives you a purpose-built workflow to build a campaign with Website Cards.
Once your campaign is live, we'll bill you on a cost-per-link-click (CPLC) basis, so you pay only when users click through to your website.

Design a Website Card
The first step in creating your campaign is building a Website Card. This can include copy, an image, and a headline. Take time to consider each element.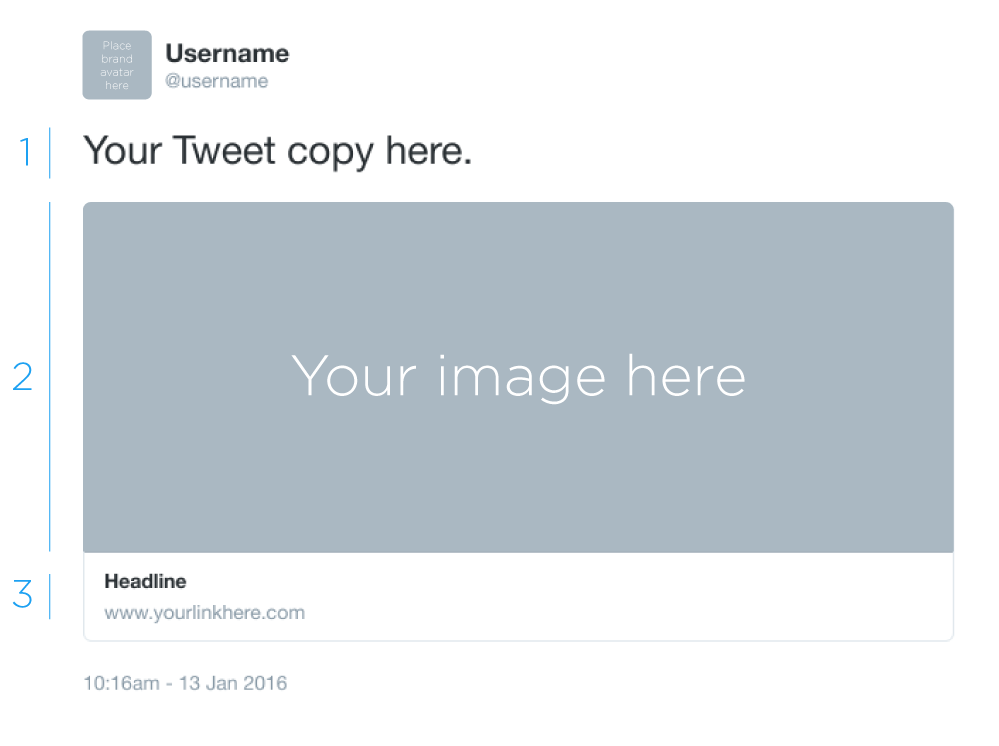 In your Tweet copy, highlight your products or services and give people a reason to visit your website.


Add an eye-catching lifestyle or product image to make your Tweet stand out.


Include a brief description in your headline text and add the URL for your website.

Choose your audience

Who is your audience and what do they care about? Twitter Ads enables you to do highly targeted marketing, narrow your campaign's focus and reach a receptive audience. 
Focus on specific audiences
Twitter Ads campaigns work best when you choose one type of audience targeting for each campaign. This makes it easier to track and test what works, and fix what doesn't.
Try follower targeting
Use this to reach lots of interested people at once. These could be Twitter users who follow your competitors, relevant media outlets or industry thought leaders.
Split campaigns between desktop and mobile
People's behavior varies by platform. Target desktop and mobile separately using device targeting to understand your audience better.

Manage the cost of your campaigns

Use automatic bidding
Twitter Ads is based on a pay-per-link-click model. We usually advise businesses to use our automatic bidding function.
This means our system automatically optimizes your bid to give you the best results at the lowest price (within your budget.) That's the price you pay when a Twitter user clicks on the link to your website.
Automatic bidding takes out the guesswork and helps to simplify the bid process.

Track traffic and conversions

Website tags are little snippets of code you (or your web developer) can place on your website to track how many visitors you get from Twitter. They also help you track your conversions, which could be purchases, downloads or sign-ups.

Run smart campaigns
When you understand how many visitors convert, you can assess the return on investment of your campaigns. Without clear online conversion tracking, you're running campaigns in the dark.
Website tags work
Campaigns with active Twitter website tags see higher conversion rates (+55%) and lower costs-per-acquisition (-29%) than Twitter Ads campaigns without the tag.**
Learn more about website tags and online conversion tracking.
+55%
---
higher conversion rates
-29%
---
lower costs-per-acquisition
Twitter campaign checklist
Have you made a Website Card and checked all elements are in place?
Have you chosen one type of audience targeting for each campaign?
Have you set up automatic bidding?
Have you set up a website tag?
*Twitter internal data
**On average, based on analysis of Twitter internal data, 2015