Ready to go?
Start your campaign.
Tailored Audiences from web
How it works
Tailored audiences from Web is powered by the Twitter website tag, a snippet of code that you place on pages of your website. Once placed, the website tag begins to collect the cookie IDs of visitors and matches them to Twitter users. Once an audience has been created in that manner, you can set up Twitter Ads campaigns targeted to these recent website visitors. We recommend waiting at least one week after installing your website tags before attempting to run any campaigns.

The code should most often be placed on a portion of your site that sees significant traffic — your homepage or a key landing page, for example. Place it between the <body> and </body> dividers on the desired web page. Learn how to set up the Twitter website tag on our Web conversion tracking page.
Create your Tailored Audience from web
Once you have the Twitter Website tag placed on your website, you can create your Tailored Audience from web in the Audience manager. 
In Audience manager choose the "Create new audience" < "Make a tag to collect website visitors" option.
Name your audience. 
Choose between Universal Website Tag or Single Event tag, whichever you have installed on your website. 
Specify the URL conditions you'd like to collect your audience from. We recommend choosing the "URL contains" option, as "Exact URL" is case sensitive.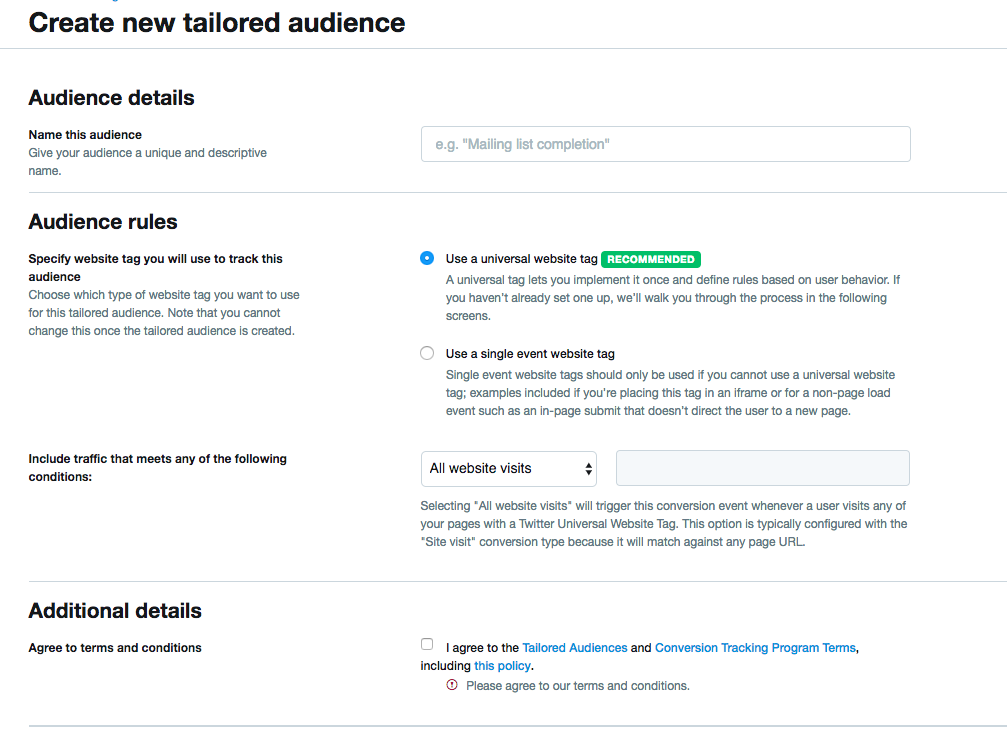 For example, if you want to collect a Tailored audience of users who have completed a purchase on your website, make the URL conditions tailored to the redirect of your successful purchase page. If a user is brought to a page containing "thank-you" in the URL after purchasing, you could make your URL conditions "URL contains: thank-you". 


After you've created your URL conditions, agreed to the Tailored Audiences and Conversion Tracking Program Terms, including this policy, the Audience will be created.
From then on, everytime a Twitter user fulfills the URL conditions you specified, they will be added to your Tailored Audience. Please note that users are not retroactively added to your web Tailored Audience. 

Until your Tailored Audience from web has collected 100 Twitter users, it will show as "Audience too small" in your Audience manager. Your Audience will change to "Ready" once it's large enough, after which you can use it for targeting in campaigns. 

Remember, 100 Twitter users must fulfill the URL conditions you set up in your Web tailored audience in order to retarget to them. We don't retroactively add users to your Web TA, they will only be added if they've fulfilled the action after TA creation.
Using your Tailored Audience from web
Once your audience has collected 100 users and shows as "Ready," you can select it to target in campaigns.
To target the users on your Tailored Audiences within your campaign, navigate to the Targeting section of campaign setup. 
Click "Browse" next to each audience type to find and select the Tailored Audience you want to target. 
Keep in mind that even though all Tailored Audiences show up, only those in "Ready" serving status will properly target users in your campaign.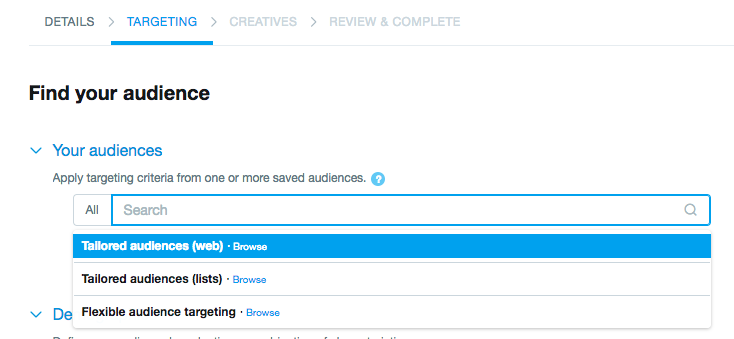 You can also choose to "Add" or "Exclude" the users on your Tailored Audiences:
Add: The users on your Tailored Audience will be served the Tweets in your campaign, if they meet the Geo, Gender, Age, and Device targeting criteria specified in your campaign
Exclude: The users on your Tailored Audience will NOT be served the Tweets in your campaign, even if they meet the other criteria in your campaign