Create a website traffic campaign

Website traffic campaigns are optimized to drive traffic and generate conversions on your website from posts targeted to specific audiences.
This campaign objective was previously known as the website clicks campaign objective.
Setting up your website traffic campaign
1. Log into your X Ads account
2. Click "Create campaign" in the top-right corner of your Ads Manager
3. Choose "Website traffic" from the list of campaign objectives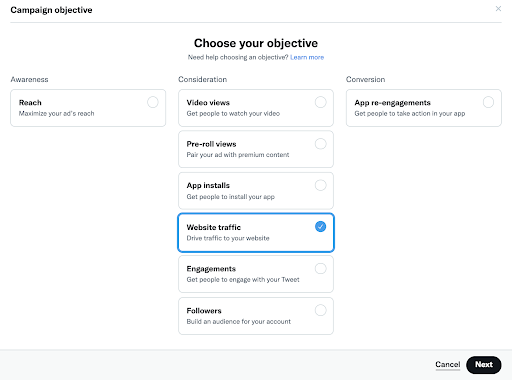 4. You'll be brought to the "Details" tab the campaign setup form. Here you will name your campaign, choose your funding source, and set campaign dates and budget
5. Setup your first ad group. You can also set ad group start and end time
6. Select one of the Ad group goals:
Link clicks: You ads will be shown to people most likely to click on them
(New!) Site Visits: Your ads will be shown to people most likely to visit your website
Conversions: Your ads will be shown to people most likely to take action on your website based on the key conversion event you specify.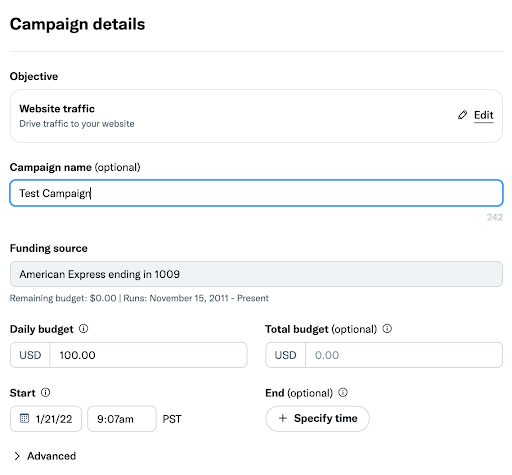 Note: For Site Visits and Conversions ad group goals, you will need to set up the the X Pixel and create events for the action(s) you want us to prioritize. If you do not have these set up, the prompts within the Ads Manager interface will guide you to complete setup to launch your Conversions campaign through Events Manager (Previously Conversion Tracking).
7. Select the bid type you'd like to use in your Ad group: 
Autobid (recommended): your bid will auto-optimize to get the best results at the lowest price (within your budget). Automatic bid is the easiest way to quickly get your campaigns live and serving impressions on the platform
Target cost: you can name the bid you'd like to pay per link click. Your campaign will then auto-optimize your bids to achieve a daily average cost per link click that meets or beats your target. You will pay the actual average cost for all link clicks during the day. If you change your bid over the course of a day, it will average to the highest target cost you set.
Maximum bid: this type allows greater control over how much you pay per link click or site visit (when using Site Visits Optimization). In this bid type, you can choose how much you are willing to pay for an action. Our system will work to keep your cost low, while staying within range of your bid. This bid type is helpful for experienced advertisers who know exactly how much they're looking to pay per link click at scale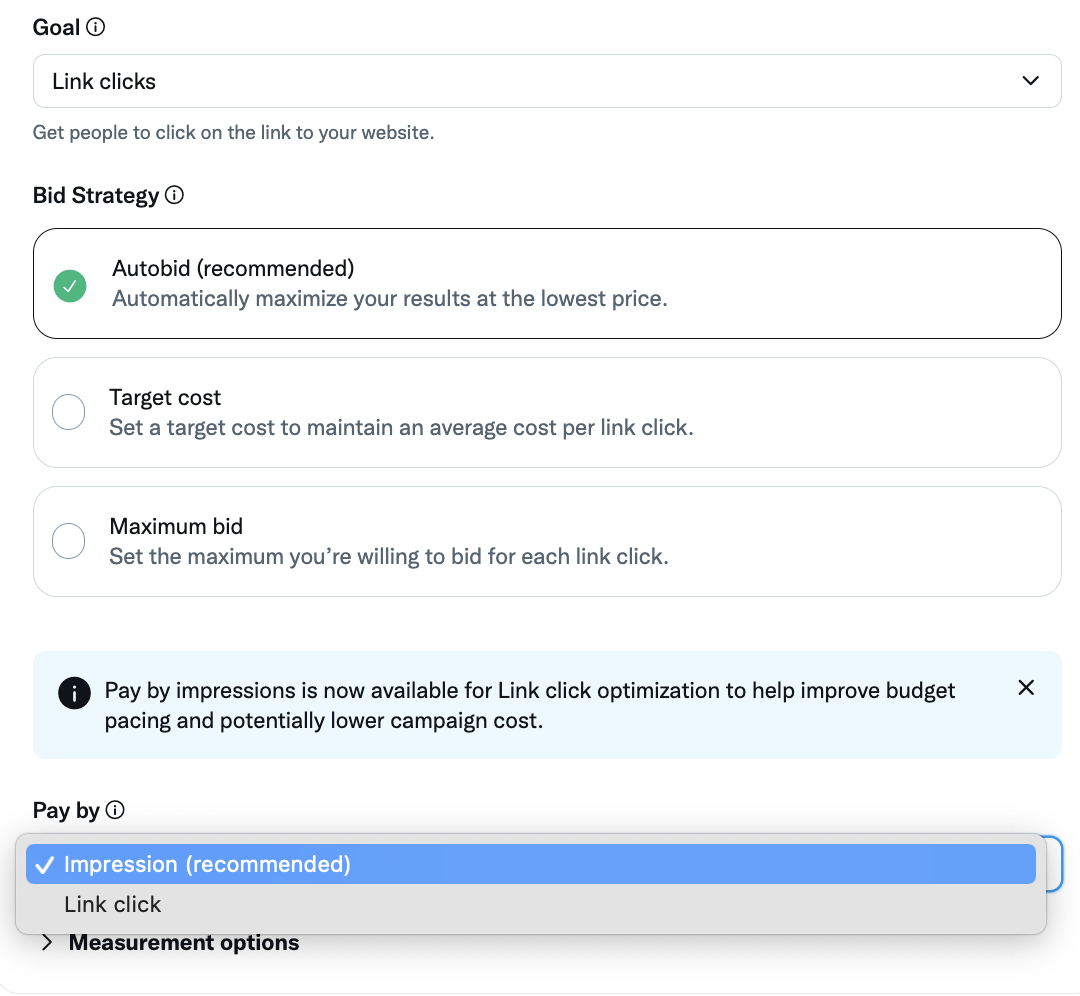 8. For Website Traffic campaigns, we are introducing "Pay by impressions" as the default option for "Link Clicks" and "Site Visits" optimized campaigns. The "conversions" ad group buying model will continue to be billed using the "Pay by link click" option.
9. Select the audience you'd like your ads to serve to in the "Targeting" tab of campaign setup. Learn more about our targeting options
10. Choose the posts you'd like in your campaign. You can also customize the X locations you'd like your posts to serve on this step
11. Review your final campaign setup on the "Review & Complete" tab. If you'd like to add additional ad groups to your campaign, you can do so on here
12. Launch your website traffic campaign!
Serving your website traffic campaign
Posts in website traffic campaigns are served in a number of locations:
Home timelines. Website traffic campaigns may be visible within timelines if an advertiser has promoted a post that is relevant to that user.
Profiles and post detail pages (optional). When someone you targeted visits an X profile or post detail pages, they may be eligible to be served your impression.
At the top of relevant search results pages on x.com (optional). Website traffic campaigns from our advertising partners are called out at the top of some search results pages on x.com and through select ecosystem partners.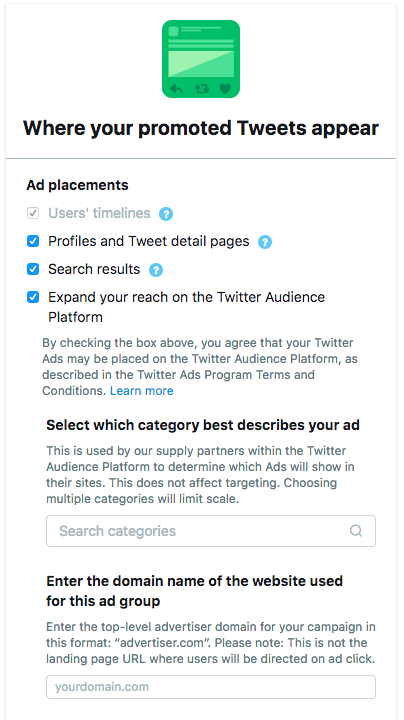 Navigate to Ads Manager to see your results. Filter the date range in the top right corner to see key metrics such as total spend, results (link clicks), cost per result (cost per link click), and result rate.
A link click is a click on the link in your ad.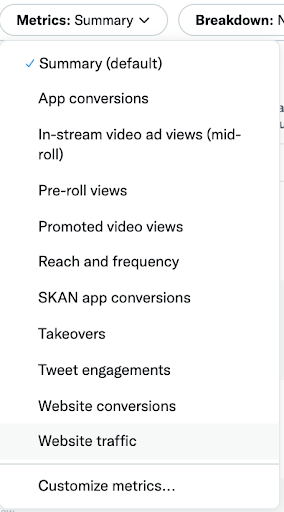 Within Ads Manager, you will be able to see the following pre-filled reports. Website Traffic is a report offered to measure Page Views, Landing Page Visits, Site Visits, etc.


Frequently asked questions
With the website traffic objective, you can drive people to visit and/or take an action on your website. You can leverage X's unique data signals to target and retarget customers with these campaigns, which are optimized to deliver cost-efficient link clicks and site visits. 
Select this objective when you're looking to directly drive users to your website. Before you get started:
• Define key performance indicators (KPIs). Identify the metrics that will determine whether the campaign is successful.
• Use those KPIs to calculate your bid. Use your landing page conversion rates to back into your cost per link click (CPLC) or cost per site visit (CPSV) bids for both desktop and mobile campaigns.
• Set campaigns up for auction success. Auction performance is determined by two variables: bid and predicted engagement rate. In addition to setting a competitive bid, think about the ad message and the creative you're using. Can you do anything to make it more engaging?
• Create a testing framework with multiple campaigns. Create several campaigns so you can quickly see which targeting and creative variables drive conversions. Use this data to scale or pause campaigns.
To get the most out of website traffic campaigns, make sure you have X's online tracking products installed on your website. Without a clear conversion signal, you're optimizing in the dark. Using our conversion tracking for web, you can measure the number of users who convert on your website after viewing or engaging with your Promoted Ads within your specified attribution window.
To enable conversion tracking for web, create a X Pixel from your X Ads account, then place the base code snippet across your entire website and implement conversions you wish to trackk—such as purchases, site visits and downloads – in relevant locations. The X Pixel doesn't just report on conversions. It also allows you to remarket to recent visitors to your website, and lookalikes of those visitors, through custom audience targeting.
Twitter's cost-per-action pricing ensures you only pay for the specific actions you are looking to drive. 

When you run a website traffic campaign using link clicks optimization, you'll only be charged for the link clicks you acquire from that campaign. Site Visits Optimization uses a CPM-based impression model where you will be charged for every 1,000 impressions served.
The cost you pay per link click depends on your budget and bid, as well as the targeting you select. You'll receive real-time bid guidance based on your targeting in your campaign setup. More on Twitter Ads pricing.
Details:
When setting up your website traffic campaign, you can select between auto, maxmium, or target cost as your bid type. We suggest selecting the autobid cost option. This provides our system with the most flexibility to find people across the platform that will likely result in the action you want them to take.
In the Twitter Ads Manager, we're reporting on the number of times someone clicks on a link. This is logged as soon as the click action happens. However, a conversion refers to someone landing on your webpage and stayed long enough for the page to load completely (triggering their analytics tracking code).
This is what drives the difference between the two numbers you are seeing. This can vary based on:
Load time - for example, on slow cell networks, it may take longer for the link to request and page to load, so users may exit out before loading the website.
Intent - users may click on an image but exit out when they realize a website is loading.
To improve these numbers, we recommend testing different creative formats, including:
Picture + link in Tweet copy - try adding an image + a link in your Tweet copy, instead of using a Website Button. This has increased link click intent in certain cases.
Only a link in Tweet copy - try using just a link in your Tweet copy. This too has resulted in more intentional link clicking behavior from users.