Create a keywords campaign

When people want to connect with what's happening in the world, they come to X. Now, advertisers can reach valuable audiences by using specific keywords that place their ads within real-time search results and contextually relevant conversations.
Drive various types of conversions (purchases, subscriptions, downloads, and more) by reaching your audience where they're already engaging on X. Keyword Ads campaigns currently support the Website Traffic, Website Conversions, App Installs, and App Re-engagement campaigns.

Setting up your keywords campaign
Note: Not seeing this menu in your Ads Manager? Be sure to add a payment method to your account to access our advanced controls.
1. Navigate to ads.x.com and create or log into your Ads account.
2. Click "Create campaign" in the top-right corner of your Ads Manager.

3. Select "Keywords" from the list of campaign objectives.
Choose your desired Keywords campaign type. We currently support: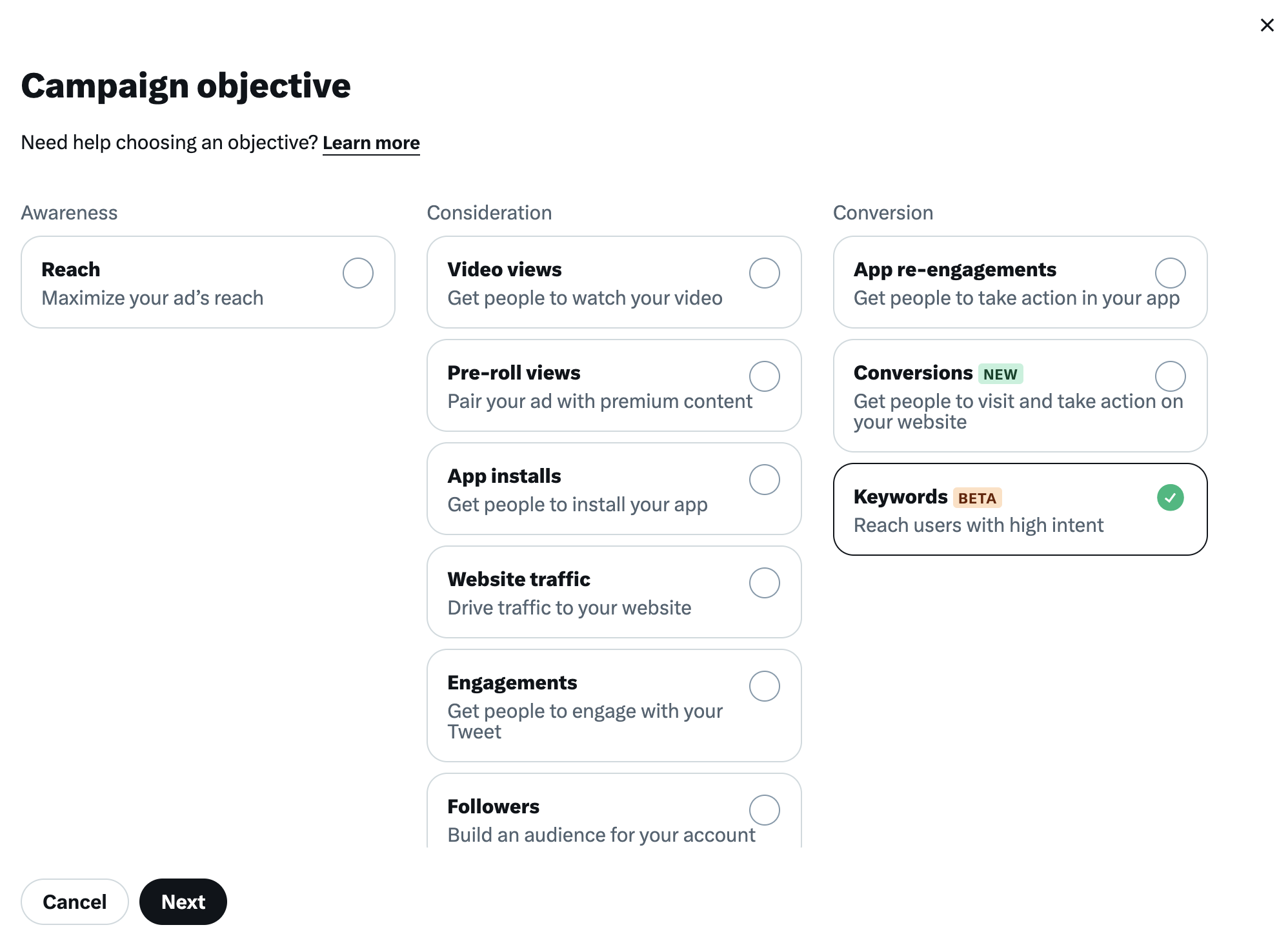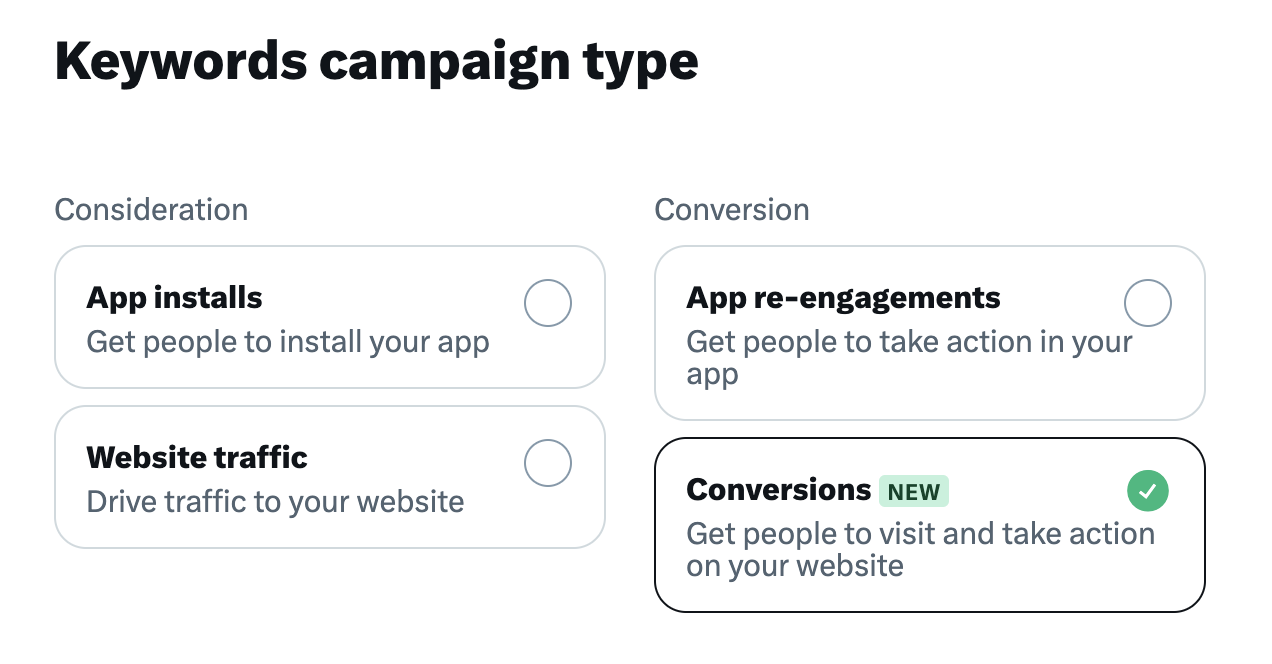 *Website Conversions campaigns require a X Pixel or CAPI set up with a corresponding lower funnel event. Ensure you have created this before launching a Keywords campaign. Please see here for more information or speak with your account manager.
4. You'll be brought to the "Campaign details" tab of the campaign setup form. Here you will name your campaign, choose your funding source, decide whether to enable creative A/B testing, and set budget optimization.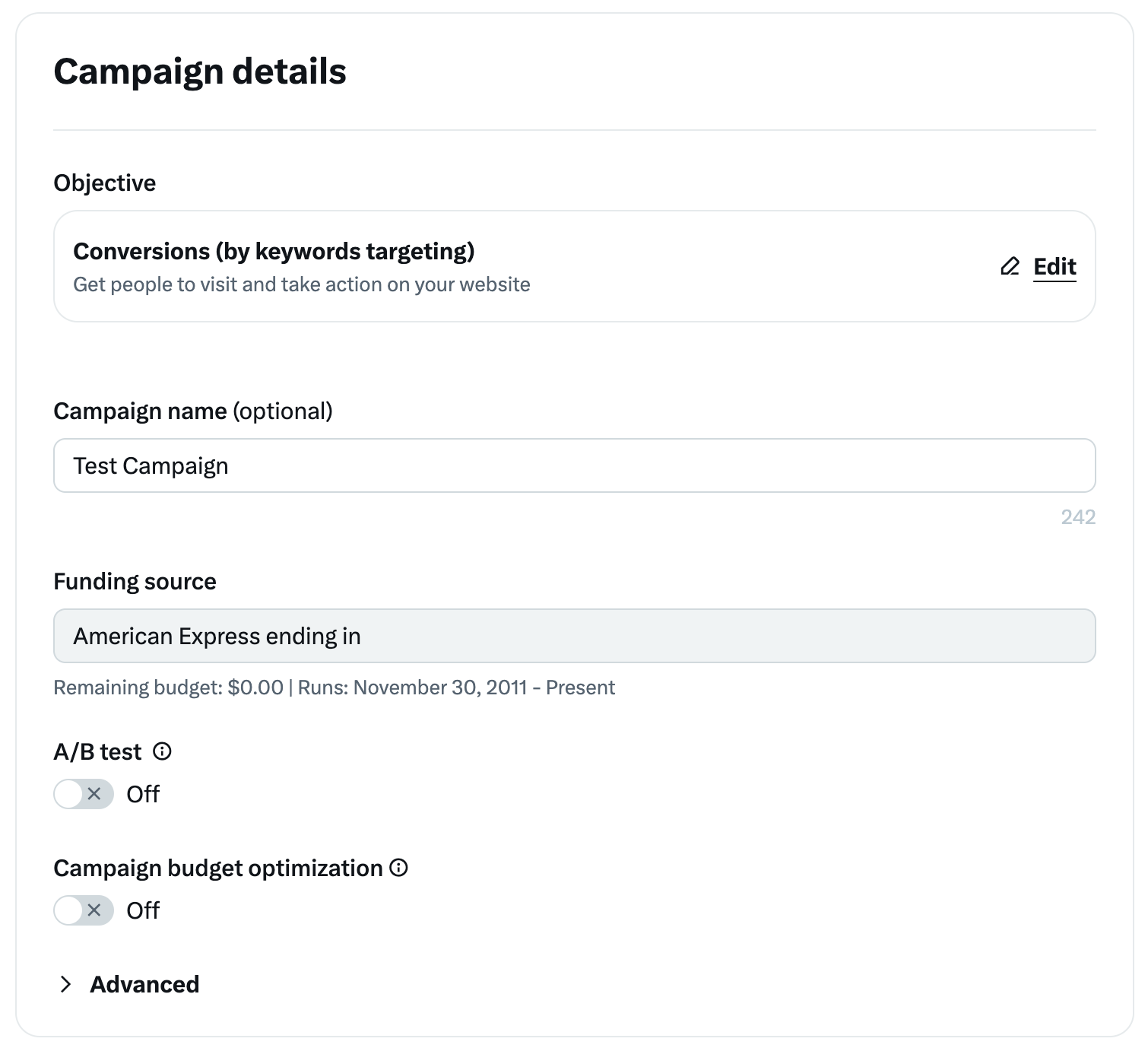 5. Set up your first ad group. You can also set ad group start and end time, as well as budget (mandatory). 
6. Next, input at least one keyword to target. X supports up to 200 keywords at one time, and we recommend using at least 25 keywords per ad group.

7. Adjust your placements according to where you want your Keyword Ads to serve. 
Note: "Search results" will be defaulted and unselectable.

8.  Now select any demographics, devices, and audiences you would like to target. Learn more about our targeting options.

9. Create or select your desired Post copy and creative. Explore best practices for X Ads here.
Tip: Consider including 1-2 of your targeted keywords in your ad copy and/or aligning creative elements to keywords to improve your ad relevance. 
10. Review your campaign details for accuracy. When ready, click "Launch campaign" in the bottom-right corner.
Keyword Ads utilizes exact match keywords, white-space trimming, and are not case sensitive. Target keywords will also expand to Hashtags, Cashtags, and @ Handles with the same name.

For example:

Coffee and coffee are treated as the same keyword

$BTC and BTC are treated as the same keyword

@X and X are treated as the same keyword

#music and music are treated as the same keyword

sneaker and sneakers are treated as different keywords

 

Use simple words, not long phrases or full sentences. 

For example, when promoting a pair of running shoes:

Use: sneakers, sportswear, shoes, running … 

Don't use: running shoes for women, best running shoes in the world …

 

Use broad keywords that relate to both the audience you're targeting and the product you're promoting. 

For example: If you want to promote an energy drink during a sporting event, make sure to include search keywords related to that event and/or tournament in your targeting in addition to the keywords related to your energy drink.

 

For non-English keyword targeting, include keywords in the desired languages. The platform does not translate the keywords. Words with accented letters are considered separate keywords and need to be included if you want to target that specific word. 

For example: souffle and soufflé are treated as different keywords
Serving your keywords campaign
Posts in keyword campaigns are served in a number of locations: 
Search Results - Ads will be displayed on the search results page to users who are searching for specific keywords on X. Ads will appear as the third Post in the "Top" tab. This placement is mandatory and selected by default.

Home Timeline (For you and Following) - Ads will be displayed in the Home Timeline near relevant Posts that include the keywords you're targeting. This placement takes into account the keywords of all of the organic Posts above it, up until the previous ad shown. 

Replies - Ads will be displayed between replies of an organic Post if the context of that Post is relevant to the keywords your campaign is targeting. The ad is served based on the keywords used in the original Post, not the replies.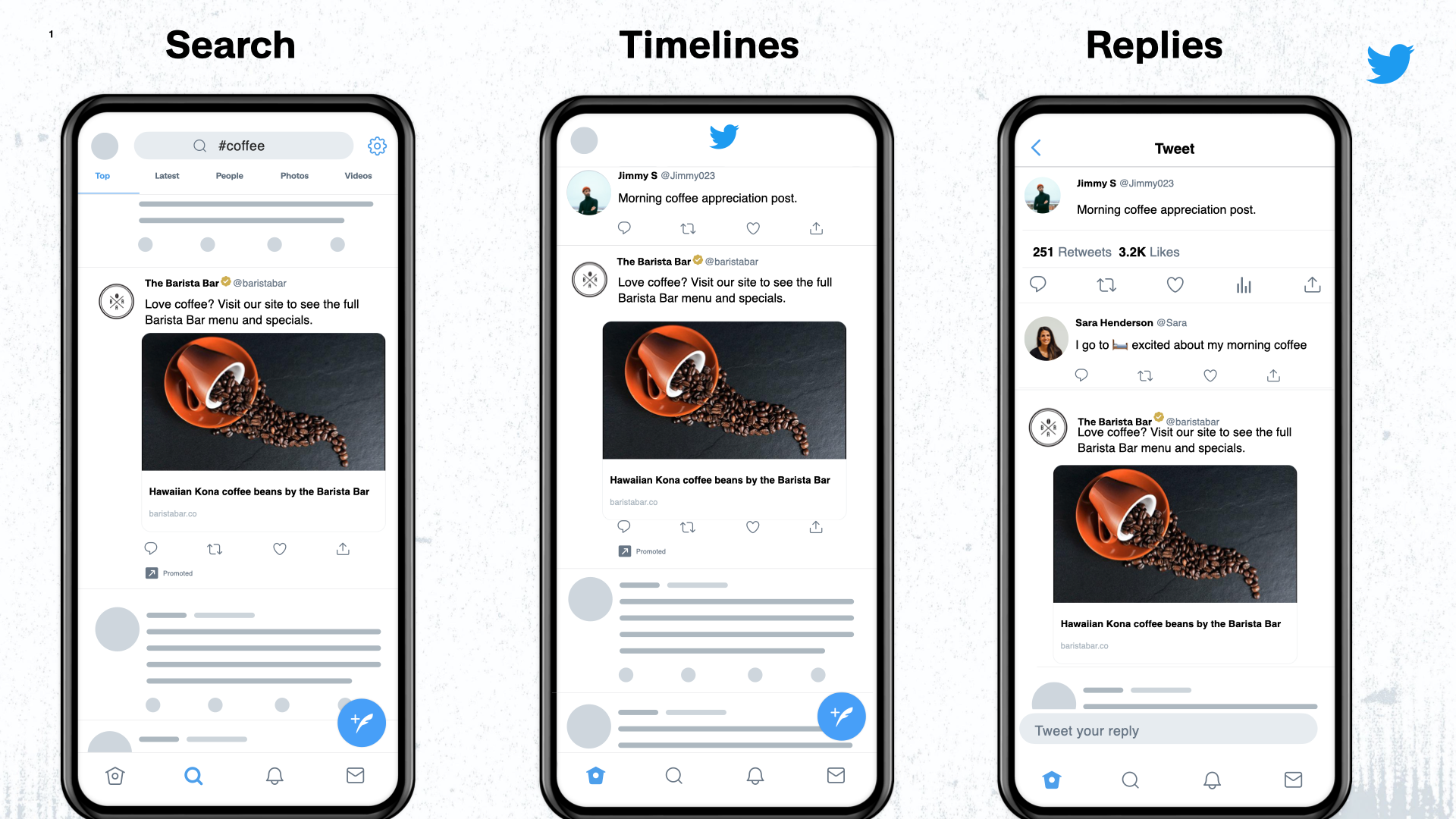 Navigate to your Ads Manager to see your results. Filter the date range in the top right corner to see key metrics such as total spend, results, cost-per-result, and result rate.
Your "result" can be site visits, web conversions, app installs, and more depending on which campaign type you choose for your keywords campaign (App Installs, App Re-engagements, Website Traffic, or Website Conversions). 
Navigate to the "Audiences" tab on the right side of the page and select "Contextual keywords" to view your results broken out by each keyword that you targeted.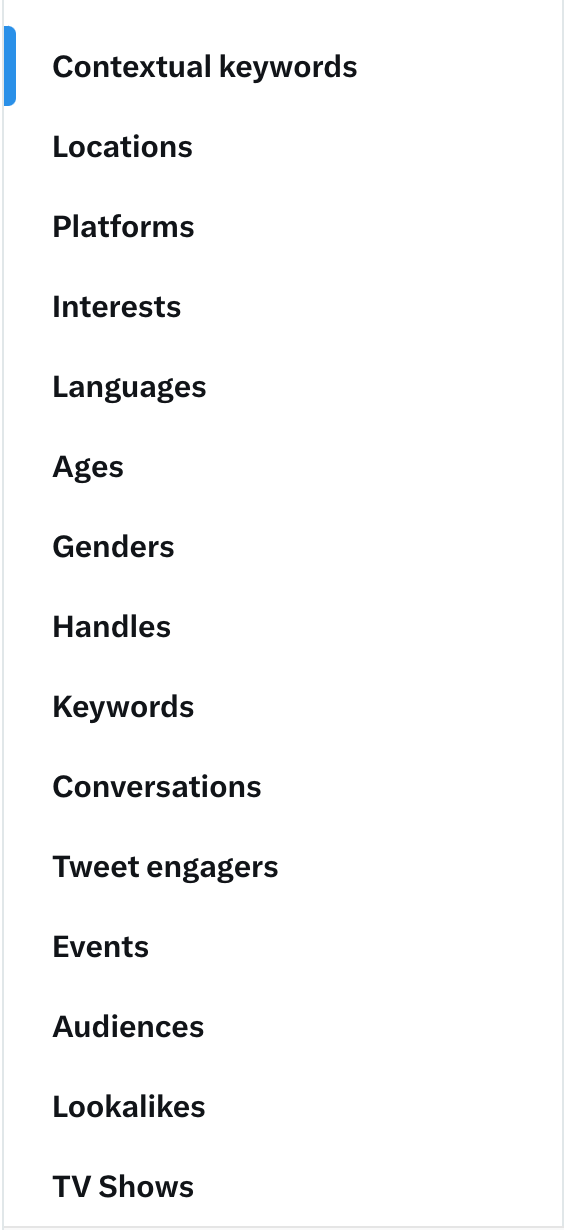 Frequently asked questions
The existing keyword targeting feature serves ads to users that have historically Posted about or engaged with specific keywords or topics on X. This feature should be used when trying to target people based on their past behavior on X and general interests (e.g. car enthusiasts, athletes, sports fans, gamers, etc.). 
Example: When targeting "tennis" using the existing keyword targeting feature, your ads will be served to users who've interacted with or Posted about tennis in the past.
The new Keyword Ads campaign objective serves ads within real time contextually relevant conversations and search results. This new product's targeting is not solely based on a user's historical behavior on X. This feature should be used when trying to target conversations and search results that are relevant to your business. 
Example: When targeting "tennis" using the new Keyword Ads campaign objective, your ads will be served on real time contextually relevant surfaces with audiences searching for or interacting with tennis content.
Yes. Depending on your campaign needs, the X Pixel, Conversion API, or a Mobile App Conversion Tracker allow you to effectively measure campaign performance, drive meaningful optimizations, and strengthen overall results. 
Website Traffic: If you're using the Website Traffic or Website Conversions campaign type, you must set up either the X Pixel or Conversion API. Click here to learn more about conversion tracking for websites. 
App Conversations: If you're using the App Installs or App Re-engagements campaign type, you must set up a mobile app conversion tracking (MACT) partner in your X Ads account. Learn more about MACT here.