Copying a campaign
You may wish to copy a campaign to restart an expired campaign, restart a campaign due to declining performance, replicate interests and/or @username targeting for additional  campaigns, or copy campaigns from one payment to another.
Protip: You can't copy targeting from a Promoted Accounts campaign to a Promoted Tweets campaign or vice versa. All targeting must apply to the same kind of Promoted Product.
To copy a campaign, click the down arrow next to the campaign name to expose the drop down menu. From there you can choose "Copy campaign."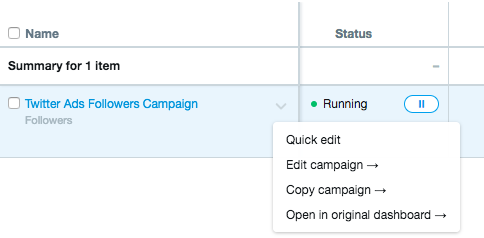 It is also possible to Copy the campaign and change the campaign objective type. To do this, select "Edit campaign" in the dropdown shown above, which will take to you to the below screen: 


From there, you can choose "Copy and change objective," where you'll be dropped into a new campaign setup form. Now you're free to make any changes you wish to the campaign. Remember to double check all targeting and budget fields before clicking Save Campaign to ensure a successful copy was made. You can also add in additional interests and/or @usernames if you'd like to expand or edit the targeting.