Post and Video Activity Dashboards

The Post Activity Dashboard (PAD) and Video Activity Dashboards (VAD) display data to help you optimize your performance on X. You can leverage these insights to inform ongoing strategy for both paid and organic posts.
For each post you send, you'll be able to track the number of impressions, engagements, and its earned engagement rate. For every video you post to X, you can track retention, view rates, and completion rates. Once you learn what resonates with your audience, you can start poating similar content. This dashboard is a helpful place to visit for content planning. 
Access your Post Activity Dashboard and Video Activity Dashboard today.
This is the data your Post Activity Dashboard (PAD) and Video Activity Dashboard (VAD) displays. For both, it automatically shows the last 28 days of data, but you can change the date range for posts and videos you want to view in the top-right corner by clicking on the current view. 
You can also export this data as a .CSV file for both dashboards. The file will include all post-level data and permalinks, broken down by organic vs. promoted metrics. First select the date range you wish to download, then select "Export" to receive a .CSV file of your data. The timezone of the export is set to UTC/GMT.
 
Please note: You can export up to 30 days of data at a time and there is a 3,000 post cap per .CSV export. So if you're trying to export a large date range with thousands of replies, you may have to limit the date range into smaller increments to successfully download your data.
In your Post Activity Dashboard, you can view data on: 
Organic and Promoted Ads impressions and engagements. Post level metrics organized by all posts, posts and replies, and Promoted Ads.

Charts to quickly gauge month-to-month performance. These charts include details on impressions, engagement rate, link clicks, reposts, likes, and replies. These will include data from both promoted and organic posts. Hover over any metric in the posts detail page to see its definition. 
Post previews and detailed engagement metrics. Click on any post in the dashboard to bring up the post Detail view, which includes metrics such as reposts, likes, replies, and more.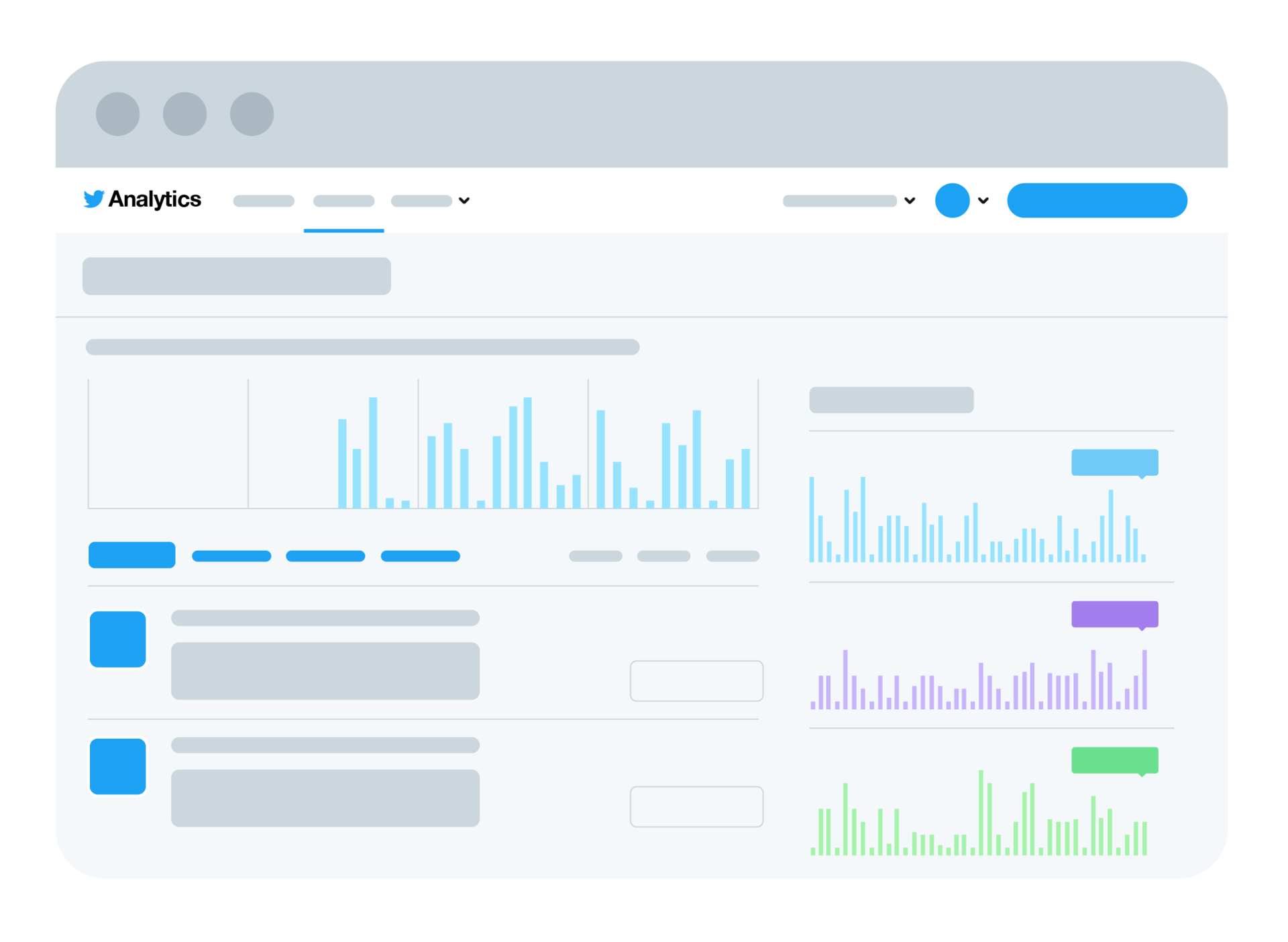 In your Video Activity Dashboard, you can view data on: 
Retention rate. This is the average percentage of your video that people on X watch.

View rate. This is the rate that your video is watched in 50% view for 2 seconds or more, or when someone clicks to expand/unmute your video. You can also filter by promoted views on your videos. 
Completion rate. This is the percentage of your audience that finished watching your video.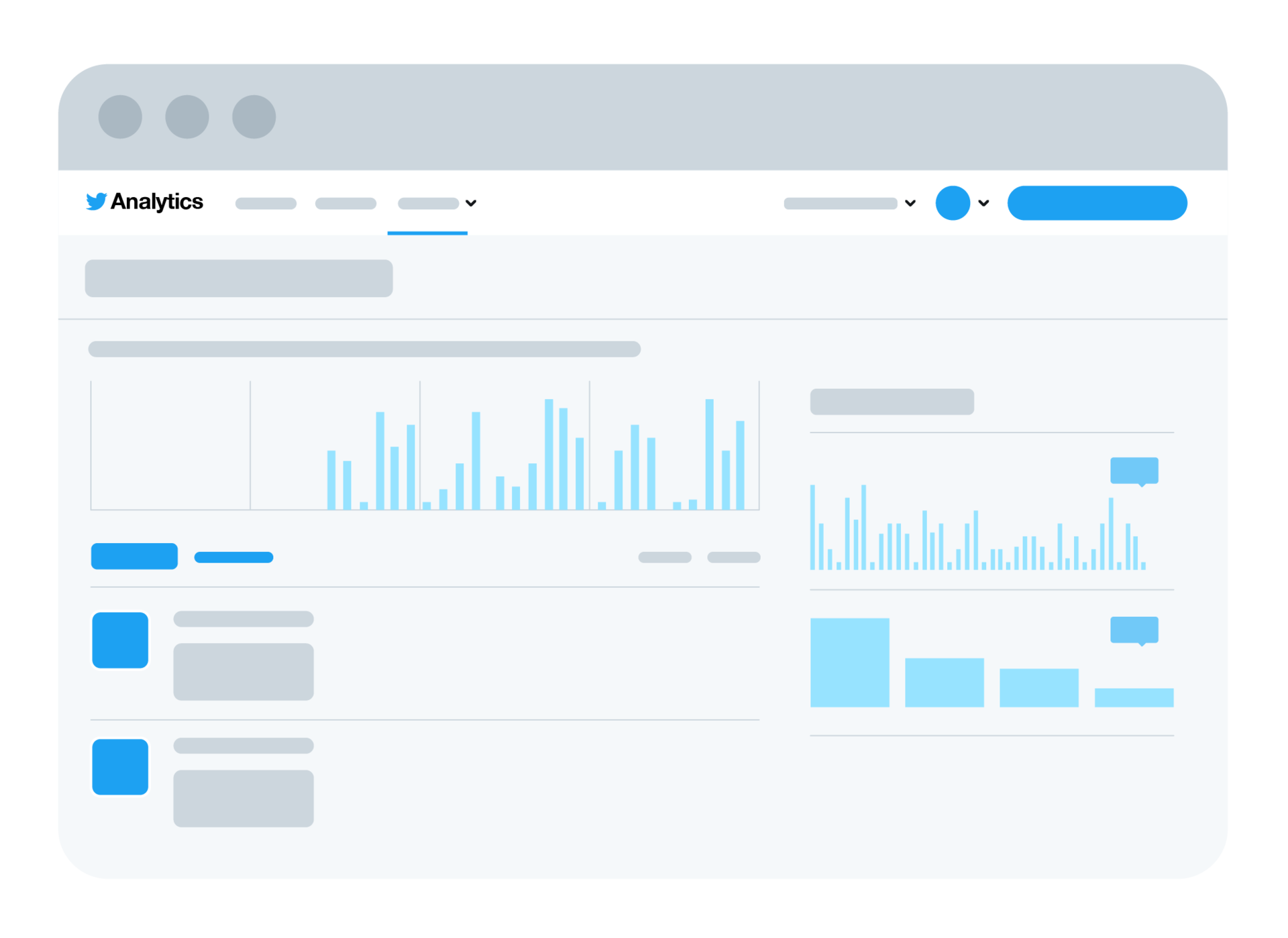 How to access TAD and VAD
These dashboards are free features. You can access it by signing up for an ads account at ads.X.com, or by registering at analytics.X.com.
To locate TAD on analytics.X.com, select the "Posts" tab. To locate VAD, select "More" > "Videos".
On ads.X.com, click on the "Analytics" drop-down and select "Post activity" or "Video activity".
Tweets on TAD not appearing? 


To find a definition of a metric in PAD, hover over the word. You can also find their definitions below: 
App install attempts: Clicks to install an app via the post's App Button
App opens: Clicks to open an app via the post's App Button
Detail expands: Clicks on the post to view more details
Embedded media clicks: Clicks to view a photo or video in the post
Engagements: Total number of times someone interacted with a post. Clicks anywhere on the post, including reposts, replies, follows, likes, links, hashtags, embedded media, username, profile photo, or post expansion.
Engagement rate: The number of engagements divided by the number of impressions
Likes: The amount of people who "liked" the post
Follows: Total number of times someone began following you directly from your post
Hashtag clicks: Clicks on hashtag(s) in the post
Impressions: Times people were served an ad across any of X's various display surface areas
Link clicks: Clicks on a URL in the post
Permalink clicks: Clicks on the post's permalink (desktop only)
Replies: Total number of times someone replied to the post
Reposts: Total number of times someone reposted the post
Shared via email: Total number of times someone emailed the post to others
User profile clicks: Clicks on the name, @handle, or profile photo of the post's author
Frequently asked questions
Post data is not appearing
X Analytics, including the Post Activity Dashboard, is a free service available to all X users who have an ads account and/or register at analytics.X.com. 
To maintain access to Post Activity Dashboard, please make sure: 
If you're unable to see data in your Post Activity Dashboard, it's likely that your account has been found in violation in one of the above policies. Learn about how we enforce our policies. 
If you still have questions, file a support ticket at ads.X.com/help or through our main help center. 
Are post metrics updated in real-time?
Yes, posts along with their impression and engagement metrics, are usually updated within a few seconds. Please note that our systems take up to 36 hours to stabilize, so you may see a slight fluctuation in data during that time.
Do the "posts" and "posts and replies" tabs include organic and promoted data?
Yes. The data in the "posts" and "posts and replies" tab includes both organic posts and Promoted Ads, and the "Promoted" tab only lists posts that have been promoted.
When a post in any tab has been promoted, it will include a row for organic data, and a row for promoted data. The first row contains organic-only metrics, and the second row labeled "Promoted in X campaign(s)" contains promoted-only metrics, summed up across all campaigns.
How can I find the campaigns where my posts were promoted?
The post detail page includes a list of campaigns that the post was promoted in. You can access this page by clicking on an individual Promoted Ad. Clicking on the campaign will take you to that campaign page.