The X Audience Platform is a way to drive greater scale for your campaigns by extending your campaign to reach your audience through the thousands of apps they use everyday.
Under "Creatives" in your campaign setup, you can choose to extend your reach by running your ad on the X Audience Platform. When the box is checked for website traffic, app installs, or app re-engagements campaigns, your ad will not only display on X timelines, but also on our network of thousands of mobile apps on the X Audience Platform.

You can choose the format(s) you want your ad to appear as: Full, Full landscape, Banner, Native, and Medium rectangle. Select your ad category (choosing multiple will limit scale), exclude your ad from certain apps (optional), and enter your website domain to finish.
Note: keep in mind that not all targeting types selected will carry over to X Audience Platform. In particular, we no longer apply any selected Age targeting on iOS 14.5+ devices where we aren't able to access IDFA. If you have a business or legal requirement to target based on age or gender, you must opt out of utilizing the X Audience Platform (TAP) placement option. Please see X's Ads Policies for more information. Read more in the FAQ below.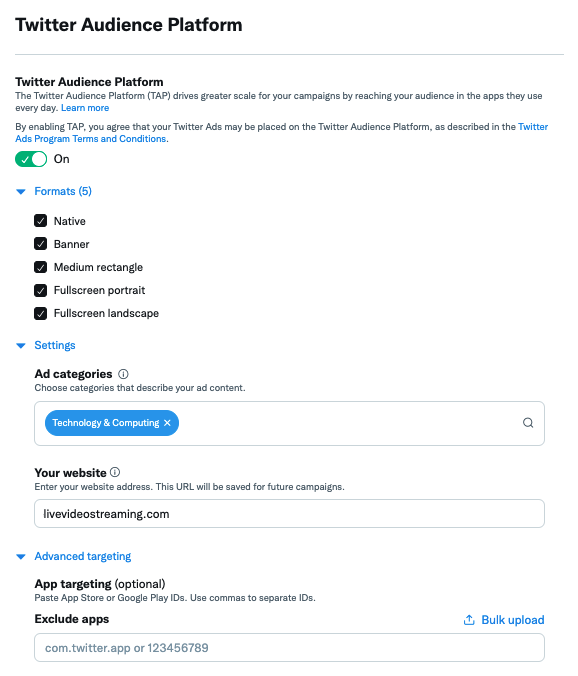 Frequently asked questions
Will my configured targeting still work on the X Audience Platform?

Some, but not all, targeting that can be used on timelines, search and profile display placements can also be used in the X Audience Platform. Gender*, Age*, Device, Operating System and Location targeting are fully supported on the X Audience Platform, while targeting based on Language, Custom Audiences, Followers & Follower look-a-likes, Interests and Conversations are supported only to a limited extent. Event, TV & Movie and Keyword targeting are unsupported.
*We no longer apply age or gender targeting to iOS 14.5+ devices without IDFA - in other words, any iOS 14.5+ users that have chosen not to opt into tracking via Apple's App Tracking Transparency prompt. We will continue to apply any set age or gender targeting to all other devices (including Android). 
Will X's standard reporting and tracking capabilities be offered through the X Audience Platform?
Yes, X's tracking and measurement capabilities will be available through the X Audience Platform. This includes cross-device attribution, flexible post-view, and post-click attribution settings, as well as the ability to see reporting within the campaign dashboard. 
Why is the domain name of the Website Button required?
The domain name of the Website Button is required in order to register the creatives with all participating exchanges.