Ready to go? 
Start your Twitter Ads campaign.
Intro to Tailored Audiences
Tailored audiences target your existing users and customers to create highly relevant remarketing campaigns. There are three types of tailored audiences: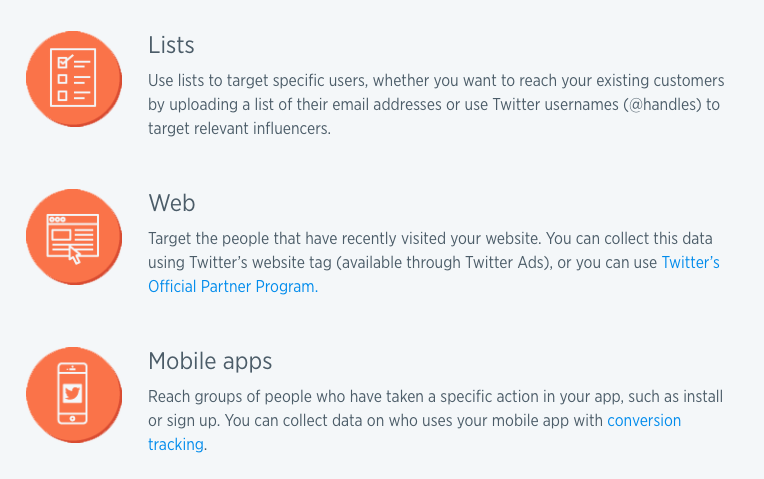 How it works

The Audience manager is a tool in your Twitter Ads account for you to review and manage your audiences, you can access it by going to Tools* < Audience manager.
Once an audience is loaded into Twitter Ads, you can use the Audience manager to view details about the audience, edit, or delete audiences. 
From there you can use your Tailored Audiences in your campaign targeting to directly reach the users you care about. You can retarget previous customer lists, web visitors who haven't yet converted, and mobile app users who haven't opened your app in a week.
*Not seeing the Tools tab in your ads account?  This is because you haven't yet added a credit card, find out how to add one here.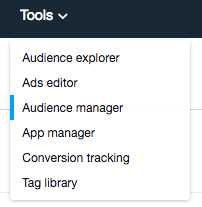 Create your Tailored Audience
Once in the Audience manager, choose which kind of TA you'd like to create: List, Web, or Mobile app. 

From there you'll be brought to the Audience creation page. You can name your Tailored Audience and provide the necessary information to create. Visit our List, Web, and Mobile app Help Center pages for more information on requirements for each TA type. 
If you created a List Tailored Audience, our systems will then match the users to their Twitter @handles, during which your Audience will show as "Processing" in Audience manager. Processing takes 48 hours on average, after which your TA will show as "too small" or "Ready".
If you created a Web or Mobile app Tailored Audience, our systems will immediately start adding qualifying Twitter users to your Audience. Your audience will show as "too small" in Audience manager until 100 Twitter users have been added.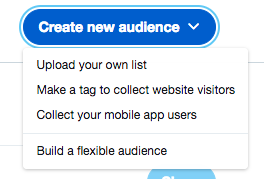 Manage and use your audiences
You can visit the Audience manager to manage your Tailored Audiences once you've created them. Here you'll see each audience, its type, and its serving status. Only Tailored Audiences that have a serving status of "Ready" can be targeted in campaigns.
Audience showing as too small? Find out more here in our FAQ.

To target the users on you Tailored Audiences within your campaign, navigate to the Targeting section of campaign setup. 
Click "Browse" next to each audience type to find and select the Tailored Audience you want to target. 
Keep in mind that even though all Tailored Audiences show up, only those in "Ready" serving status will properly target users in your campaign.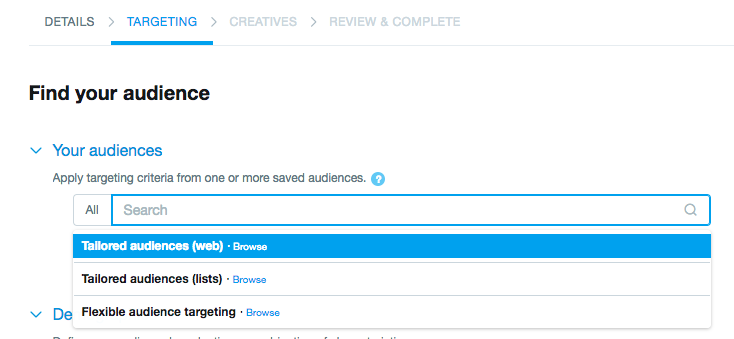 You can choose to "Add" or "Exclude" the users on your Tailored Audiences:
Add: The users on your Tailored Audience will be served the Tweets in your campaign, if they meet the Geo, Gender, Age, and Device targeting criteria specified in your campaign
Exclude: The users on your Tailored Audience will NOT be served the Tweets in your campaign, even if they meet the other criteria in your campaign
To respect user privacy, the minimum size for a Tailored Audience is 100 users on Twitter for it to be usable in your campaigns. If your Tailored Audience does not match 100 Twitter users, it will display as "Audience too small" and will not be available for targeting.

FAQs on Tailored Audiences
More questions? Find more FAQs on our List, Web, and Mobile app Tailored Audience pages.