Get help
Can't find what you're looking for? Get in contact with our Twitter Ads Support team.
Get started
Create your Twitter Ads campaign.
Ads account management
Read below for answers to common questions relating to Twitter Ads accounts. Remember, your Twitter Ads account is seperate from your Twitter @handle account. Learn how to setup your Twitter Ads account here.
Log in to Twitter Ads
To learn how to first create your Twitter Ads account click here.
To log in to your Twitter Ads account: 
Go to Twitter.com and log in to the @handle that your ads account is associated with. If you are using multi-user login, log into the @handle you're managing the ads account from.
From there, type ads.twitter.com into your browser
If you have multiple ads accounts, click your account name in the top right corner then "Switch accounts"
Select the ads account you want to view
You'll be directed to Ads Manager where you can view and manage your campaigns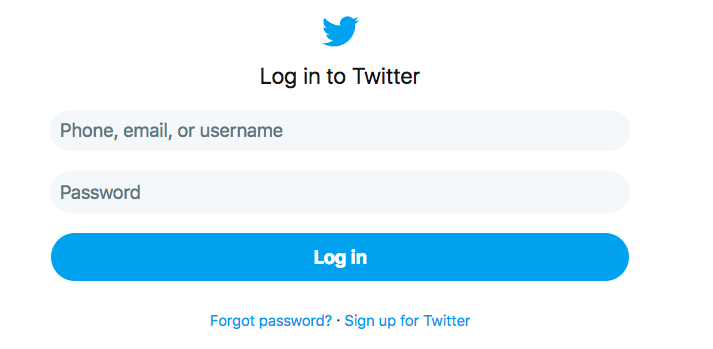 Eligibility
In order to advertise on Twitter you must comply with our Twitter Ads policies.
To learn about why your account is marked as ineligible, as well as next steps to have your account reviewed please visit our Eligibility page.

Multi-user login
In order to help advertisers manage Twitter Ads campaigns more effectively and more securely, we allow for different levels of access to individuals affiliated with a brand or Twitter handle.  Multiple users may be given access to an advertising account. Each user will log in with his or her own username and and will be able to access the advertising accounts to which he or she has access. If you're managing multiple accounts, you'll need to log in directly to ads.twitter.com to update billing information.
This feature can reduce risk of malicious or erroneous mishaps with your business / brand @ handles by granting access to more of your team without sharing the password to your main account(s). In addition, it can reduce friction for users who manage ads for more than one ads account on Twitter.
To read in detail about Multi-User Login, please visit this page. 
Verification
Verification happens on the Twitter account level. You can submit a request to verify an account by clicking here and the appropriate team will respond to your request. Please note that the Twitter Ads Support team is not responsible for account verification and will not be able to assist in the process. 

If you are working with a dedicated account manager, please have your account manager submit your account through the appropriate channel. You can find out more information about the verification process here.
Changing or swapping @handles
At this time we do not have a process for releasing registered usernames to advertisers using the self service Twitter Ads product or to the public unless you are working with a dedicated Twitter account representative. 

If you feel you have a trademark claim against the handle in question, please file a ticket to our trademark team by clicking here.

Delete an ads account
It's not possible to delete a Twitter Ads account, as your Ads account is connected to your Twitter account. However, you can cancel the ads account to ensure no charges occur on your account. In order to stop using your Twitter Ads account, you must stop any active campaigns.
You can choose to pause or delete your ad campaigns in two different locations: on the campaign summary page or on an individual campaign setup page.
To pause a campaign on the campaign summary page, click the small pause icon located next to the corresponding campaign.
To pause a campaign on an individual campaign setup page, click the Pause Campaign button.
Once you pause a campaign, it may take a short amount of time for our advertising servers to register the change. Therefore, there might be a small amount of spend that occurs after the campaign has been paused. This is expected behavior.
To delete your credit card, click on "Account", then click on "Payment Methods", you will see an option to "Delete this card". Note this will only be clickable if your campaigns have been paused for 48 hours and you do not have an unbilled balance.
Once the actions outlined above have been completed, no further action is needed to cancel your Twitter Ads account. 
Twitter account issues (non-Twitter Ads)
For non-Twitter Ads issues, such as hacked account, login issues, or harassment, contact our Twitter Support team here. Please note that the Ads Support team is not responsible for Twitter Account issues and will not be able to assist in the process.


Get started
Learn the in's and out's of campaigns on Twitter Ads:
Ads account management FAQs
How do I contact the Twitter Ads support team?

If you have any additional questions related to Twitter Ads, our Ads support team would love to help assist you!


There are two ways to contact Twitter Ads Support:

If you are experiencing an issue with your account not related to Twitter Ads, such as hacked or suspended account, please reach out to the Twitter Support team here.

I want a dedicated account manager / sales rep for my ads account

Certain advertisers may be eligible to work with a Twitter Sales Account representative. To see if you qualify, please visit this page and submit your information. Our sales team will respond to qualifying advertisers and direct them to the proper channels.

Please note this team is active during PST business hours. 

How do I change the timezone or currency of my ads account?

Timezone and currency cannot be changed once you've created your ads account. Please contact our Twitter Ads support team at ads.twitter.com/help and request a new ads account to be generated, where you can choose your prefered timezone and currency. 

Please note, in your new ads account: 

You will need to add a payment method
Existing campaigns are not carried over
The account owner must request and confirm new account creation
Your new ads account will be subject to Ads policy review, taking up to 2 weeks