Tweet inspiration: What to Tweet this May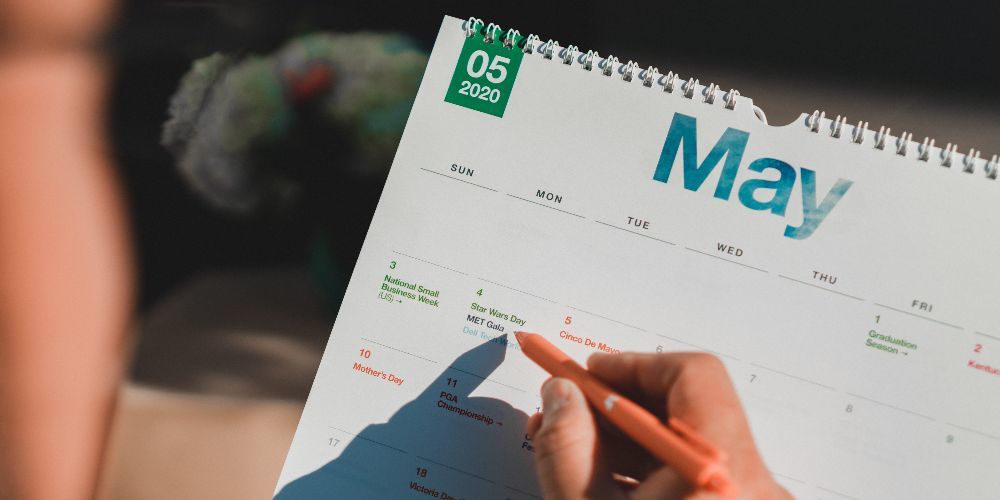 Editor's Note: As guidance around social distancing due to COVID-19 continues to evolve, events featured in this article and in the 2020 Twitter marketing calendar are subject to change.
May brings exciting content opportunities to connect with audiences on Twitter. From celebrity fashion moments to pop culture holidays, here are some notable events this month and some techniques for how brands can craft the perfect Tweets around them.
For more key May moments marketers should know about, download the 2020 Twitter marketing calendar.
Celebrate one of the internet's favorite holidays
Star Wars Day on May 4th is one of the Internet's favorite holidays, during which fans and audiences alike love to use the phrase, "May the fourth be with you."
Brands can use Star Wars Day as an opportunity to join in on the franchise's incredible popularity on Twitter. Puns and humorous Tweets are especially welcome on this holiday, so experiment with a new type of content for your brand, such as a Twitter Poll, video, or even a custom product graphic.
@eCreamery created a unique line of May the Fourth ice cream products that allowed their customers to create their own personal combination of flavors and pints.
Inspire your audience on Cinco de Mayo
Cinco de Mayo on May 5th is another great event to connect with your audience as they celebrate from home with their families. Cinco de Mayo usually means good food and so look for ways to inspire your audience to try something new at home or in the kitchen. Even if your brand is directly related to the culinary world, your audience will still appreciate the tips.
@DoleSunshine shares a festive Cinco de Mayo recipe that anyone can make to celebrate the holiday from home.
Show mothers everywhere how much you care
Mother's Day (celebrated on May 10th in the US and Canada) is one day a year that every brand seems to join in to celebrate a very special person: mom. Over the last several years, hundreds of millions of impressions on Twitter have been generated in relation to Mother's Day. This creates a special opportunity to share exclusive content such as gift guides, user-generated content, GIFs, and more.
Children's furniture store @PotteryBarnTeen found a creative and humorous way to tie their products to their Mother's Day greetings.
Fashion company @lulusdotcom detours from their typical content to share a beautiful Mother's Day cupcake recipe on their blog.
Online plant shop @TheSill shared this beautiful UGC illustration with their Mother's Day wishes to be inclusive of all types of mothers.
Kick-off the summer season on Memorial Day
Wrap up the month of May by joining in on the Memorial Day holiday on May 25th. Given the unique times we live in, audiences will be itching for fun ideas to share with their families indoors. For example, brands can share a helpful article or an in-depth guide to help audiences discover new recipes, party ideas, or games to play with their loved ones online.
Memorial Day is also the perfect opportunity to run a promotional campaign with special discounts on your top-selling product or services. Audiences everywhere will be on the lookout for deals from their favorite brands.
@SigmaBeauty promotes its site-wide Memorial Day sale to drive traffic and sales.

Cheers your followers on National Wine Day
National Wine Day on May 25th is sure to be an audience favorite around the world. Use this opportunity to show your brand's fun and spontaneous side by asking questions, making a toast, saying cheers, or recommending top wines to try. And if your audience is sitting at home on their couch drinking wine - even better!
@FarmRichSnacks poses a thought-provoking question on National Wine Day to engage their followers and start a conversation.
@honestkitchen gives cheers to those celebrating National Wine Day at home, which is perfectly fitting for this year's stay-at-home celebrations.
Stay sharp with #SMWONE: A Virtual Conference Series
Online learning has spiked over the last several weeks, and brands are continuing to deliver insightful content for all of us to learn from. @socialmediaweek, for example, is combining their world-renowned New York and Los Angeles events into the first-ever #SMWONE virtual conference series from May 5-28.
This conference will feature live and on-demand content, talks, panel sessions, workshops, product demos, networking experiences, and more. It's a perfect opportunity for you to keep your marketing skills sharp from the comfort of your own home.
More Tweet inspiration for May
Experiment with timely content that adds color to your usual evergreen posts. Live-Tweeting and engaging in moments in real-time can boost engagement on all your content. For more best practices on how to live-Tweet, download this workbook.
These are just a few of the May holidays where brands can add to the conversation already happening on Twitter. For more key events this month, download the 2020 Twitter marketing calendar.
Plan your campaigns with the Twitter marketing calendar