Success story
How Wendy's brought busted bracket fans back into the game during March Madness

1,028%
lift in Tweet Volume
499%
lift in Authors Volume
The way basketball fans interact with March Madness is rapidly evolving, and as the Official Breakfast of the tournament, Wendy's needed to keep up with the hype. 
Historically, fans fill out brackets guessing how far teams would make it throughout March. One wrong guess and your bracket is over.
In 2021, we saw a 45% decrease in Tweets about March Madness brackets from Selection Sunday to the second round due to busted brackets. Instead of dropping out after a failed bracket, pick'ems allow people to participate on a game-to-game basis and stay involved in the conversation for the entire tournament. 
What if Wendy's shifted its focus from brackets to pick'ems so that every game, every round, and both the Men's and Women's Tournament became a new opportunity to play and win offers from Wendy's? The fast food favorite stepped away from the terrible feeling of a busted bracket and pushed for more participation throughout the NCAA conversation.
Wendy's forwarded a 360 campaign approach using a full suite of Twitter ad tools to keep up with the madness this March. By tapping into Twitter NEXT, Twitter's in-house brand strategy team, Wendy's made the full court shot.
Starting with notifications, sports fans could opt-in to get gametime reminders for each round of both the Men's and Women's Tournaments. 

The countless busted brackets each year show just how hard it is to pick game winners. So Wendy's co-hosted Twitter Spaces with Turner Sports throughout the tournament to discuss picks and brackets with sports experts and content creators. 
And they didn't stop short. Wendy's showed up in New Orleans for the finals, continuing the conversation at the tailgate, on courtside, and with fans at home.
Wendy's did the most — sparking conversation even as brackets busted. Here's exactly how it went down.
Get your head in the game with Branded Notifications
March really is madness, so Wendy's made it easy for sports fans to opt-in to get notified when they could make their picks for every round of both the Men's and Women's Tournaments with Branded Notifications.
Promote the game using Twitter Moments with Multi-Destination Carousels for easy fan play
Each round of March Madness used a Twitter Moment with Multi-Destination Carousels to make the pick'ems easy to discover. Then Wendy's socialized the game by making it easy for people to select their picks by Tweeting and sharing the game for others to get involved.
Reward fans' picks with Branded Notifications
After each round, Wendy's Tweeted participants their winnings (or losings) with a customized response and offer based on their picks. Both correct and incorrect picks got offers, but they differed in quality and varied by round.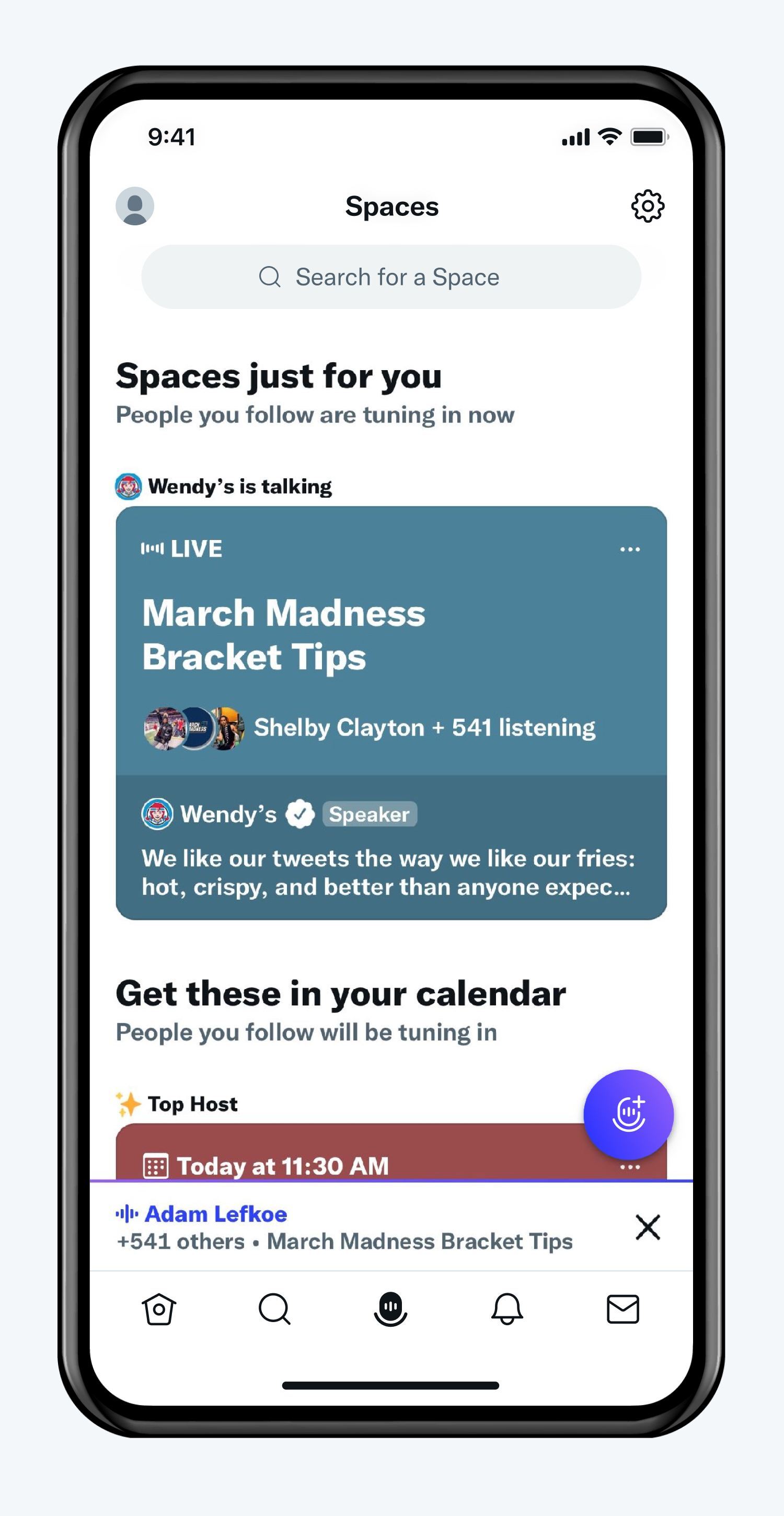 Get insight into picks with Twitter Spaces
Picking game winners isn't easy. (Trust us.) So Wendy's partnered with Turner Sports to host four Twitter Spaces throughout the tournament with Creators like Rex Chapman to talk through the brackets and analyze their selection, giving fans consolation for their busted brackets and insight for their next picks.
Tap into ArtHouse influencers for courtside POV
Wendy's partnered with influential Twitter voices to bring fans a courtside POV from the Final Four games to drive conversations, outsize the impact of their campaign, and change the way fans saw and interacted with the tournament.
Go courtside with #ForTheWendys @ the Final Four
The fun was extended to New Orleans during the Final Four with a Tweet activated vending machine at the March Madness Tip-Off Tailgate.  
Fans at the Tailgate simply had to Tweet who they were rooting for to receive limited edition co-branded T-Shirts, Wendy's Gift Cards, and two lucky fans won passes to an exclusive March Madness experience.

Give limited edition merch to fans
Wendy's created a deeper connection to the Final Four in three key cities, offering limited edition co-branded Wendy's and Twitter T-Shirts and gift cards to fans that #ChooseWisely.
Wendy's positioned itself at the center of conversation even when brackets failed. By shifting its focus from brackets to pick'ems, every game became a new opportunity to play and win offers within the Wendy's app in both Men's and Women's rounds. Wendy's flipped the traditional bracket on its head and scored major results with a 1,028% lift in Tweet volume and 499% lift in authors volume. The activation also drove mass engagement and lower funnel results with hundreds of in-app offer claims and higher than anticipated first time app transactors.
Source
Twitter Internal, 2022 Tweet Lift % = Percent growth of Earned Tweets attributable to Incremental Tweets exposed to paid media *Author Lift % = Percent growth of Earned Authors attributable to Incremental Authors exposed to paid media