See how you can achieve similar success
See how you can achieve similar success

Restaurant brand connects with a young audience on Twitter

@SubwayFrance is the French account of Subway, the quick service restaurant brand that's recognised around the world. With 37 million combinations of quality proteins, fresh vegetables, and breads baked daily, there's something to suit every taste. Subway teamed with advertising agency Braaxe (@Braaxe) to create a campaign promoting its latest activities in a fun, engaging way.
The campaign aimed to raise awareness of the Subway brand, and in particular its presence at music festivals in 2019. Subway's unique Street Chef food truck visited festivals across Europe, with the Twitter campaign highlighting its appearances. The 'Blind Taste' competition offered people the chance to win festival tickets by identifying songs sung by an actor eating Subway sandwiches.
Subway wanted to reach an audience of young people aged 15–35, living in urban areas. For this campaign, it targeted those who were interested in music festivals and the artists performing.
By creating Blind Taste and using a Promoted Trend [Trend Takeover], we have been able to showcase Subway's presence at the festivals, bringing awareness to the brand while engaging our target audience.
impressions of Tweets incl. #StreetChef2019
Trend impressions in 24 hours
Twitter is all about real-time interaction. So the way a company presents itself in every Tweet, reply, or message is vitally important. @SubwayFrance created content with a fun, offbeat tone to reflect the younger audience the company is looking to address. Short, engaging content associates the brand with the spirit of festivals.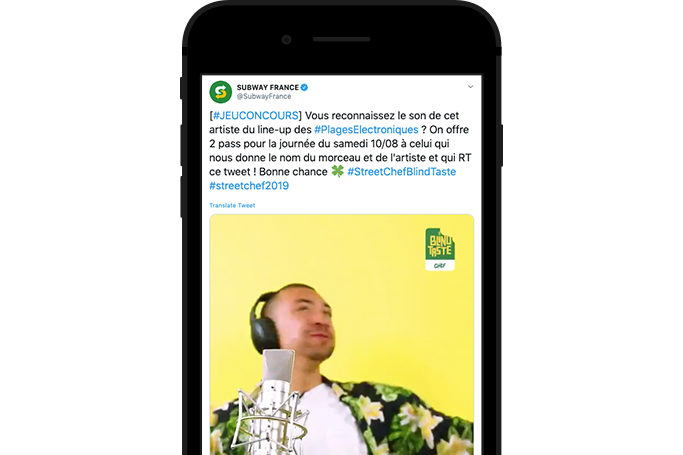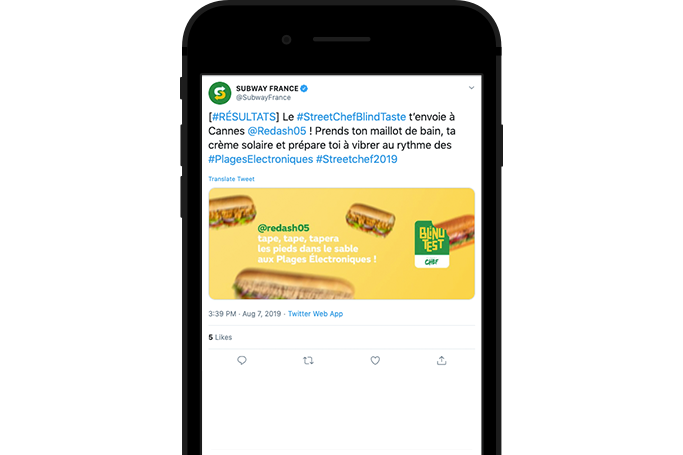 Make the most of hashtags
One of the best ways to get noticed on Twitter is to work with hashtags. This could be by including an established hashtag in Tweets, targeting a particular trending hashtag, or even creating a new one. The Subway France team used a Promoted Trend (now called Trend Takeover) to kick-start their hashtag (#StreetChef2019), giving it prominence in Trending Topics lists and ensuring maximum visibility.
Twitter is what's happening in the world and what people are talking about. The Subway France team often use a tactic known as 'newsjacking' – posting content that relates to a breaking story. So a news story, sports, or entertainment event can be used to get people talking about the brand. Getting in early with a unique perspective is key.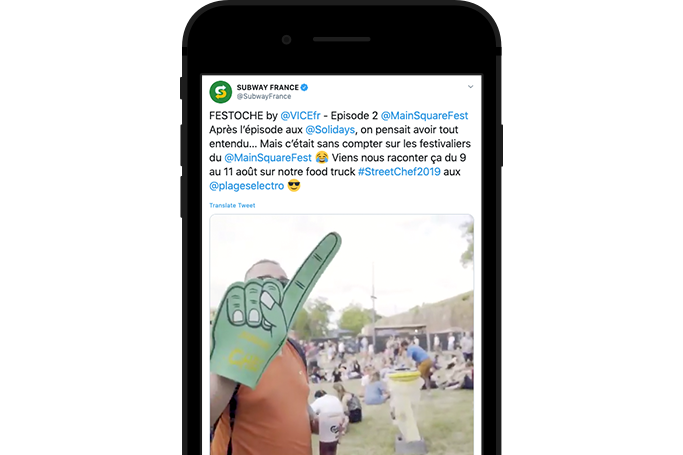 Ready to advertise on Twitter?