Case Study
Strongbow raises a glass to successful cider launch campaign on Twitter

+52pp
Ad recall among video viewers
Ahead of summer 2022, Strongbow UK (@strongbowuk) wanted to put some fizz in the launch of its new low calorie cider, Strongbow ULTRA Dark Fruit. Knowing Twitter is home to lively consumer conversations about new food and drink brands, it turned to the platform to spark excitement with a campaign that used a dynamic set of tactics and products.
With the launch campaign fronted by a purple goat mascot, @strongbowuk played on the GOAT (Greatest Of All Time) acronym in Branded Hashtags such as #UltraGOAT and #DrinkTheGOAT. These were accompanied by branded purple goat emojis.
To stoke excitement and drive conversation around the product, @strongbowuk chose the high-impact launch tactic of a Timeline Takeover, which places a campaign at the top of users' timelines. 

Its launch ad included an eye-catching Video Website Card, featuring the product, the tagline, and the @strongbowuk purple goat. This linked through to supermarket partner sites, where consumers could buy the product.
To engage interested consumers further, @strongbowuk partnered with Twitter Next to develop a fun and engaging #DrinkTheGOAT competition on Twitter. People taking part had to "keep the goat nodding" by replying with specific emojis within an hour of being tagged to stay in the competition and have the chance of winning a cash prize.
Get front and centre with Timeline Takeover.
Keen to raise awareness and drive recall, @strongbowuk used Timeline Takeover to make sure its purple goat launch Tweet was the first ad people saw when they opened Twitter that day. 
Boost engagement and recall with smart creative.
The Twitter NEXT activation proved so popular with people on Twitter that it gave @strongbowuk its most liked Tweet of all time and a 33 percentage point uplift in brand recall.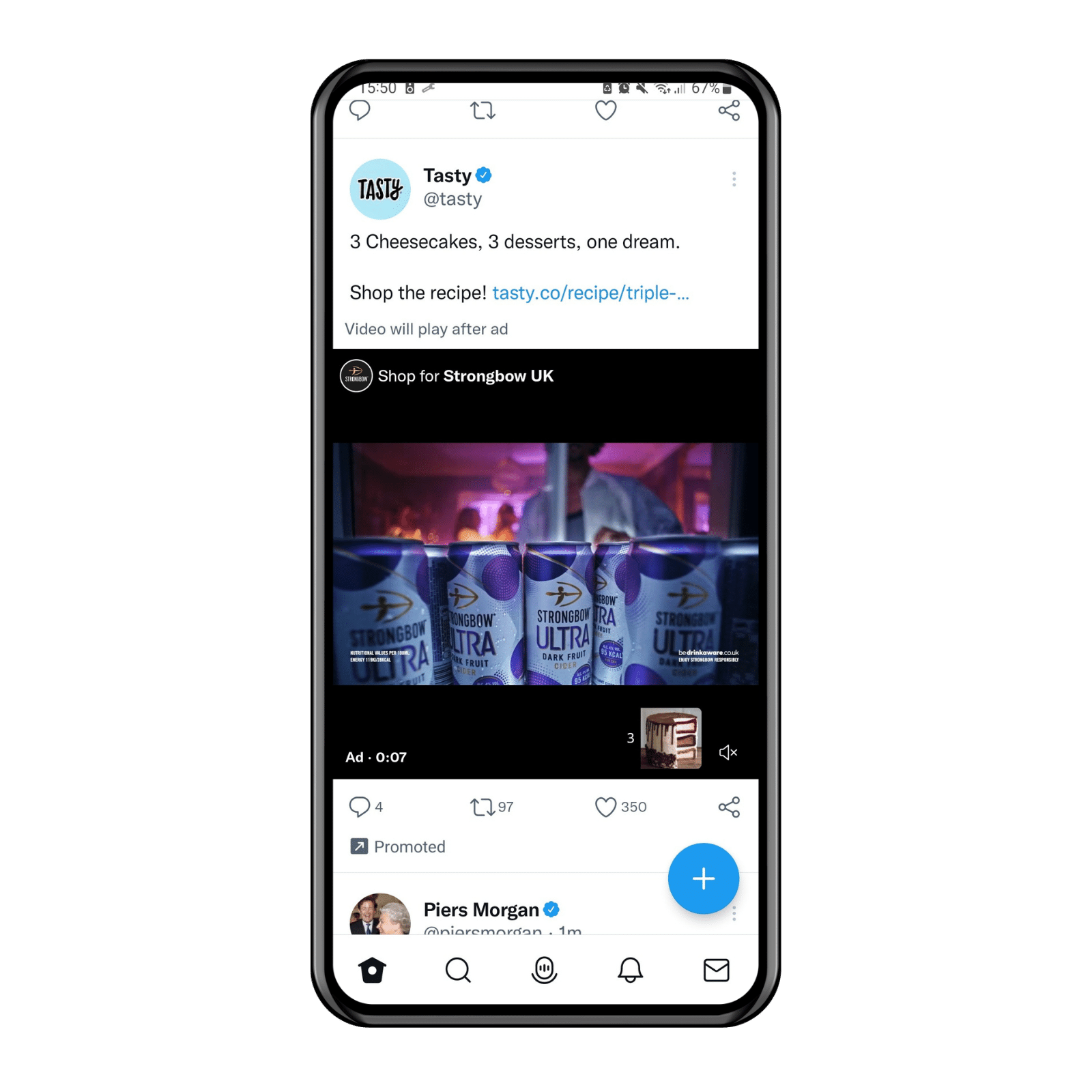 Grab attention with Amplify Pre-Roll.
Keen to reach food and drink lovers, @strongbowuk also ran an Amplify sponsorship on Twitter. Its short, snappy pre-roll ads preceded relevant content from premium publishers such as @Tasty.
The campaign garnered 65.2 million impressions overall. It scored an impressive 52 percentage point lift in ad recall among video viewers, three times the benchmark, and a 12 percentage point lift in consideration, six times higher than the benchmark
Overall, the CPM was £3.16, but that dropped as low as £2.63 on Reach campaigns, below the benchmark of £3.50. The Amplify campaign achieved an impressive pre-roll view rate of 50.22%.
We wanted to create something fun, engaging, and original to connect the goat character to our audience. Working closely with Twitter, we were able to build an experience that allowed people to fall in love with the goat in a way that felt personal to everyone.