How Sonos Australia hit 4.2 million impressions in just 24 hours
Sonos (@Sonos) is the world's leading sound experience company. As the inventor of multi-room wireless home audio, Sonos innovation helps the world listen better by giving people access to the content they love and allowing them to control it however and wherever they choose.
Over 40% of people on X in Australia are cricket fans1  – with almost half a million posts about cricket in Australia in the first half of 2021 alone2 – and they come to X daily to share predictions, join the conversation, celebrate wins, and discuss losses. 
Half of the people on X in Australia are serial scrollers – reading commentary on the platform while watching a game.3
Sonos, an official partner for The Ashes Australia 2021/22, knew that X was the place to connect with cricket fans – before, during, and after matches, putting the brand front and center of conversations around the cricket series on the platform. 
Sonos' campaign objective was to kick off The Ashes by launching their campaign on the first test match of the season on 8 December 2021, cementing Sonos as the premium audio brand for cricket fans throughout the summer. They decided to go big with an X Takeover, occupying X's key placements — the Timeline and Explore tab – to drive mass reach, awareness, and impact for a full day.
To maintain top-of-mind awareness across the season, Sonos also partnered with @FoxCricket through an Amplify Sponsorship package, exclusively running contextual pre-roll ads across bespoke highlights of the cricket series, produced and published by Fox Sports.
For this campaign, Sonos' target audience was broad – cricket fans from all demographics across Australia. Sonos targeted this audience using a mix of X targeting features, including location, keywords, follower look-alikes, interests, and conversation topics.
By connecting with highly-engaged and leaned-in cricket fans on X, Sonos was able to over-perform on their X benchmarks:
X Takeover impressions (against 3.5M benchmark) on the first test match4
lift in brand and campaign hashtag (i.e. #discovereasy) mentions during the Takeover5
Cost-per-pre-roll views. 2s Media Rating Council (MRC) standard) (against $0.02-$0.03 benchmark)6
Video completion rates7 (against 20% benchmark)8
To kick off The Ashes with maximum impact, Sonos tapped onto X's premium placements – Timeline Takeover and Trend Takeover+ – during the first test match, immediately associating its #discovereasy tagline to The Ashes for a full 24 hours.
Timeline Takeover puts your brand at the top of the conversation as the first ad of the day. Your ad is the first ad that will appear when someone opens X for the first time that day. Trend Takeover+ puts your Video Ad alongside what's trending and where conversations start – the Explore Tab.
Connect with our sales team if you want to learn about using these premium products for your brand.
Master the art of 'snackable' content
To keep users engaged, Sonos kept their content concise, simple, and fun to consume. Video assets were kept within X's sweet spot of 15 seconds or less, to encourage completion. Sonos products were prominently featured, alongside human interaction. 
Their post copy also followed best practice guidelines and was to the point with a clear message, and not overloaded with hashtags.
Sonos used X's Amplify to ensure that their Video Ads were placed before contextually-relevant content. By partnering with Fox Sports to exclusively run Sonos-branded pre-roll ads across The Ashes highlights, Sonos was able to seamlessly align itself to the cricket series and achieve high video completion rates from cricket fans. 
Not only that, Sonos made it a point to localize the creatives in a way that effectively tapped into the roaring cricket scene in Australia, which resonated strongly with local users.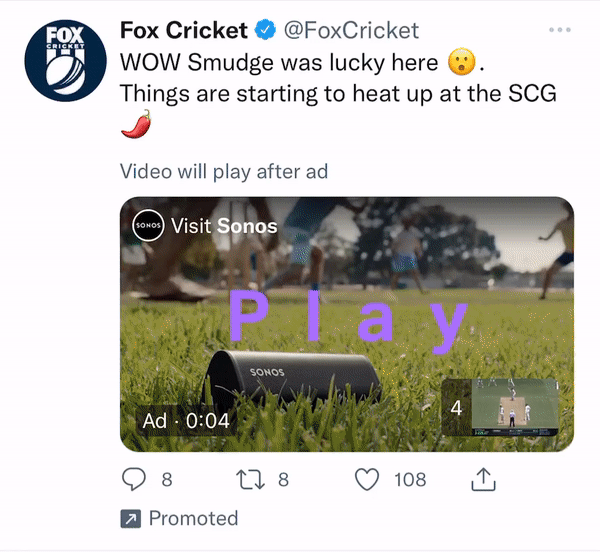 Sonos Amplify Sponsorship Ad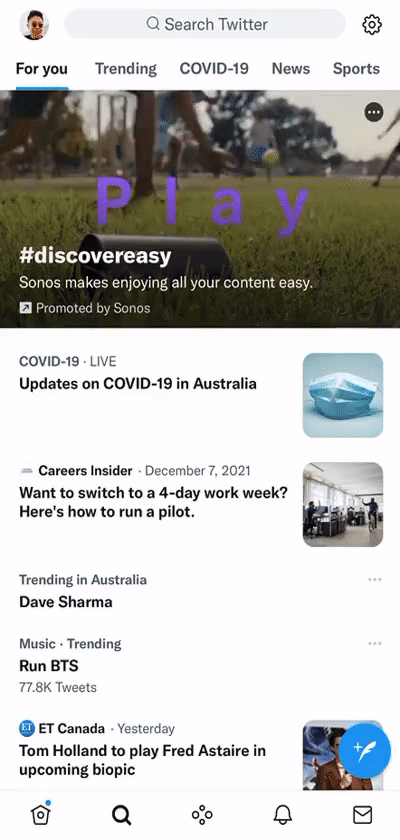 Cricket is the sound of the summer in Australia. From the beach to the backyard, to the buzz of the Boxing day test, Aussies love the cricket banter. Nevermore so than in an Ashes year when the age-old rivalry with the English reignites. By extending our Test Series brand and media partnership to X, Sonos was able to show up, engage and interact with our customers authentically, embedding the joyful and seamless experience of our brand with passionate X conversation
1. Source: GlobalWebIndex, Q1 2021, Active Twitter Users in Australia
2. Source: Brandwatch, 1 Jan - 22 Jul 2021, Australia, Conversations around cricket
3. Source: Crowd DNA, April - May 2020, Sample of 2033 quantitative respondents within Australia
4. Source: Twitter Ads Dashboard (8 Dec 2021)
5. Source: Brandwatch (lift during 8 Dec 2021, across 1 Dec 2021 - 31 Jan 2022)
6. Source: ​​Twitter Ads Dashboard (8 Dec 2021 - 19 Jan 2022)
7. Source: ​​Twitter Ads Dashboard (8 Dec 2021 - 19 Jan 2022)
8. Twitter internal benchmark used for advertisers in AU region