See how you can achieve similar success
See how you can achieve similar success

Biotechnology company uses Twitter to raise awareness of multiple sclerosis

@roche_es is the Spanish account of Roche, the world's largest biotechnology company. Founded in 1896, Roche employs over 94,000 people across more than 100 countries, and continues to search for better ways to prevent, diagnose, and treat diseases. Roche Spain teamed with communications agencies Wink TTD (@WinkTTD) and Prodigioso Volcán (@losdelvolcan) to create a campaign showcasing its work in multiple sclerosis and its commitment to the patients.
This campaign was focused on raising awareness of multiple sclerosis (MS) and Roche's commitment to researching the condition and developing new treatments. Timed to coincide with Spain's National Multiple Sclerosis Day on 18 December, Roche introduced the hashtag #tienEMilcaras. In English, this translates as "It has a thousand faces", as MS is known for its wide variety of symptoms. (EM is the spanish acronym for Multiple Sclerosis - MS)
Roche wanted to reach a broad audience across the whole of Spain. MS awareness is an important cause, and it did not want to exclude any particular demographic. Some ads were, however, targeted at those interested in or affected by MS.
Twitter enabled Roche to lead the conversation about multiple sclerosis in Spain. Thanks to a Promoted Trend [Trend Takeover], the campaign impacted all our key audiences: doctors, medical institutions, official bodies, patient associations, and, above all, society.
Roche created the hashtag #tienEMilcaras. Custom hashtags can be a great way to get noticed, especially if they are used by the right people. Companies, organisations, athletes, and celebrities can help boost a hashtag's usage among the public.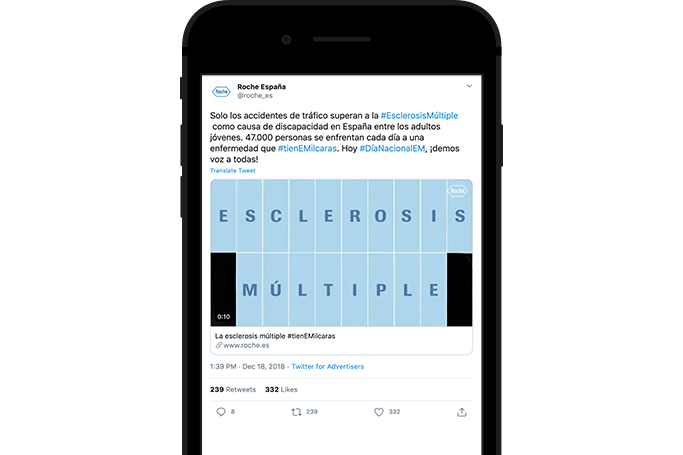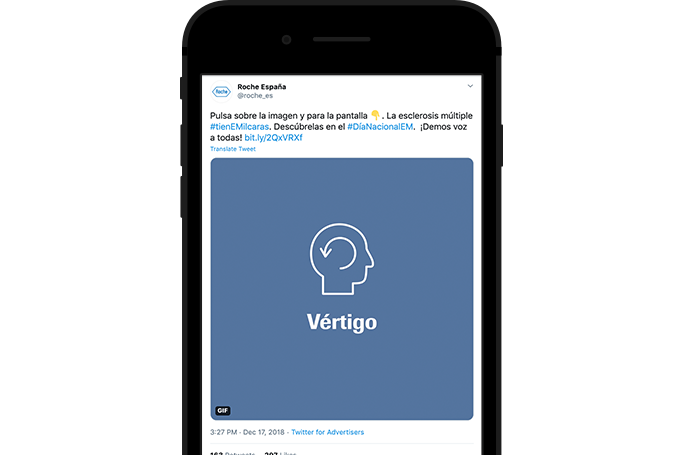 Experiment with different formats
Twitter offers a range of ad formats to suit various budgets, time constraints, and goals. To get their message across to a broad audience in a single day, Roche, Wink TTD and Prodigioso Volcán chose a Promoted Trend (now called Trend Takeover). This meant the campaign would appear in Trending Topics lists and be highly visible. For maximum effect, Roche used video, with a link to a dedicated MS website.
Capitalise on current events
One of the best ways to get noticed is to connect to current events. Whether it's an awareness day or something relevant that's in the news, people want to talk about what's happening right now. Roche timed its campaign to centre around Spain's National Multiple Sclerosis Day, and used its own hashtag in conjunction with #DíaNacionalEM.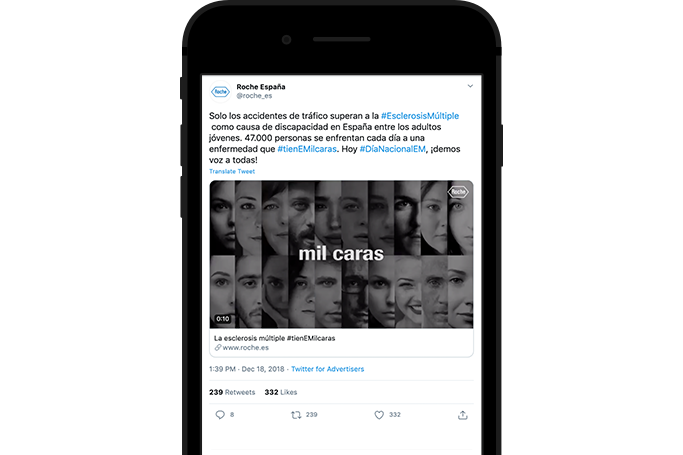 Ready to advertise on Twitter?