PT Pembiayaan Digital Indonesia
How @adakamiofficial integrates Twitter to achieve successful user acquisition
PT Pembiayaan Digital Indonesia is a leading online credit lending platform in Indonesia. They have launched concepts and technology to create a safe, efficient and transparent Internet financial platform. AdaKami (@adakamiofficial) is a PT Pembiayaan Digital Indonesia app that offers peer-to-peer lending and loan facilities without collateral. 
Working with media agency Sino Interactive (@SinoInteractiv), PT Pembiayaan Digital Indonesia wanted to explore new media platform opportunities and to acquire high quality loan applicants in Indonesia. The overall goal was to achieve ongoing and efficient acquisition of new AdaKami app (@adakamiofficial) users, and expand market share.
The audience for this campaign was broad and focused on the potential consumer loan market in Indonesia. 
Please note advertising of P2P loans is not permitted outside of Indonesia. Check our financial products and services ad policies for more information.
Video Ads with App Buttons
Image Ads with App Buttons
The Twitter advertising platform is crucial to our overall marketing strategy. It helps reach key audiences, drives traffic growth, accesses a wide variety of quality users and boosts conversion rates.
Baymax Zong, Marketing Director, PT Pembiayaan Digital Indonesia
Over the course of 13 months, Twitter brought a better-than-expected volume of user acquisition to PT Pembiayaan Digital Indonesia via AdaKami. 
Compared to other media channels, Twitter drove the highest conversion rate of more than 40%1

The App click rate was 0.23% higher compared to benchmarks2
1Source: Data from Mobile Measurement Partner (MMP)
2Source: Twitter internal data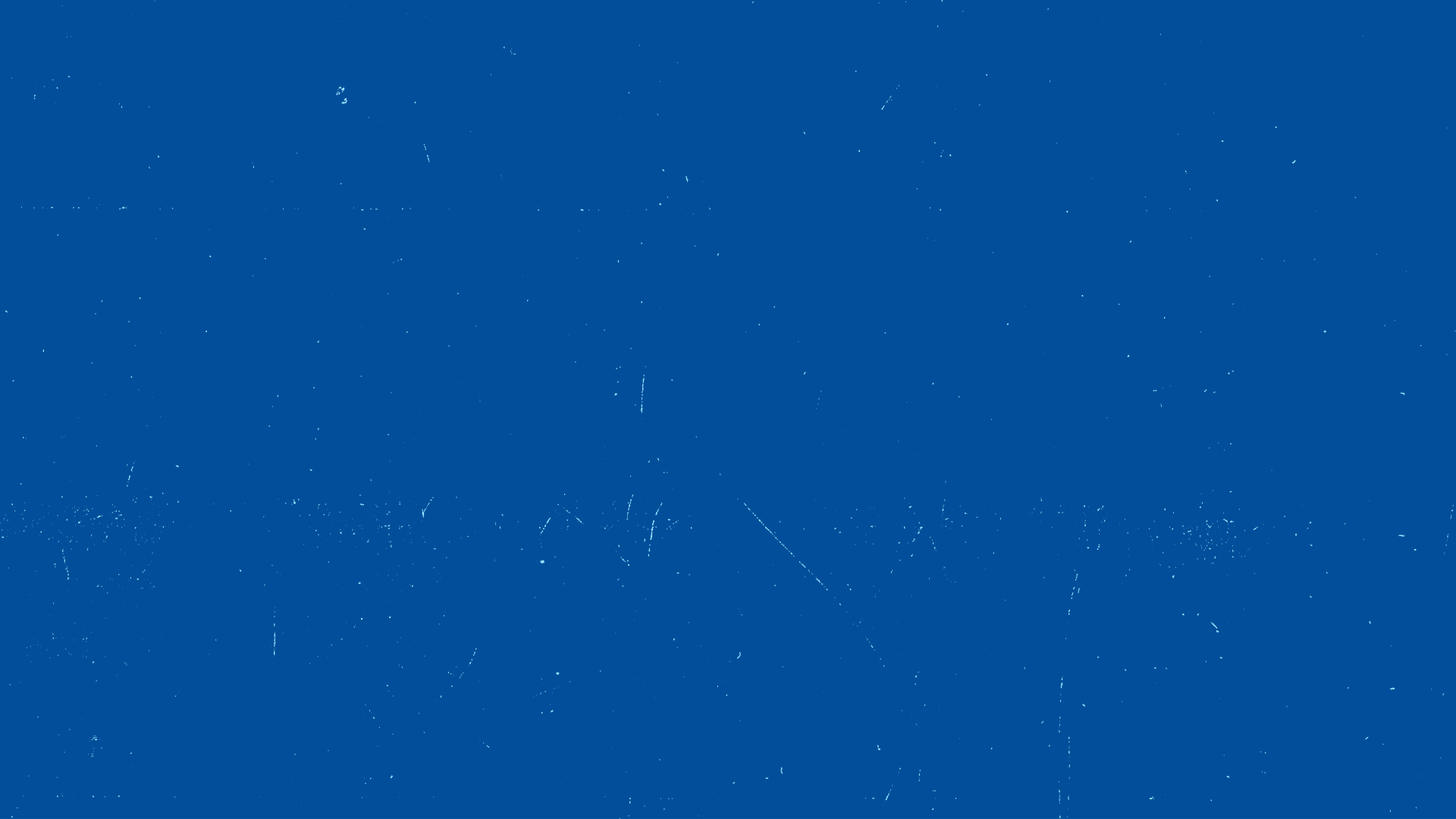 At the beginning of the campaign, PT Pembiayaan Digital Indonesia primarily targeted people interested in finance, loans and retail purchasing habits. Image Ads with App Buttons were mainly used and as creatives were tweaked and tailored to each target group, the cost of user acquisition steadily reduced over a two-month period.
Three months into the campaign, by adjusting and optimizing creatives every two weeks and optimizing keywords used for different targeting segments, the cost of user acquisition continued to decrease and the loan application rate increased by 59% compared with the previous period.3
Moving into 2022, the budget was ramped up with the goal of acquiring more app users. By increasing their spending and optimizing targeting options with trending topics in the local market, PT Pembiayaan Digital Indonesia saw significant MoM sales growth from 5% to 20%.4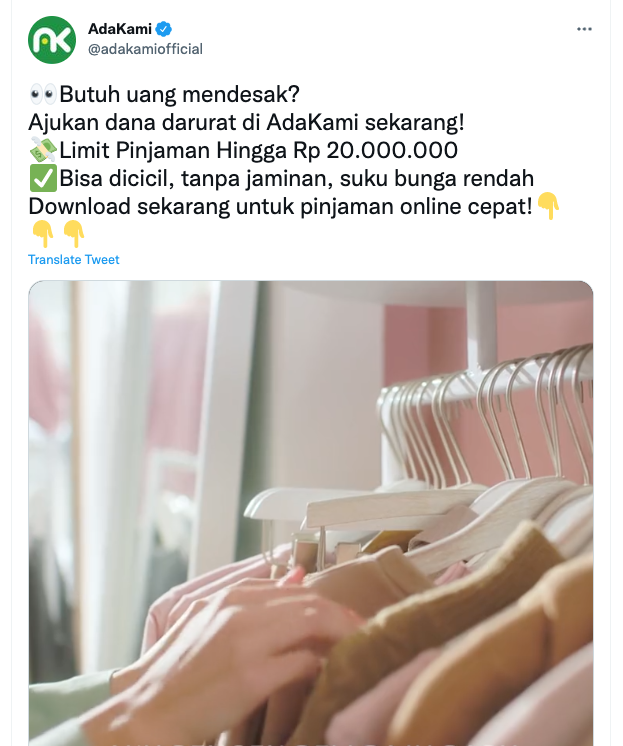 Video Ad with a sound-off strategy showing
the potential benefits of AdaKami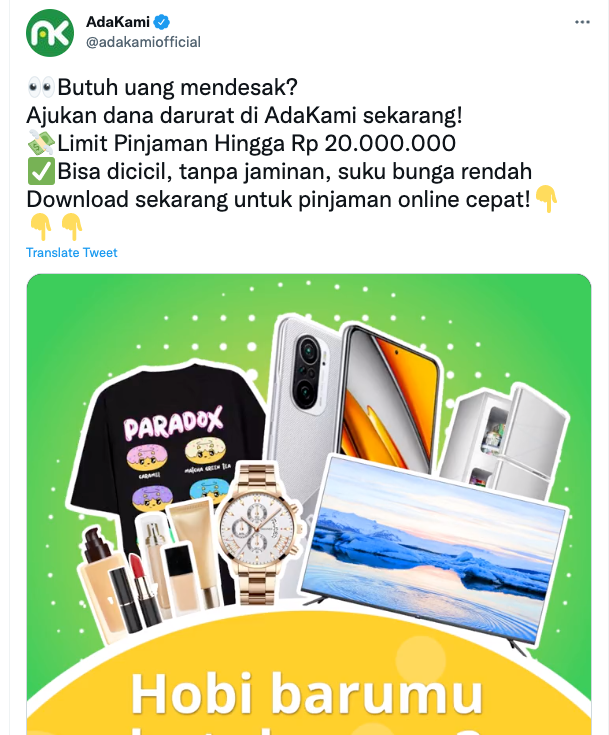 Video Ad in the AdaKami brand colors
aimed at people who like shopping
Create engaging ad creative
To encourage engagement and action, the PT Pembiayaan Digital Indonesia team created a variety of different creatives including videos and Carousel Ads at different stages of the campaign. PT Pembiayaan Digital Indonesia's Twitter Account Manager provided support on local market insights and market trends, which assisted in media and creative planning. Interested in running a large scale campaign with an Account Manager? Get in touch.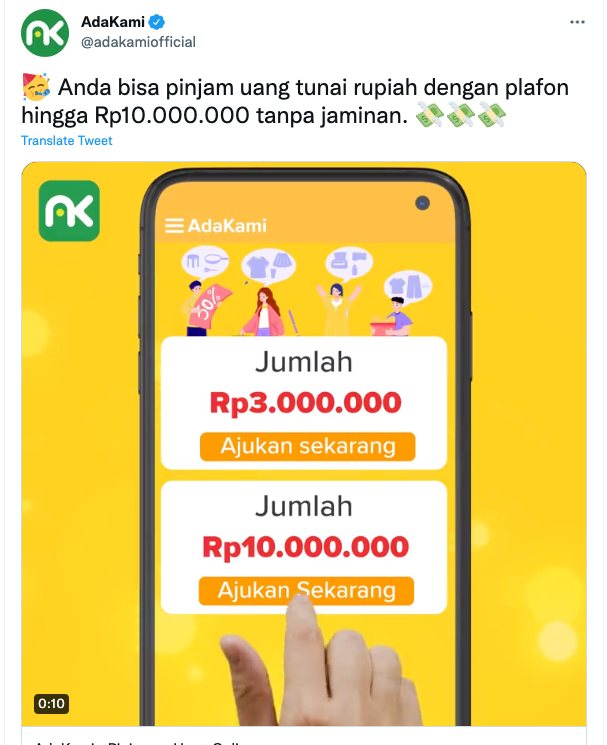 12-second Video Ad showing the in-app experience and encouraging downloads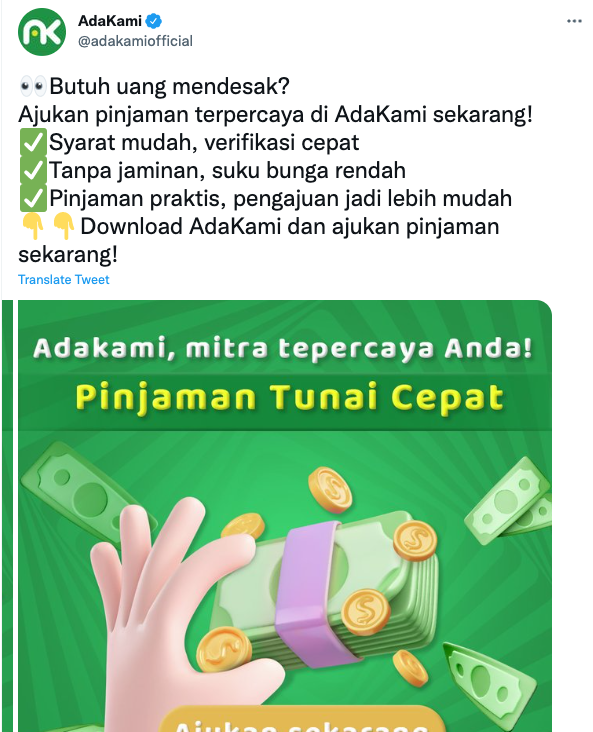 Carousel Ad with clear AdaKami
branding and CTA
3Data from Mobile Measurement Partner (MMP)
4Twitter Ads Manager