See how you can achieve similar success
See how you can achieve similar success

Pharmaceutical company uses Twitter to celebrate Irish success story
In 2019, biopharmaceutical company Pfizer (@Pfizer_Ireland), celebrated 50 years of operations in Ireland. With over 3,700 employees at sites in Cork, Dublin, and Kildare, the company is proud to be one of Ireland's leading employers. Pfizer worked alongside communications agency Edelman (@EdelmanIreland) to showcase its rich history of innovation, investment, and its people.
This campaign was designed to raise awareness of Pfizer's work in Ireland, past, present, and future. With the hashtag #Pfizer50th, the company wanted to celebrate its diverse workforce and to highlight the significant positive impact it has had in Ireland.
Pfizer wanted a broad audience for this campaign, including the general public as well as healthcare professionals and policymakers. A combination of geography, keyword, and follower look-alikes targeting helped reach the right people.
Twitter is a great channel to enable us to tell the story of Pfizer in Ireland over the last 50 years. Twitter Ads enabled us to segment our content and audiences efficiently, leading to cost effective, engaging ads that surpassed KPIs and benchmarks.
Twitter offers a wealth of advertising options that can be combined in unusual and innovative ways. The #Pfizer50th campaign included archive content from 50 years in Ireland, as well as 'Faces of Pfizer' employee profiles. Look at what has worked well for others and get creative!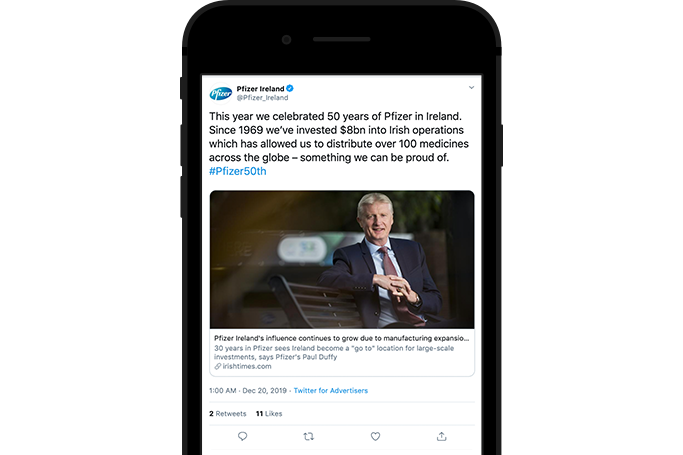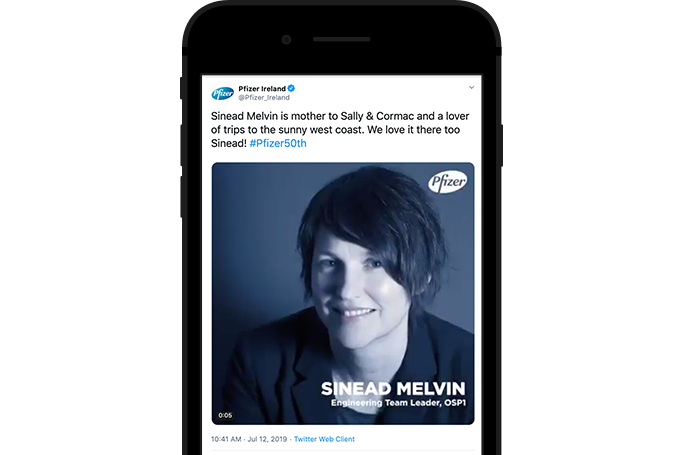 The audience is out there
Nobody wants to see ads that aren't relevant to them. The team behind the #Pfizer50th campaign created content that spoke to a specific audience. They then took full advantage of Twitter's targeting options to ensure that it reached that audience. This led to better results all round, as people cared about what they were seeing, and Pfizer Ireland could get immediate feedback.
Small changes can make a big difference to the effectiveness of a campaign. The Pfizer team used the Twitter Ads dashboard to monitor performance on a daily basis. They could clearly see what was working best, and how each change they made affected key metrics. This enabled them to use their budget more efficiently, investing in content that resonated with their audience.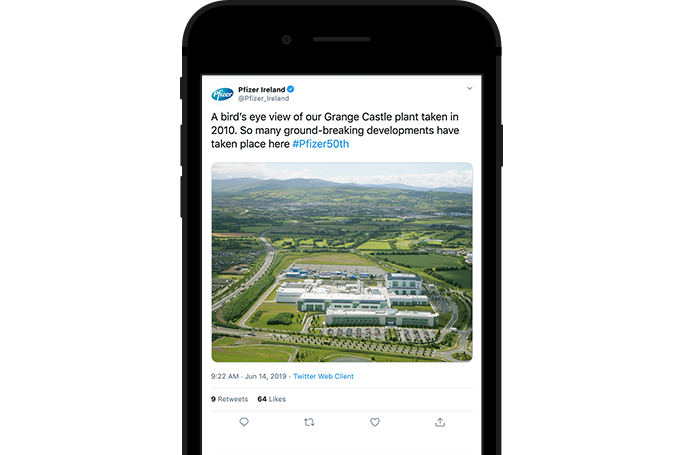 Ready to advertise on Twitter?