Case Study
How Pandora launched a new jewelry collection on Twitter and achieved remarkable results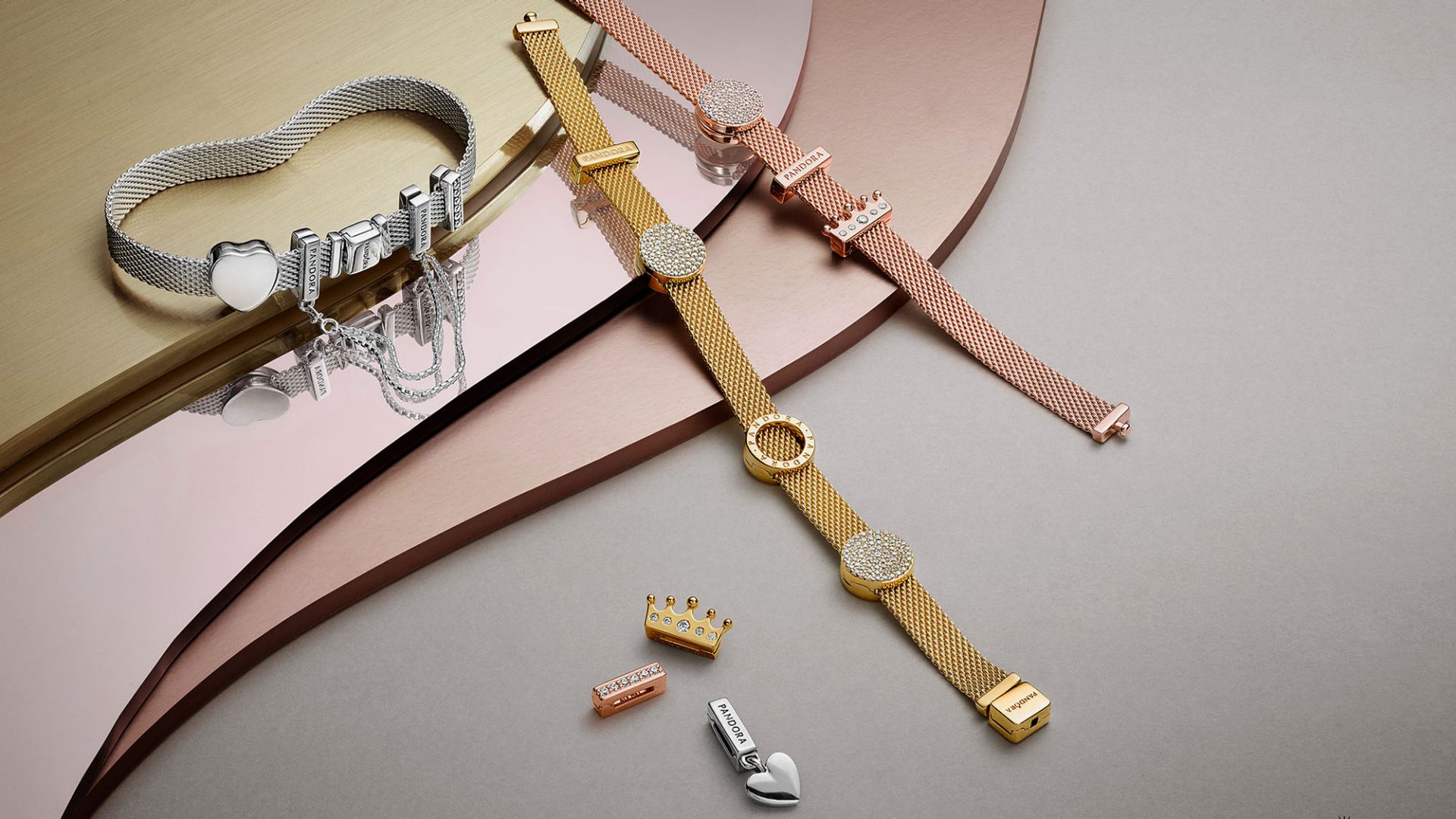 +8pp
lift in campaign awareness (control vs. exposed)1
+4pp
lift in consideration (control vs. exposed)1
+11pp
lift in Tweet recall (control vs. exposed)1
For the launch of its new Pandora Reflexions™ collection, Pandora (@PANDORA_NA) — an almost four-decade-old brand that designs, manufactures, and markets affordable luxury jewelry — wanted to reach women who were looking for modern, feminine jewelry. In collaboration with their media agency Mindshare, Pandora turned to Twitter for the launch given our reputation as the go-to platform for successful debuts2.
Leaning on our robust ad suite to drive awareness around the new line, Pandora tapped into our engaged audience of users who help influence what family and friends buy.
To start, Pandora used our demographic targeting tools to find its core audience on the platform: women aged 18 to 54 who are interested in fashion, shopping, accessories, and jewelry.
With its target audience locked in, the brand followed some of our recommended best practices for product launches.
Building anticipation for the new collection ahead of the launch, Pandora encouraged conversation around the upcoming line by sharing compelling, visual content like videos and GIFs of the new collection. On launch day, the brand did a full product reveal and officially introduced Pandora Reflexions to the world, Tweeting videos, interactive audience polls, and carousels of the new products in the line.
To measure how the campaign drove brand metrics, Pandora used Twitter Brand Surveys to survey a group of people — some who were exposed to their ads and others who were not. It asked a series of questions to measure awareness, consideration, and recall of the campaign's messages.
Insights from the survey helped Pandora improve its creative assets for future campaigns, while validating that launching a new product using the tease/reveal strategy was an effective driver of brand metrics. Short-length video with a clear and compelling message, that works without sound:
Pandora's tease Tweet was the perfect tee-up for its product launch.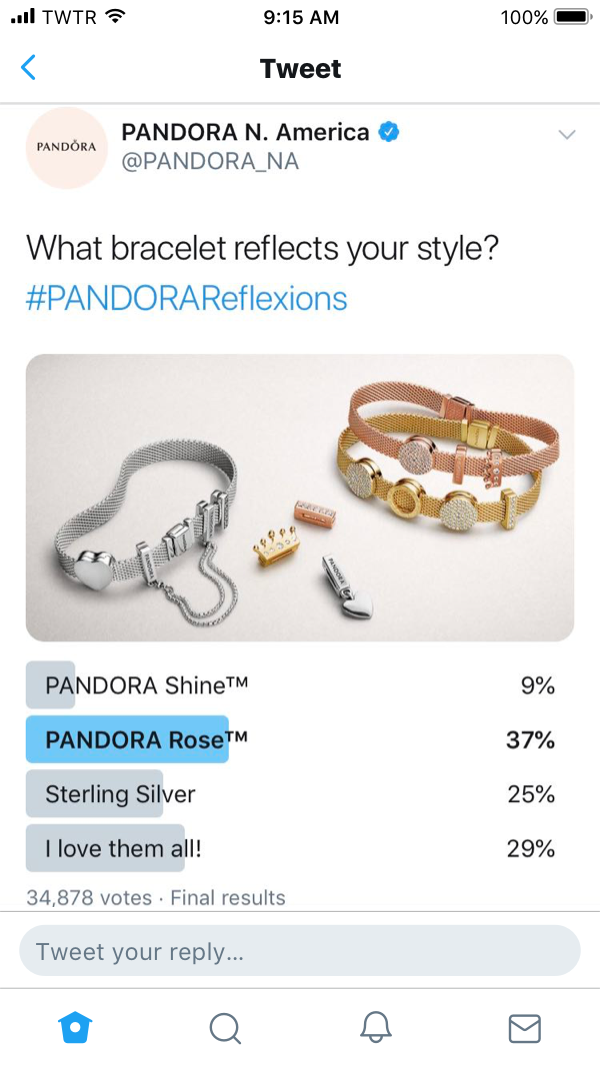 An interactive poll was a clever way for Pandora to engage its audience while introducing new products.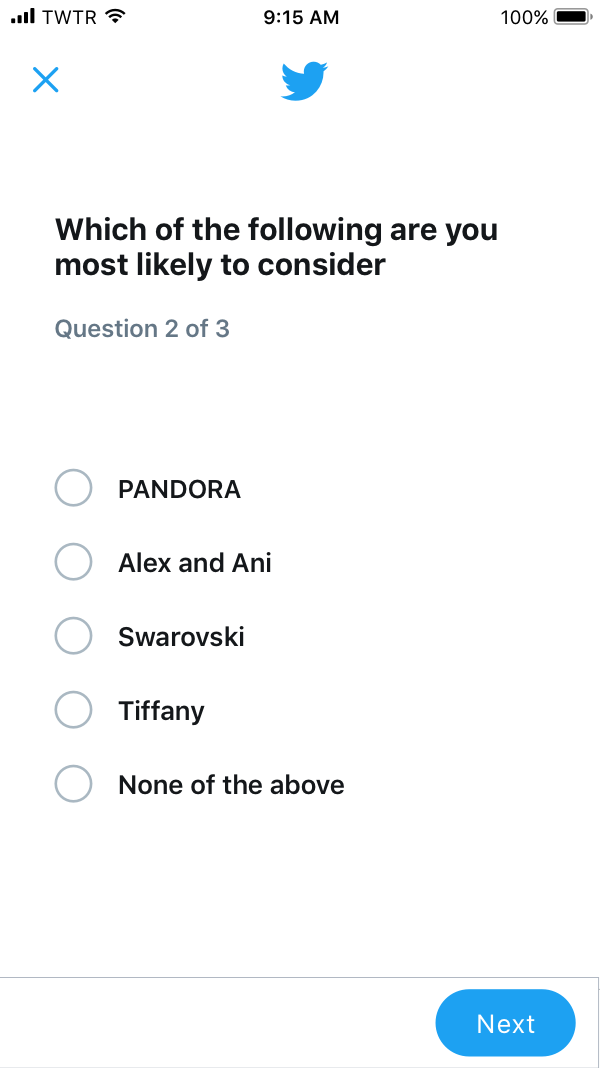 Pandora used Twitter Brand Surveys to measure awareness, consideration, and recall so it could gauge the success of its campaign against its business goals.
The insights from Twitter Brand Surveys quantified Pandora's success, revealing statistically significant increases in campaign awareness, consideration, and Tweet recall. Video views and engagements also outperformed norms, with an average view rate 1.1X higher and engagement rate 10.75X higher than retail industry benchmarks. Additionally, cost per view and cost per engagement were also more efficient than industry benchmarks.
The outcomes of the Twitter Brand Survey also helped Pandora reinforce its current strategy for future campaigns. Creatively, Pandora will continue to apply Twitter's best practices, specifically by creating short videos with branding up front. As for the tease and reveal strategy, Pandora saw such impressive results in awareness, consideration, and recall that it will be using this strategy in future campaigns.
Since using Twitter as an advertising platform to reach engaged, receptive audiences who intend to make purchases, Pandora is now investing more in Twitter. It has since launched two additional campaigns and plans to launch more campaigns in the future, all using Twitter Brand Surveys to measure branding success.
Twitter let Pandora showcase the new Reflexions collection through multiple unique and engaging formats. Twitter's receptive audience engaged with, shared, and talked about our creative assets, ultimately driving brand lift metrics that we strive for during a new product launch.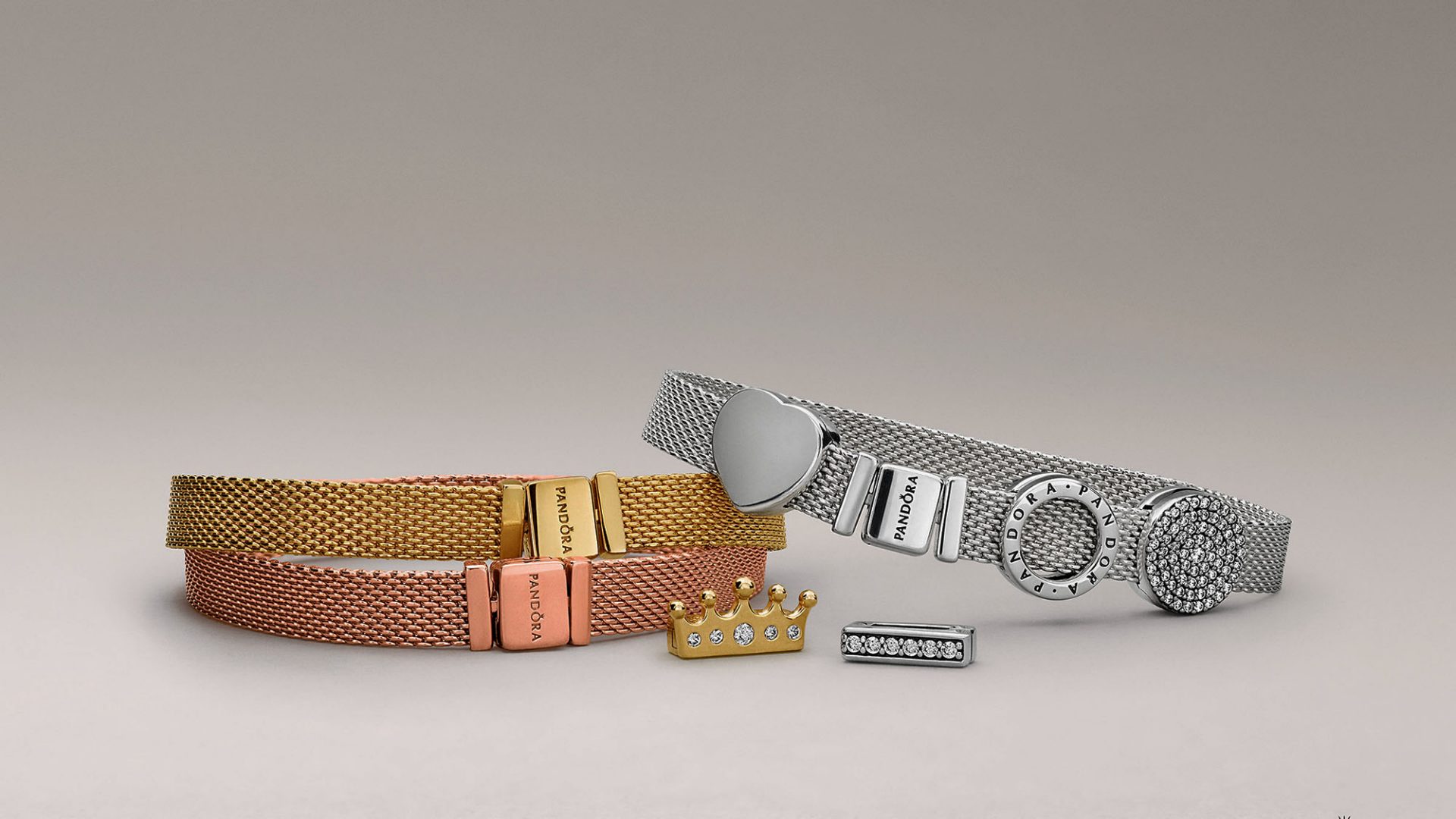 1 Source: Twitter Brand Survey for Pandora, October 2018; *Statistically significant different at a 90% confidence level against the control group; control n = 988, exposed n = 929
2 Twitter-commissioned study: Kantar/Millward Brown