Case Study
How OREO's #ProudParent campaign connected to National Coming Out Day and started a lasting conversation

+2846%
increase in mentions1
5x
higher engagement vs benchmark3
+34%
lift in positive sentiment2
For over 100 years, OREO has remained one of the most beloved brands in America. So when it came time to celebrate LGBTQ+ History Month, OREO wanted to show that it was a brand for all people by promoting its commitment and allyship to LGBTQ+ causes where the Pride conversation was happening. That place is Twitter — a highly effective platform for brands to showcase their commitment to important social causes to a receptive audience. In fact, according to a recent study, an overwhelming majority (81%) of people on Twitter say brands should use their position to affect positive change in society.4 
To promote its message of support and allyship with LGBTQ+ causes, OREO teamed up with National Coming Out Day and PFLAG, an organization that supports LGBTQ+ people and their families. OREO released #ProudParent on Twitter, its campaign film about a woman who brings her same-sex partner home to meet her family for the first time. The campaign promoted the importance of family love and affirmation in the LGBTQ+ community while also providing resources for parents and families of LGBTQ+ communities.
Here's how it all came to life on Twitter.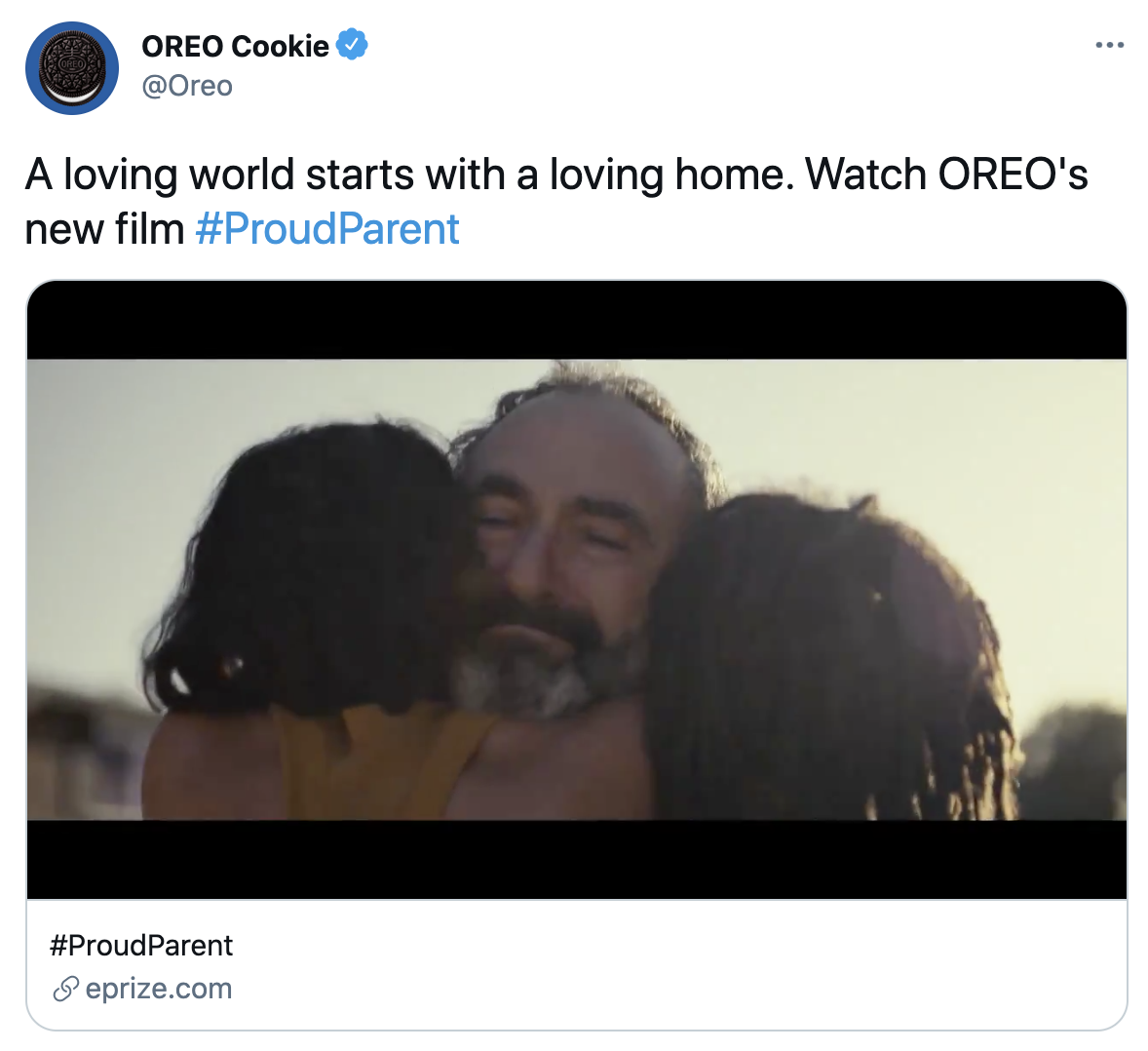 To help generate as much visibility and impact as possible, OREO used First View, an exclusive, single-day, "mass awareness" ad format, to debut the #ProudParent campaign. This allowed OREO to take over the top of the timeline for those valuable first 24 hours. OREO also used Video Website Cards to link to its OREOProudParent.com website.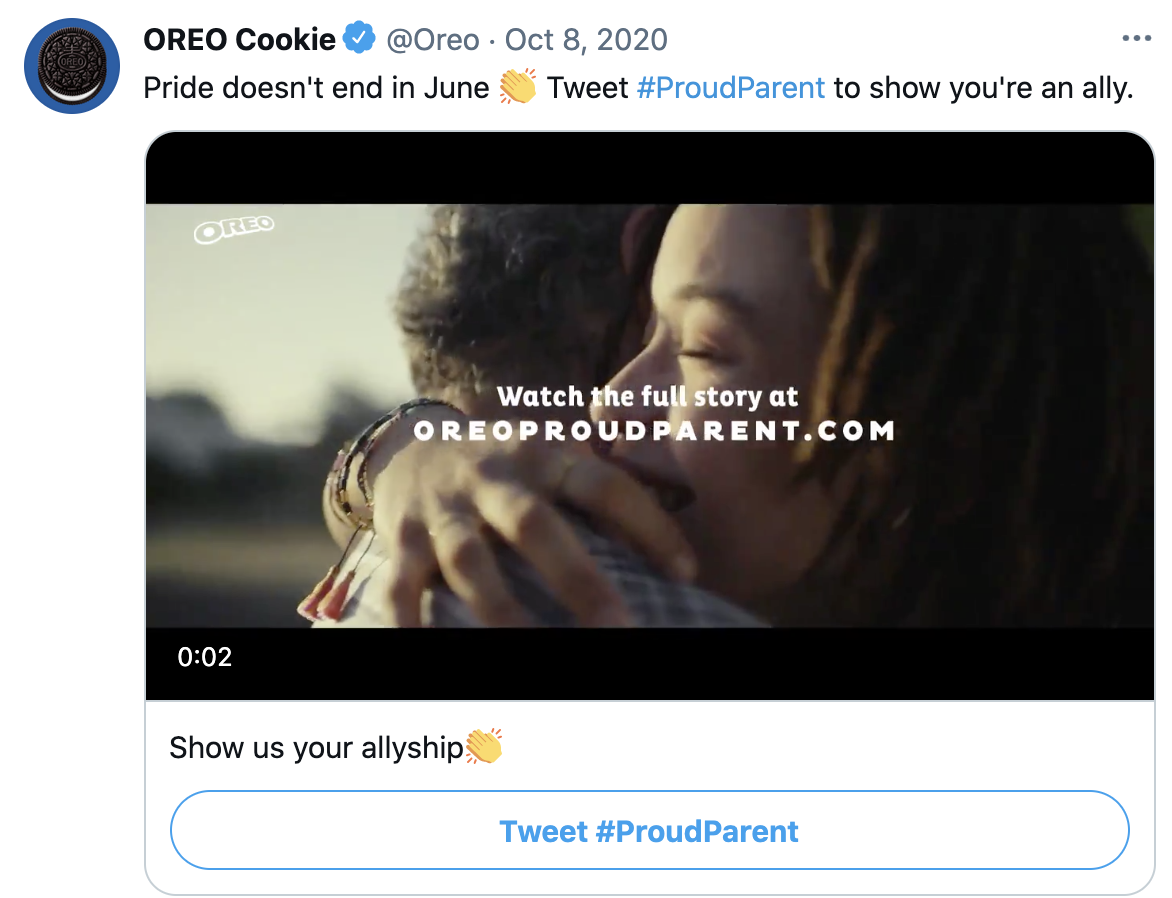 After engaging viewers with its #ProudParent film, OREO encouraged conversation by using a Video Conversation Card, which featured a call to action for people to show their allyship and Tweet their support as a #ProudParent.
Create cut-downs for click-throughs
OREO created several edited versions of the original #ProudParent film and showcased these new cut-downs through Video Website Cards that also included a link to OREOProudParent.com.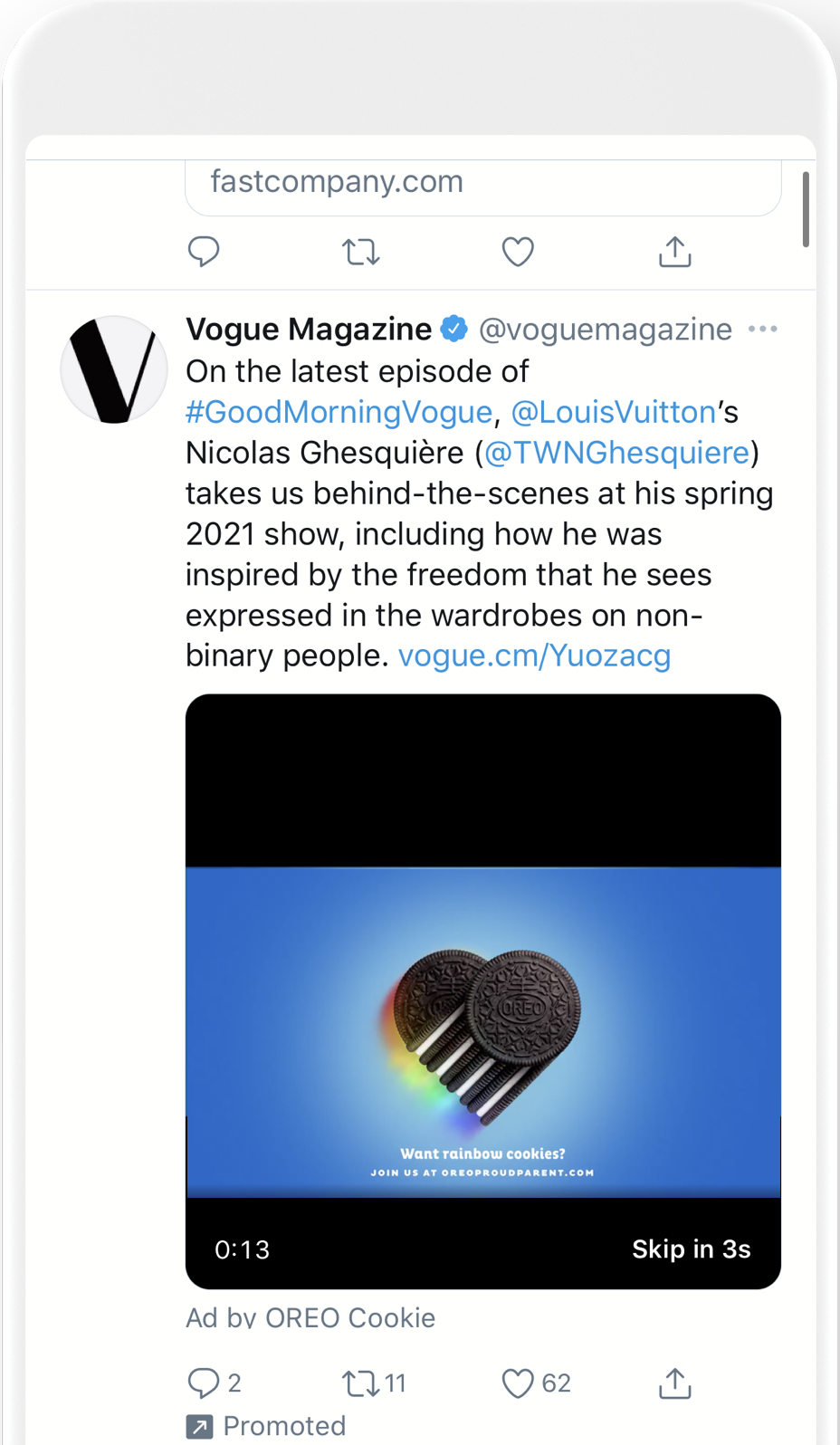 Pair your brand with premium content
Through Twitter Amplify, OREO bolstered the reach of their brand messaging by pairing their pre-roll video with brand-safe, premium content.
Surround the conversation with an organic Twitter thread
OREO connected to the National Coming Out Day conversation by posting a playful but educational Twitter thread that celebrated different LGBTQ+ flags and communities with a little help from their cookies.
Keep momentum with an exclusive giveaway
OREO rounded out its campaign by calling on people on Twitter to show they're a #ProudParent by sharing their photos, leveraging user-generated content to give away its limited-edition rainbow cookies.
The #ProudParent campaign proved to have a lasting and powerful impact, resulting in a 2,846% increase in brand mentions for OREO during its Twitter takeover. It also drove a 34% bump in positive sentiment for OREO and #ProudParent. People on Twitter responded to OREO's calls to action by sharing their allyship and support for the #ProudParent campaign through photos and praise for OREO's messaging.
By using Twitter to debut its heartfelt #ProudParent campaign, while also calling on people to share their support and allyship of the LGBTQ+ community, OREO succeeded in honoring the importance of acceptance and love in every family. Doing so on an important occasion like National Coming Out Day was proof that brands like OREO can join the conversation and make lasting connections with a welcoming audience.
Sources:
1. Brandwatch, October 9, 2020, US. Mentions on Twitter takeover day compared to daily average the week before
2. Brandwatch, October 9, 2020, US. Lift in positive sentiment compared to the week before
3. Twitter Internal, 2020. Engagement rate compared to CPG Q2 - Q4 2020 benchmark
4. The Numbers Lab, Jan 2020 Q: Thinking about brand purpose campaigns overall, how much do you agree or disagree with the following statements? MX, BR, US, UK JP, CA n=6743