Success story
How NBA 2K22 dominated conversation during the NBA Finals by connecting with gamers on Twitter

When NBA2K22 was looking to generate hype for their cover athlete reveal, there was no better place to launch than on Twitter. 
181K
brand mentions during launch
83K
brand mentions during campaign tease
242K+
brand mentions during campaign
As every gamer's favorite basketball video game, hype always reaches maximum levels whenever the next installment of @NBA2K is announced. So much so that even the reveal of the athlete featured on the game's cover art is a big cultural moment. But what happens when 2K is looking to make the anticipated NBA 2K22 Cover Athlete Reveal during the same time that fans are caught up in the action of a momentous NBA Finals?
The answer is Twitter —with an obsessively leaned-in fan base. Data shows that fans on Twitter are buzzing about the NBA, with the NBA being the No.1 talked about sports league on the platform.1 
Who got game? The NBA sports fans on Twitter do. NBA fans are actively engaged on Twitter, talking often about the sport and generating buzz for NBA Finals content. This means the best way to break through the Finals fever and connect with gamers was by generating a Cover Athlete Reveal campaign that lived on Twitter and even integrated into the current edition of NBA2K21 itself. And here's how they did it.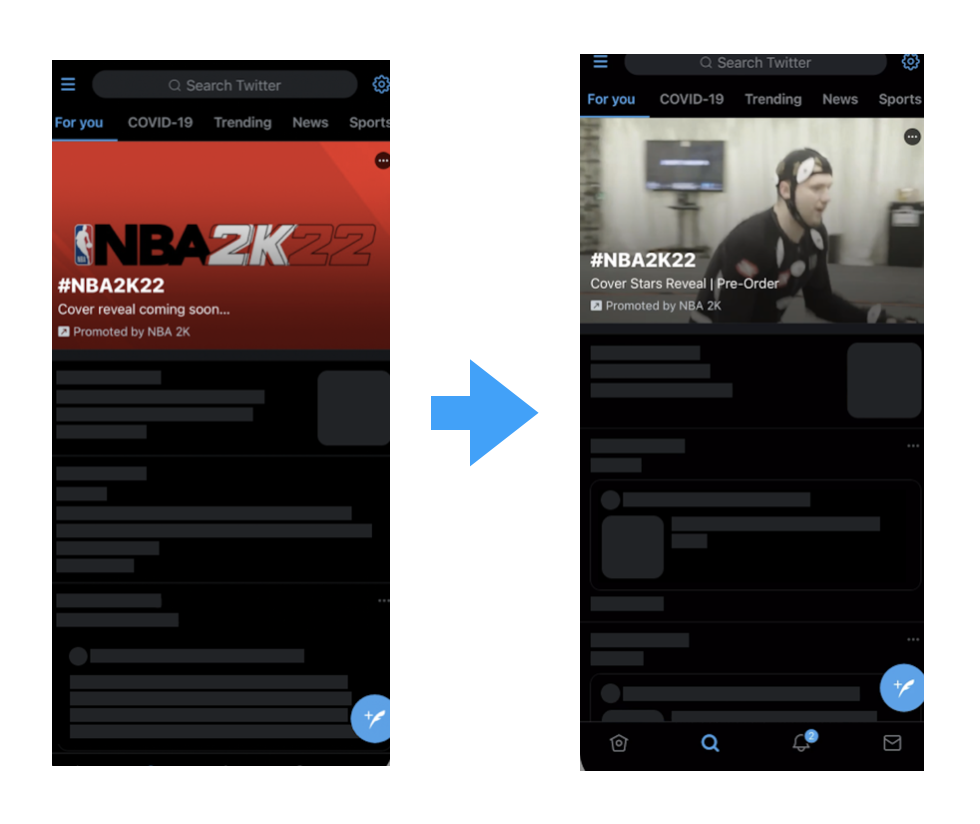 Generate excitement through a Twitter Trend Takeover+.
If we've learned anything from basketball, it's when you step onto the court, all eyes are on you. 2K launched their campaign through a Twitter Trend Takeover+, where an immersive video ad displayed alongside what's trending and teased the Cover Athlete Reveal on announcement day. And once the athlete was revealed, the Trend creative changed to reflect the big announcement. 
Build anticipation with a Brand Notification. 
"Anyone, anywhere can become a legend in #NBA2K22." And with that inspiring recruitment call, 2K invited fans to like a Tweet, and in exchange, they got exclusive content delivered to them all year long. This Branded Notification also enabled 2K to have one-on-one conversations at scale with the fans that interacted with their campaign.
Partner with talent to build on the hype.
2K not only partnered with celebrities for launch, but did so with an athlete that broke barriers and generated added buzz. As the first female cover athlete in the history of @NBA2K, Chicago Sky's Candace Parker announced her 2K22 cover reveal on Twitter to her 365K followers. At the same time, 2K22's other NBA cover star Luka Doncic shared the news with his 1.3M followers also giving 2K massive and organic coverage across the Twittersphere.  
Express your brand's personality with a Branded Hashtag.
2K encouraged fans to generate some conversation of their own around the reveals by equipping them with a custom emoji generated by a Branded Hashtag. Whether it was the overarching #NBA2K22 or more campaign specific #AnyoneAnywhere or #2KRatings, these special hashtags extended 2K's presence across Twitter in a way that felt organic to the brand. Or more succinctly, Branded Hashtags took this campaign to the hoop.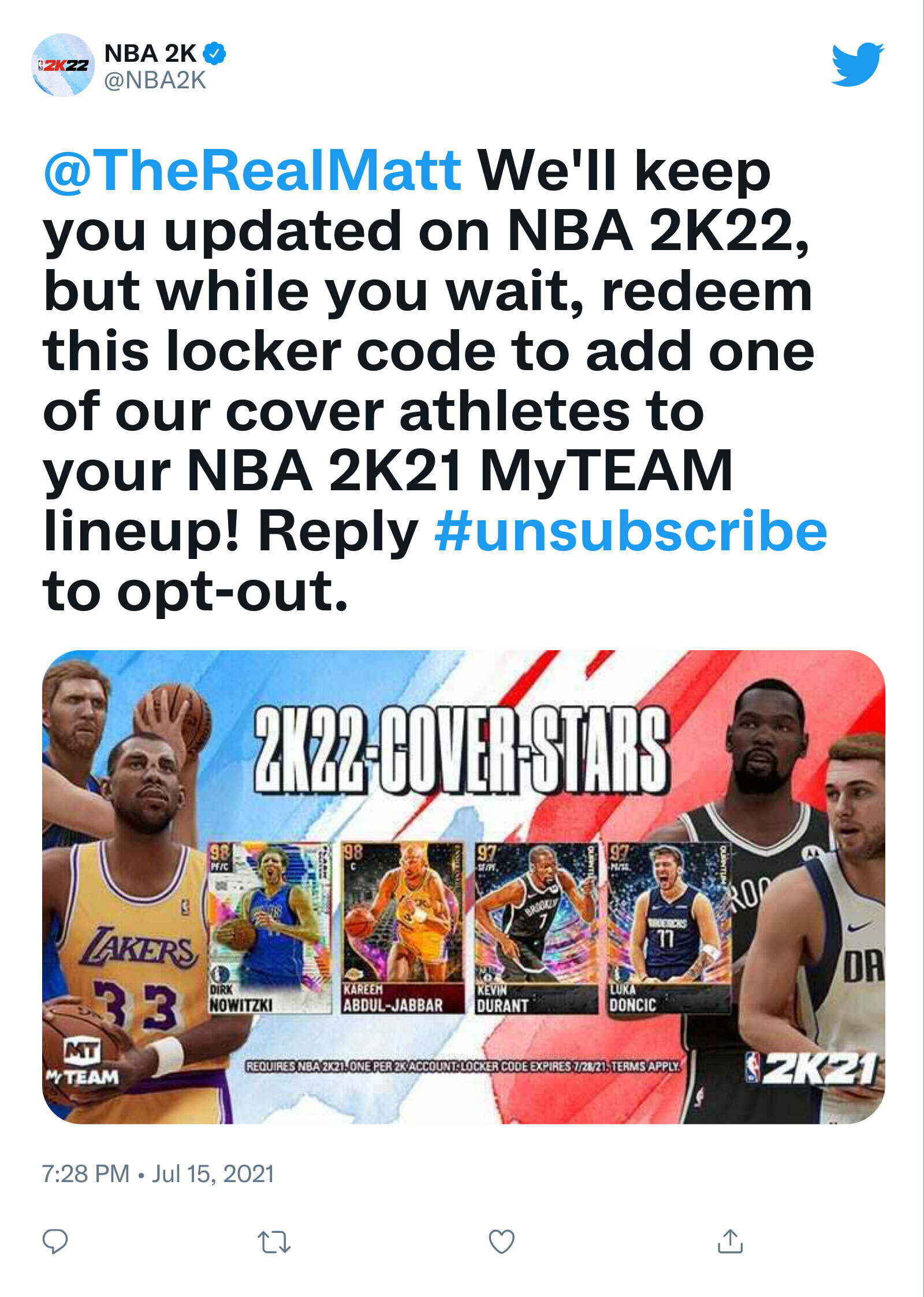 Go beyond the playbook, and meet gamers where they're at. 
For the first time ever, 2K reached out to gamers within current NBA2K21 gameplay and invited them to scan a QR code on their TV screen. Once they scanned it, it linked to the 2K Branded Notification on Twitter and opted them into a program that rewarded them with exclusive content like the chance to unlock one of four cover athletes — Dirk Nowitzki, Kevin Durant, Luka Doncic, or Kareem Abdul-Jabbar — at random. Any one of these recruited athletes could then be added to a player's personal MyTeam, which could then be used in game to create some legendary @NBA2K moments. 
While the Milwaukee Bucks dominated the Phoenix Suns in Game 3, 2K dominated Twitter with a first of its kind campaign that launched the Cover Reveal moment as a gametime victory. The Branded Notification, for example, delivered on 31K active participants with all those Likes translating into campaign opt-ins. 1
Through the overall campaign, NBA2K22 got the community talking with a +242 performance above brand mention benchmarks during their launch moment.3 This wasn't an instance of a brand simply scoring points with its fans — it qualified more as nothing but net.
Sources
1 Internal Twitter Data. Time Frame: 01 February 2019 - 01 February 2020. Data retrieved February 2020. US Numbers only. No RTs.
2 Brandwatch 2020 7/12/21 - 7/19/21 : NBA2K Terms
3 Brandwatch 2020 7/12/21 - 7/19/21 : NBA2K Terms