How Movember Australia used Twitter in their goal to change the face of men's health
Movember is the leading charity in changing the face of men's health, focusing on mental health and suicide prevention, prostate cancer, and testicular cancer. The global brand, originally founded in Melbourne in 2003, is an annual movement with November being the key flagpole, calendar moment. During the month of Mo, the community is encouraged to Grow a moustache, Move 60km, Host a Mo-ment, or Mo Your Own Way, to raise funds and awareness for men's health.
Movember's (@MovemberAUS) mission is to help men live happier, healthier, and longer lives. Men are dying too young, on average five years earlier than women, and for largely preventable reasons. 
The purpose of the campaign is to motivate supporters to take action and fundraise for men's health – for their friends, fathers, brothers, and sons.

To help encourage men to have more important conversations, drive widespread engagement, direct people to Movember.com, and to raise funds, @MovemberAUS leveraged two of Twitter's premium ad formats – Timeline Takeover and Trend Takeover. 

The @MovemberAUS campaign qualified for Twitter's Ads for Good program, where they were given pro bono advertising credits to amplify their message through always-on video assets throughout the month. Twitter awards pro bono advertising credits to eligible nonprofits as a way to use the power of our advertising platform to amplify their message.1
Movember's core target audience is men and the people who care about them. They combined their known audiences with Twitter's interest targeting to focus on growing their Mo community and tapping into new communities.
The campaign saw impressive results, including a paid placement of #Movember2021 front and center of the Explore tab.
Timeline and Trend Takeover Impressions2 (against 3.5M benchmark)
lift in brand mentions during the Takeover4
To kick off the #Movember2021 conversation, Movember bundled Twitter's most premium placements – the Timeline and Trend Takeover – to facilitate mass awareness, engagement, and greater ad recall for a full 24 hours. 
Movember was able to capture attention from the get-go and deliver impressive results – generating almost 4.8 million Takeover impressions and approximately 16K ad engagements in a single day6. Almost all sentiment throughout the day was either positive or neutral, pointing towards how well-received the campaign was by the public.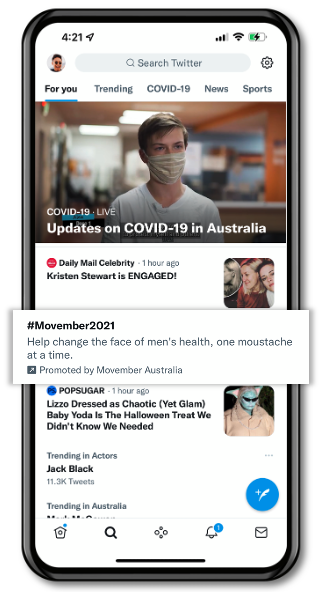 Maximize video performance
Creatives are one of the most important elements to any ad's success. Movember adhered to Twitter's video best practices with short and punchy 15s creatives and inclusion of human interaction. Leading to drive strong view rates and low costs-per-view for the charity.
Include strong calls-to-action (CTAs)
By adding a clickable website button that directs people to the Movember landing page, @MovemberAUS was able to clearly communicate their key messages while seamlessly driving people to take action. They also used a recognizable hashtag (#Movember2021) to further encourage conversation and engagement.
Movember is a peer-to-peer fundraising campaign that encourages conversations and positive actions surrounding men's health. Twitter enabled us to use premium placements to bring greater awareness around these topics and issues, that often get overlooked by men.
1. Source: Twitter Ads for Good, https://about.twitter.com/en/who-we-are/twitter-for-good
2. Source: Twitter internal data. Australia, 31 November 2021
3. Source: Twitter internal data. Australia, 31 November 2021
4. Source: Twitter internal data. Australia, 31 November 2021
5. Source: Twitter internal data. Australia, 31 November 2021
6. Source: Twitter internal data. Australia, 31 November 2021