See how you can achieve similar success
See how you can achieve similar success

Irish Water highlights water conservation issues on Twitter
Irish Water (@IrishWater) is Ireland's national water utility. Formed in 2013, it provides water and wastewater services for the country's 31 local authorities. Irish Water worked with creative agency Rothco (@Rothco) to devise a campaign encouraging people to conserve water during what was one of Ireland's hottest and driest summers on record.
Irish Water used this campaign to raise awareness of the growing need to conserve water. It wanted to share the latest news, make people aware of the small changes they could make to help save water, and to encourage others to spread the message. A secondary goal was to drive traffic to its website, where people could find out more about Irish Water's work in their local area.
The audience for this campaign was the general public and businesses in Ireland. Issues surrounding water supply affect everyone, but interest targeting was used to deliver certain content to those interested in environmental matters.
Twitter is in real time – it's where people consume the news while it's still in motion. So, having an opportunity where our urgent message of water conservation during an unprecedented crisis could reach people in that type of space was of significant impact to the overall campaign
impressions (in three weeks)
Find the right content strategy
While some advertisers choose to launch straight into their showstoppers, others may prefer a phased approach. Irish Water found that a reliable strategy was to start with short form video content. This got people interested in what the company had to say before it launched the 'hero' content.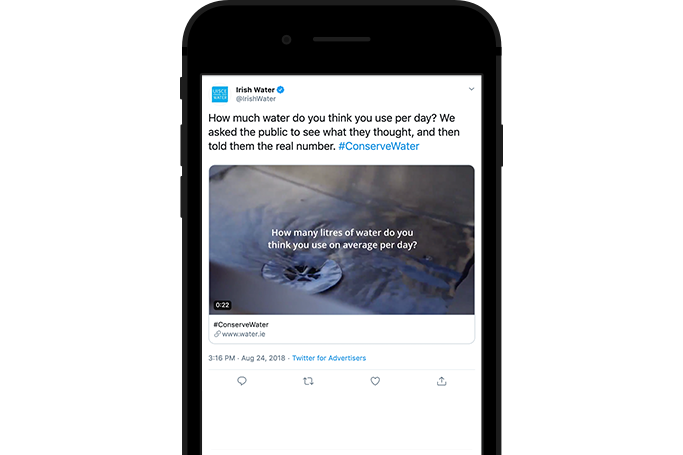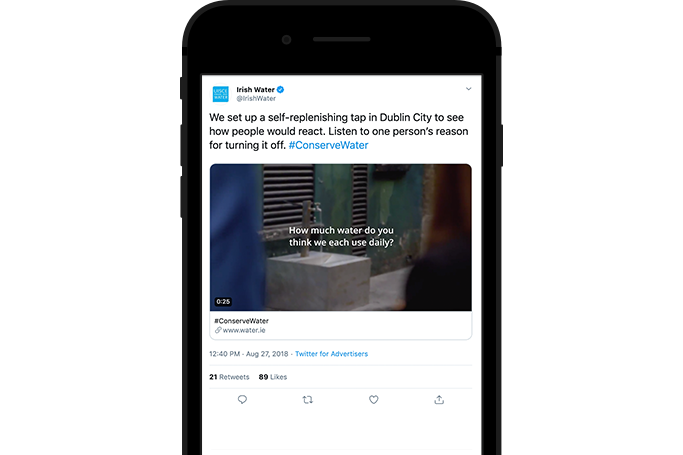 Twitter is what's happening in the world. So there's always the opportunity to change things around. If there's breaking news or something that might affect the way an ad would be perceived, then get in early and stay ahead of it. Irish Water incorporated the latest news and information into their campaign, using the hashtag #ConserveWater to tie it all together.
Video is one of the most effective ways to get a message across on Twitter. Rothco helped Irish Water to create unique video content for their campaign, including 'vox pop' style interviews. This drove home the point that people are unaware of how much water they actually use each day, and resonated with the intended audience.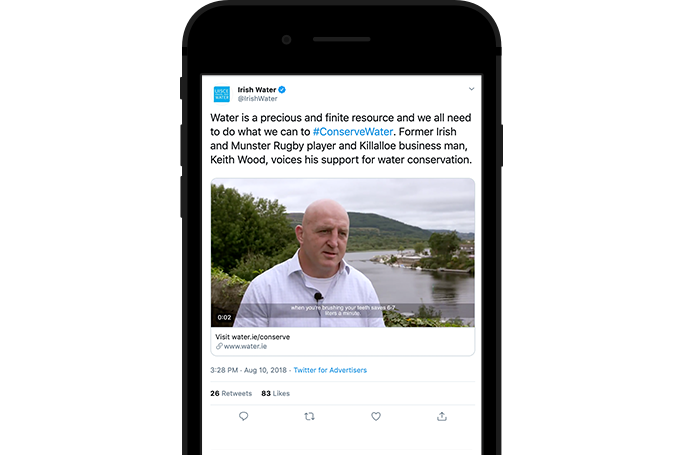 Get personalized support from our Twitter Ads team