Success Story
How Verizon built buzz around their Big Game presence and broke through to gamers on Twitter 

Nothing beats the Big Game.
No.1
in share of voice among Big Game advertisers 1
96%
positive campaign sentiment3
131K
brand and campaign mentions2
The Big Game is the most anticipated event of the year for fans and brands alike. Which means that as many people as there are tuning in, there are that many brands looking to connect with them.
How did Verizon manage to break through all that hype and effectively connect with the gaming community around their Big Game presence? The answer, of course, was Twitter. 
Verizon sought out a connection with the always-on gaming community through a massive campaign that included a recreation in Fortnite of Tampa at Florida's Raymond James stadium. Gaming Twitter is a highly active demographic of 91M that sends out over 70 Tweets per second.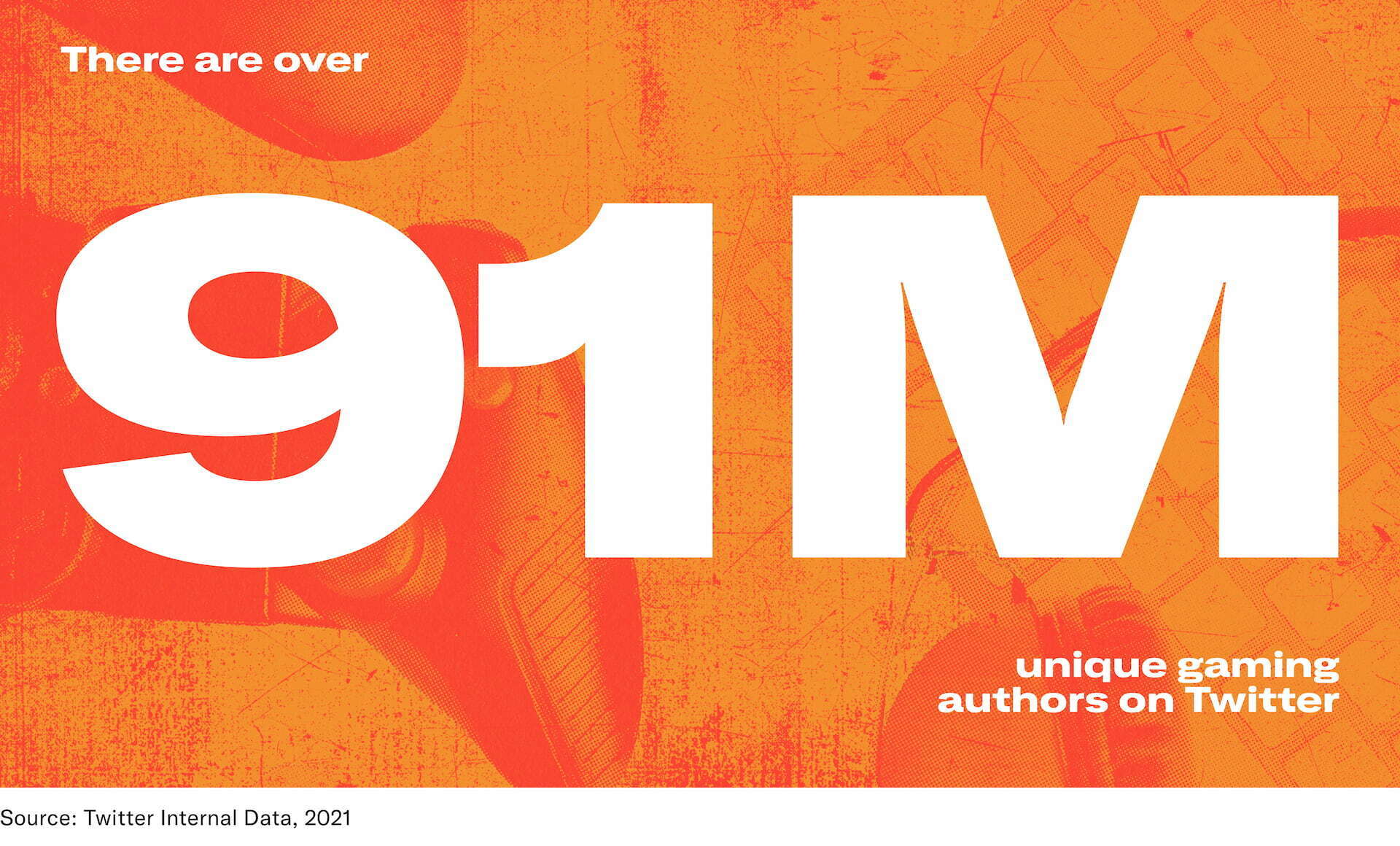 Verizon recognized the gaming audience is passionate about sports as well. That combination even further justified a partnership between the telecom company and Twitter to create a multifaceted program to target gamers around the Big Game happening IRL.
Through a mix of Twitter's suite of products and joining a Twitter Live event that included performances by Alicia Keys and Miley Cyrus, Verizon gained significant yardage in the online conversation with their #5GBuiltRight campaign.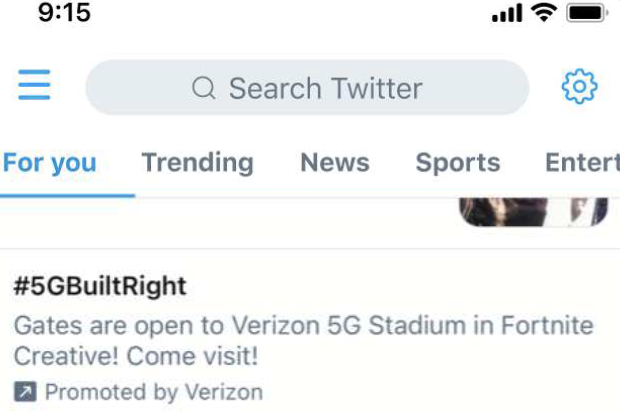 Spread the word with a Twitter Takeover.
Verizon took over the Big Game conversation by kicking off their campaign with a Twitter Takeover.
Through the Timeline Takeover and the Trend Takeover features, Verizon messaging was promoted prominently as the first ad of the day and alongside trending topics in the Explore tab. This created awareness for gamers with Tweets about their #5GBuiltRight sweepstakes. The sweepstakes awarded winners with premium gaming gear, got them amped for the Big Concert for Small Business benefit, and invited them to virtually attend the Verizon 5G Stadium in Fortnite. 
Stay top of mind with Branded Notifications. 
Because of the unprecedented nature of Fortnite's Verizon 5G Stadium, Verizon wanted everyone in the gaming community to know about it in all its epic glory.  
Verizon targeted their audience with Branded Notifications, an automated one-on-one conversation triggered through a like. The feature also gave gamers first access to the virtual stadium when it opened for business, or rather, for play, allowing them to enter the #5GBuiltRight sweepstakes.
Keep the momentum with Promoted GIFs & Video. 
Everyone loves a good GIF especially when it features a celebrity avatar. Using the momentum of the Branded Notifications, Verizon continued to pique gamers' interests with promoted GIFs and videos starring celebs while simultaneously showing the speed and strength of Verizon 5G.
Spark engagement with Conversation Buttons. 
Which song were you more excited to hear Miley Cyrus cover? Her own track "The Climb" or a cover of Mazzy Star's "Fade Into You?" 
This is just one example of how Verizon engaged its audience through an embedded call-to-action button called the Conversation Button while promoting their #5GBuiltRight sweepstakes. It not only created excitement for their Big Concert for Small Business benefit,  but it hyped up fans for the concert event.
Oh, and for the record, Miley rocked both songs.
Connect to events with brand-safe content using Twitter amplify. 
With Twitter Amplify, Verizon aligned their branded videos showing off their 5G capabilities with premium content. This added component of Verizon's Twitter campaign even further reinforced the brand's presence within the Big Game conversation. 
Maximize the impact with Twitter Live.  
In an effort to support small businesses affected by the Covid-19 pandemic, Verizon capped off their successful campaign with a Twitter Live streamed concert — #BigConcertSmallBiz — which took place right after the Big Game. 
The event featured performances from top music artists hosted by a comedian. The most important performance of the night, however, was by Verizon which committed to raising $10M for local initiatives. 
When it came to breaking through on the biggest day of the year for brands, Verizon identified the relevant key demographic and engaged them on Twitter in the days leading up to the Big Game. Verizon's multi-tiered approach for gaining awareness won them the No. 1 spot in share of voice amongst their competitors. Verizon also touchdowned with 131K brand and campaign mentions and a 96% positive campaign sentiment which, in the end, gave them their very own Big Game victory.  
Sources
1 Twitter Internal Data US, 2021
2 Twitter Internal Data US, 2021
3 Twitter Internal Data US, 2021