Success story
How Novartis tapped into healthcare providers on the timeline with Conference Conversations

23%
higher completion rate
Historically, healthcare providers (HCPs) relied on in-person conferences to connect and share with other professionals and pharmaceutical companies throughout the industry. The conversations surrounding these conferences are vital moments for HCPs and on average 60% of conversations happen outside of core conference days, meaning brands are missing out on key moments to reach leaned-in audiences.2
And, just like many other in-person events, COVID-19 has dramatically limited attendance at these  conferences. Which has pharmaceutical companies like Novartis working overtime to fill in the digital gap without overwhelming HCPs with content. 

So how could Novartis connect with HCPs about their new FDA-approved drug Leqvio (inclisiran) in a meaningful way? The answer was on the platform that HCPs are already using. About 53% of HCPs use Twitter's platform professionally, and 77% of HCPs use Twitter to find medical information — making Twitter the perfect solution to this complex opportunity.3

And the American College of Cardiology (ACC) annual meeting was their chance.

To break through to customers, Novartis teamed up with advertising agency N2 and Medscape, a leading producer of HCP content, to debut Leqvio right on Twitter, where HCPs go to find new information. Novartis recognized the power of having their brand and their content aligned with a platform that HCP's use the most during conferences and live events.4
Together, Twitter and Medscape created a new category offering on Twitter: Conference Conversations — a video series from Medscape including pre-conference insights, updates day-of and post-event, and content from conferences like ACC.

To extend the reach of conferences and deliver maximal value to brands, Twitter, Medscape, and N2 joined forces in a breakthrough partnership between social media platform, publisher, and agency to work through an industry transition. 
Everything fell into place when the campaign launched as a first-in-class social and endemic solution. Here's exactly how they did it.
Launch your FDA-approved drug at a tentpole conference
As Leqvio received FDA approval, Novartis and N2 identified the ACC annual meeting as a key launch pad for introducing the drug to the cardiology community.
Connect through Twitter's Conference Conversations
To reach the most conference participants, even with low in-person attendance, N2 partnered with Twitter and Medscape to connect with HCPs through Conference Conversations — a series of short videos produced by Medscape covering conference highlights. The content ran exclusively on the timeline before, during, and after the conference — extending the coverage beyond the conference schedule.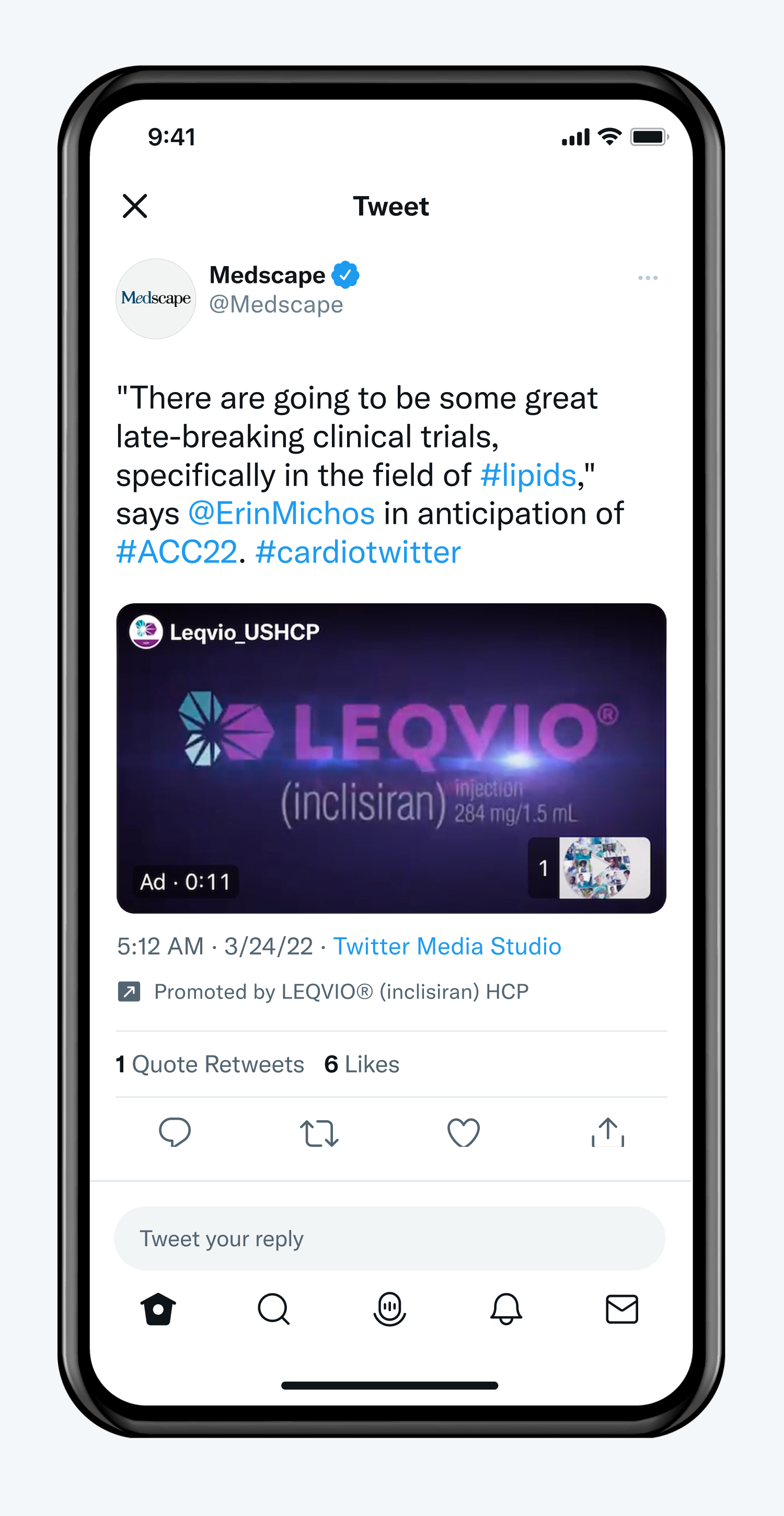 Develop engaging video Pre-roll ad content for the Medscape partnership
To promote Leqvio, Novartis ran Pre-roll advertisements adjacent to the Medscape content, aligning brand messaging with a trusted publisher on Twitter, HCPs' preferred social platform during conference and live events.
Leqvio's ads in Conference Conversations achieved a 23% higher completion rate than the average for HCP in-feed videos, showing the effectiveness of the pre-roll format, driven by audiences' willingness to view an ad to access the valuable Medscape content.
In addition, Twitter's targeting capabilities coupled with an engaged HCP community positioned the campaign to reach the right people at the right time and ultimately outperformed the client's original target KPIs in CPM, view rate, and total reach — demonstrating the value of Twitter's native targeting using conference-related keywords and hashtags. 
Last but not least, Twitter's Conference Conversations performed at a 49% view rate above Twitter's overall view rate benchmark. Hence, the new HCP conference approach exceeded expectations and set standards for conferences to come.
The Twitter Amplify sponsorship enabled us to successfully deliver a customized and personalized social experience for our customers by serving them with rich content when and where they wanted it through delivery of targeted content.
Our hypothesis was that the Conference Conversations results would be in-line with WebMD Amplify programs - I am thrilled to see that based on initial results our hypothesis was correct and we are even seeing stronger results than anticipated.
Sources
1. Novartis HCP campaign (3/30-7/8) video completion rate compared to completion rates for video campaigns in the US Health vertical in Q1 2022
2. Brandwatch Healthcare AAN, AAD, and ASCP conversation analysis (2018-2021). Data retrieved December 2021. US only.
3. Twitter Insiders via Sparkler, HCPs on Twitter Survey, Jun 2021, US. Q6. In general, why do you use each social media platform? Select all that apply. Base: HCPs who use Twitter, Facebook, Instagram, Snapchat, YouTube, TikTok, and Clubhouse monthly+ n=45N2, Twitter Ads Manager.
4. Twitter Insiders vis Sparkler, HCPs on Twitter Survey, Jun 2021, US. 
Q7. In general, where do you use each social media platform? Select all that apply. Base: HCPs who use each social platform monthly+, n=45