Success story
How #GotMilk scored big with sports fans

Learn how #GotMilk introduced milk as a sports recovery drink to millions on Twitter. 
81.4M
Trend Takeover impressions1
8%
increase compared to the industry CPM benchmark 3
29%
over Twitter benchmarks for Video View Rate performance2
When it comes to pouring a bowl of cereal, dunking a cookie, or improving your morning cup of joe, there's always been milk. But there's still work to do when thinking of milk as a sports recovery drink. 
@GonnaNeedMilk was looking to connect with sports fans and reposition milk as an ideal recovery drink for athletes. Knowing that sports fans spent more time on Twitter than on several competitor platforms during three of 2020's major sporting events4, Twitter was the ideal place for Milk to make their case.
When it comes to major sporting events, passionate sports conversation on Twitter is on full display, and the NBA Playoffs especially create a lot of buzz for fans. Milk leveraged this as a way to connect with fans during the tournament by leading up to the NBA Finals with Promoted Trends and Amplify Sponsorships and drove awareness for Milk's new messaging — this time asking athletes if they #GotMilk.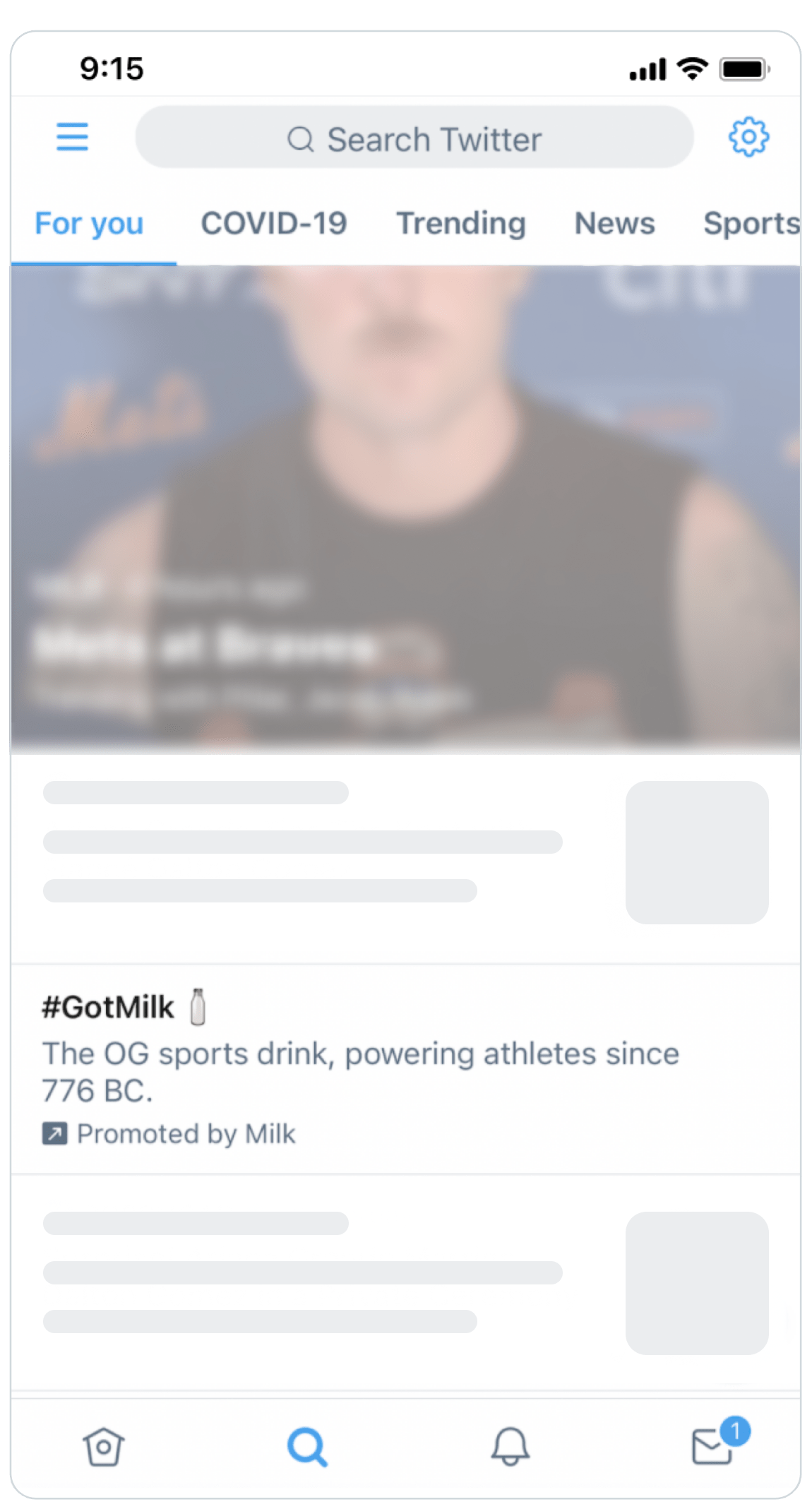 @GonnaNeedMilk kicked off its campaign during the NBA Playoffs by appearing prominently as a headline on the Explore tab through a Promoted Trend Takeover. Touting itself as "the OG sports drink, powering athletes since 776 B.C.," Milk drove awareness for its new initiative and challenged sports fans all over Twitter into reconsidering that carton in the fridge as something much more than just refreshing.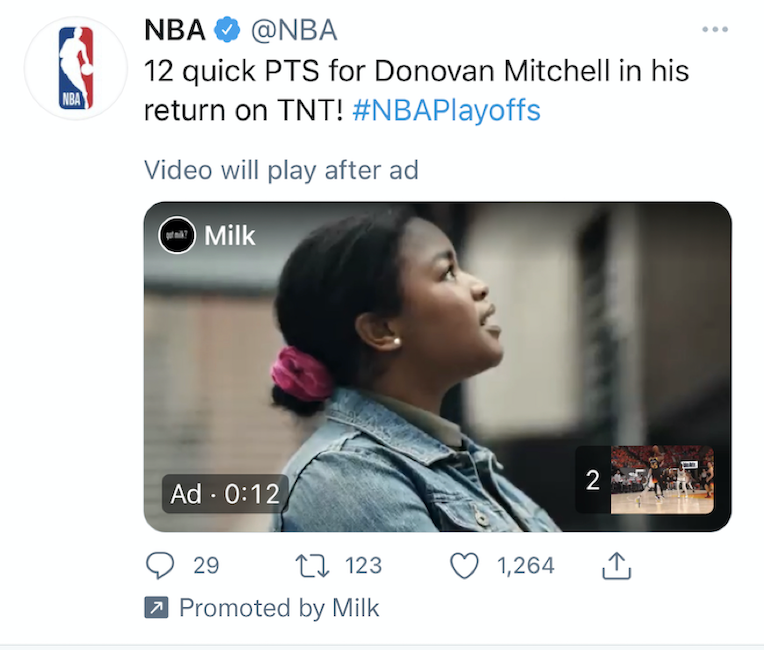 Fans consume Playoff content all over Twitter, and there's no more authoritative source than the NBA itself. Which is why Milk took their message there with Twitter Amplify Sponsorships. @GonnaNeedMilk ran contextually aligned content as pre-roll before the NBA's Playoff coverage on the official NBA Twitter handle and helped Milk...milk the most of its campaign spend by connecting with fans in a meaningful way.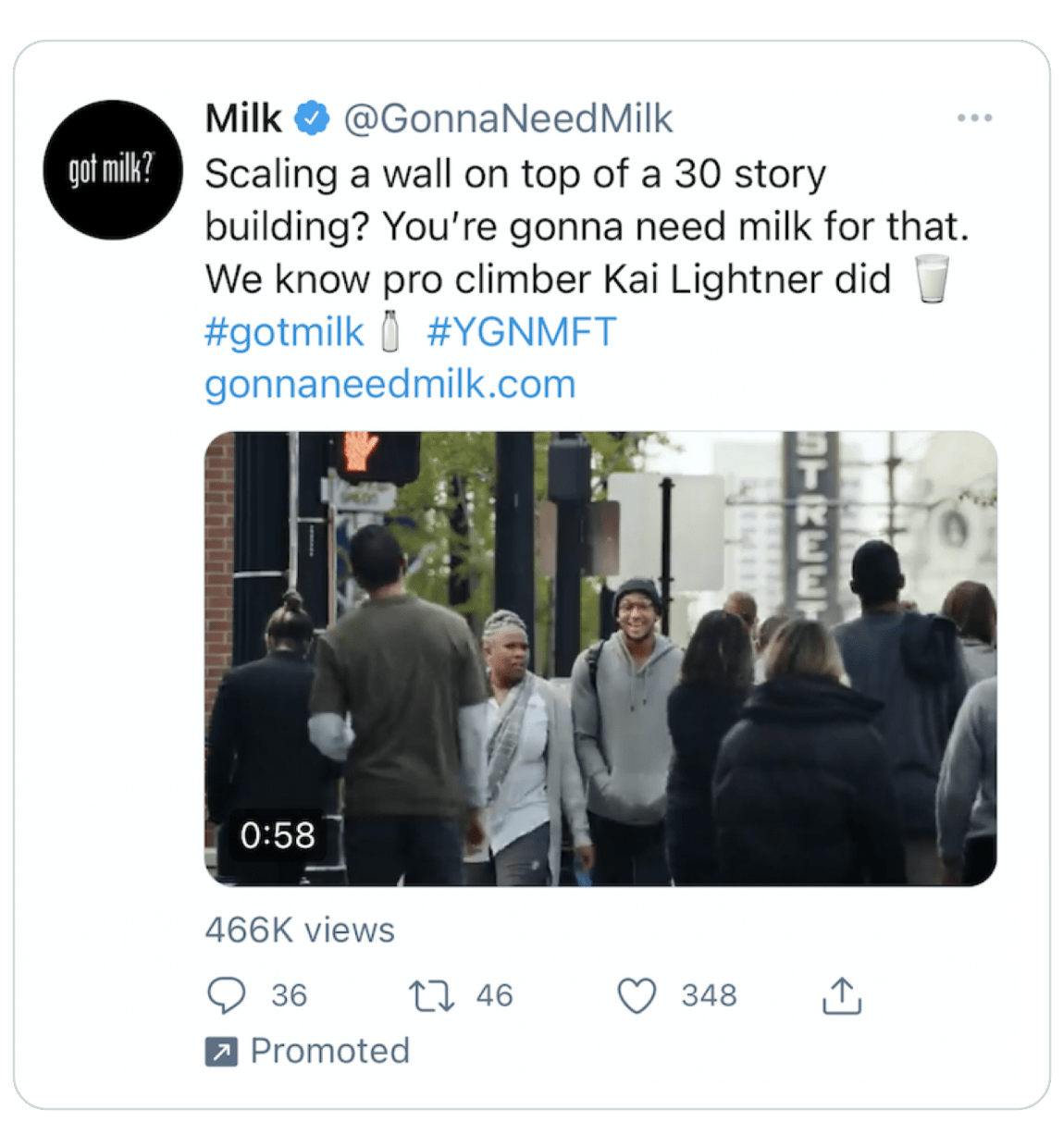 Drive awareness through reach.
From court to quart, Twitter turned NBA fans into milk fans by keeping the awareness going all throughout the Playoffs. @GonnaNeedMilk continued to expand their sports drink messaging with Promoted Tweets, or Tweets that were targeted to sports fans on Twitter. 
Sports fans now knew that milk, like basketball itself, was more than just for dunking. By reminding fans that milk is the OG sports drink, the #GotMilk campaign drove awareness for its new messaging with over 81.4M Trend Takeover impressions, and the Video View Rate performed 29% higher than Twitter's benchmark5.
Through a multifaceted campaign approach that included Promoted tweets, Amplify Sponsorship, and Promoted Trends, Milk successfully propelled sports fans to reconsider a centuries-old beverage as a viable post-sports recovery alternative. And that's the whole milk story. 
We wanted to launch Milk's new messaging as a sports recovery drink, and we turned to Twitter to connect with sports fans through the NBA Playoff's with a high impact Promoted trend placement helping us achieve mass awareness and inspire new conversations around our brand and campaign. We were also able to connect to sports fans by contextually aligning our brand to Twitter's exclusive NBA highlight sponsorship and expand reaching our target audience.
We successfully relaunched Milk as a performance drink by leveraging what Twitter does best — igniting conversation around cultural moments. We partnered with the NBA on Twitter to connect directly with sports fans, ultimately building incredible brand momentum and lasting connections with our audience.
Sources
1 Twitter, Internal, January 1 - June 30th of 2021
2 Twitter, Internal, January 1 - June 30th of 2021
3 Twitter, Internal, January 1 - June 30th of 2021
4 Custom Daypart Analysis, Comscore Media Metrix & Mobile Metrix, Shift in total minutes spent on Twitter vs. other social platforms (Event vs. average of 3 weeks prior during same day of week & airing time), Super Bowl: 2/2/20, USA; NFL Draft 4/23/20, USA, Premier League, 7/5/20, UK
5 Twitter, Internal, January 1 - June 30th of 2021