Success story
How Dune spiced up the Twitter timeline from trailer to premiere

Dune lit up the timeline when it dropped its epic trailer in 2020. It had life-long fans of the 1965 novel series gearing up for the long-awaited premiere the following year. But how could Dune sustain the spice among OG fans and new viewers alike for another year? The answers weren't in the desert. They were on Twitter. 
Epic movies need epic trailer launches — and they happen on Twitter with a leaned-in, movie-obsessed audience. According to a recent YouGov survey, people who use Twitter are 44% more likely to see a movie because of hype on the timeline than people who don't use Twitter.2
Dune's trailer made a big splash in 2020, but more was needed to remind fans that the worm was still out there a year later. By leveraging the movie audience on the platform and its own critically acclaimed cast, Dune partnered with Twitter for a week-long takeover of @TwitterMovies to get fans re-engaged for the premiere whether they were watching at home or on the big screen. 
By dropping the trailer exclusively from the @TwitterMovies handle, Dune made a big splash with Twitter's tuned-in movie audience. The first teaser Tweet reached a massive 500K viewers.3
A debut event with the cast rallied up the fandom with over 800K views of the panel conversation, setting up the perfect opportunity to drop the exclusive trailer, drive massive conversation — and provide an unparalleled opportunity for memes.4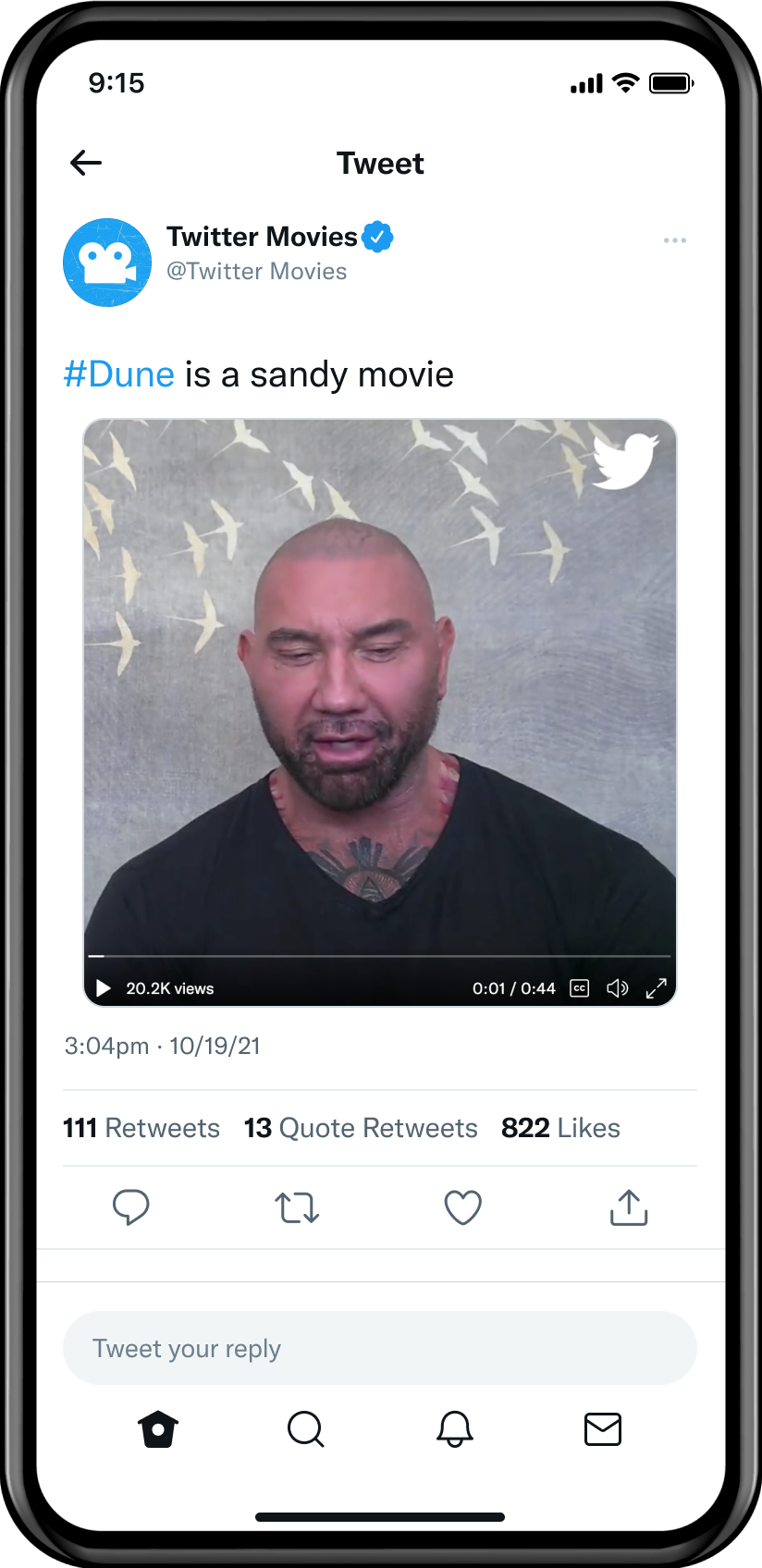 Fast forward to premiere week when Dune launched the first-ever week-long takeover of the @TwitterMovies handle. #DuneWeek dropped exclusive Q&As with the star-studded cast including Timothee Chalamet, Zendaya, Jason Momoa, and many more.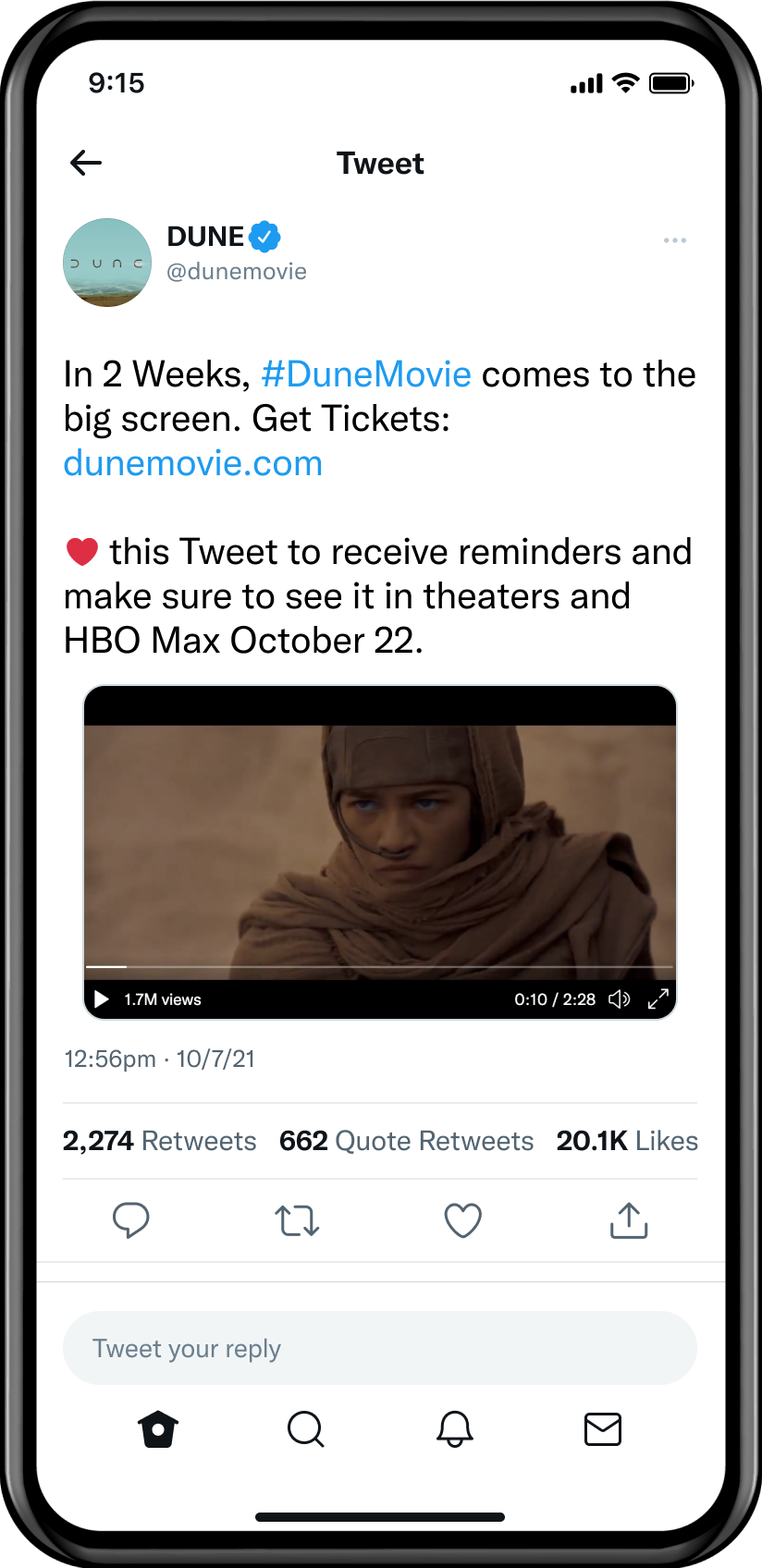 Keep the conversation going
"Dune" the most to continue the excitement for the film ahead of launch, Dune tapped into 12 unique Branded Hashtags — custom brand designed emojis on Twitter that are triggered when a specific Hashtag is used — for fans to creatively use in their own Tweets. Each hashtag highlighted a different character for in-the-know fans. Lastly, Brand Reminders — which enable advertisers to set up auto-reply campaigns to notify fans about new content — nudged 18K people to see the movie on either the big or little screen.5
The exclusive cast Q&A, trailer teases, and Branded Hashtags drove the conversation to new heights and allowed fans from all over the globe to join in. Branded Reminders also pushed people to see it both in theaters and streaming on HBO Max. The results speak for themselves, with the film amassing more than 700K Tweets globally and 403K unique Tweet authors across the globe in the premiere week alone.6 The movie "wormed" its way to the top both in theaters and at home — Dune scored the best domestic opening of any hybrid theatrical and HBO Max release to date. 7
Sources
1 Twitter Internal 2021
2 YouGov, commissioned by Twitter, May 2021, US only. 
3 Twitter Internal 2021
4 Twitter Internal Data, Sept 8 - Sept 9 2020. Global Data.
5 Twitter Internal Data, "Dune" from Oct 18, 2021 - Oct 24, 2021. Global.
6 Twitter, Internal Data 2021
7 Twitter, Internal Data 2021