Success Story
How DraftKings bet big to #MakeItReign with the return of live sports

Learn how the popular fantasy sports brand connected to the "Return of Sports"
+102%
lift in DraftKings mentions during campaign flight compared to last year1
560
first time DraftKings in-app deposits3
+47%
more Draftkings mentions compared to their competitors 2
As the world of sports continues to make its comeback, sports fans are rejoicing. In fact, the return of sports is a major milestone for Americans: 67% of fans see sports as a great way to feel normal again after the pandemic.4

During this comeback period, sports betting has also risen in popularity. You might be surprised to learn that in March 2021 alone, fans bet $4 billion with U.S. sportsbooks, the most ever in a single month, according to ESPN. 
Not one to back down from competition, DraftKings — a digital sports entertainment and gaming company — took to Twitter to launch new products with the goal of driving reach and brand awareness and increasing conversions.
As live sports started to reemerge in July 2020, DraftKings launched a campaign series to publicly drive awareness around the message that sports were back. Their "Return to Sports" campaign series aimed to connect with the nationwide movement and excitement. They used Twitter's takeover products5 and premium video solutions to drive brand awareness and in-app engagement. 
DraftKings invests in Twitter Ads to connect with the diverse sports community that's active on Twitter. They've been able to drive reach and increase conversions by marketing the launch of new products on Twitter, and despite a global pandemic, this time was no different.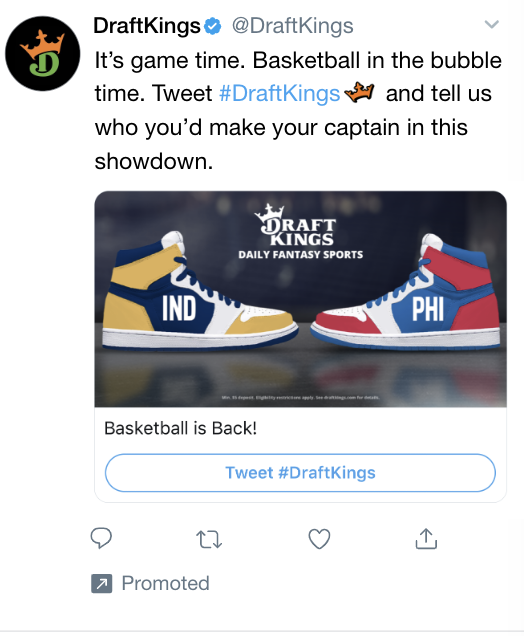 For their campaign creatives, DraftKings leveraged their creative team to build their assets in tandem with Twitter's best practices (using short copy, emojis, hashtags, and highlighting offers). They also optimized copy and creative from previous learnings and tweaked over time based on results.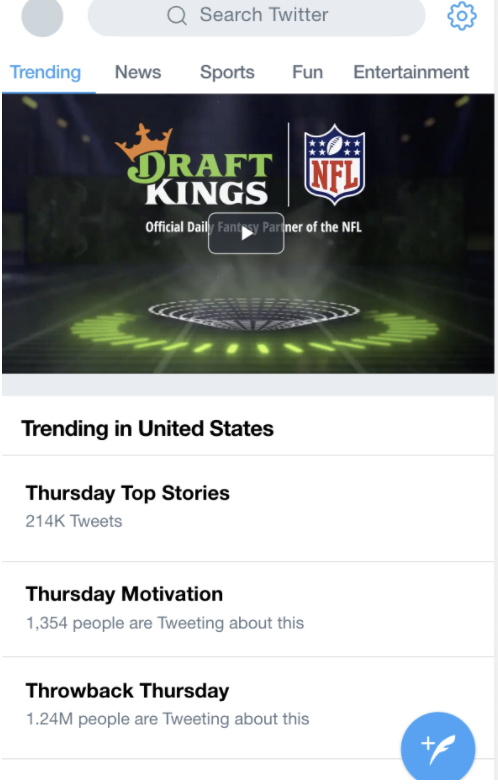 Drive high impact at scale in high frequencies 
DraftKings used multiple Trend Takeovers and Trend Takeovers+ to take over Twitter, owning the conversation as the NBA, NFL and UFC returned, pushing app engagement. They also leveraged a Branded Hashtag, Conversation Buttons, and Video Ads with strong, league-specific CTAs to complement the Twitter Takeovers.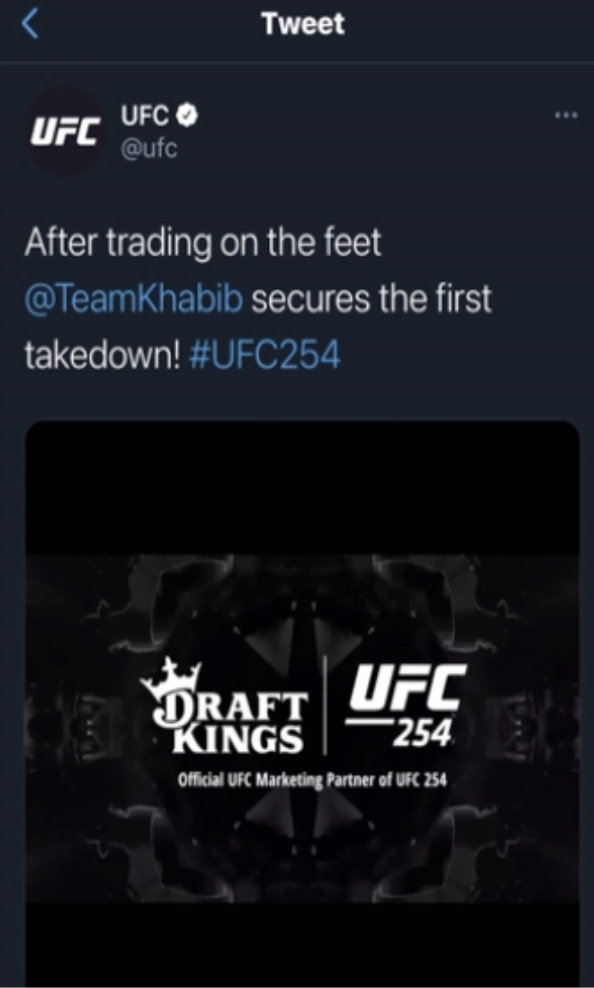 Align with Amplify Sponsorships to connect with the sports audience
DraftKings ran pre-roll videos as part of Amplify Sponsorships to reach passionate, leaned-in sports fans when they are consuming premium, brand-safe sports content across UFC, NBA & NFL handles. DraftKings also integrated Promoted Moments and Q&As to continue engagement with sports fans. 
Lean into influencers to spread the campaign message 
DraftKings leveraged loyal fanbases of players and commentators from each league to widen the campaign's reach and messages (such as charity efforts).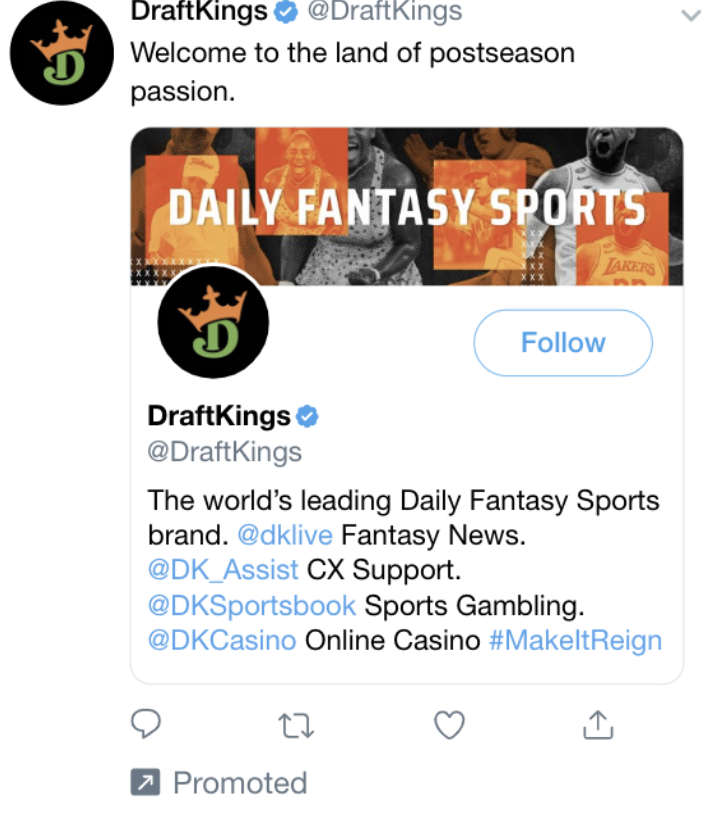 Generate new leads with a Promoted Account campaign
DraftKings surrounded the buzzing conversation as live sports returned by attracting new followers to grow a trusted fanbase during this key moment.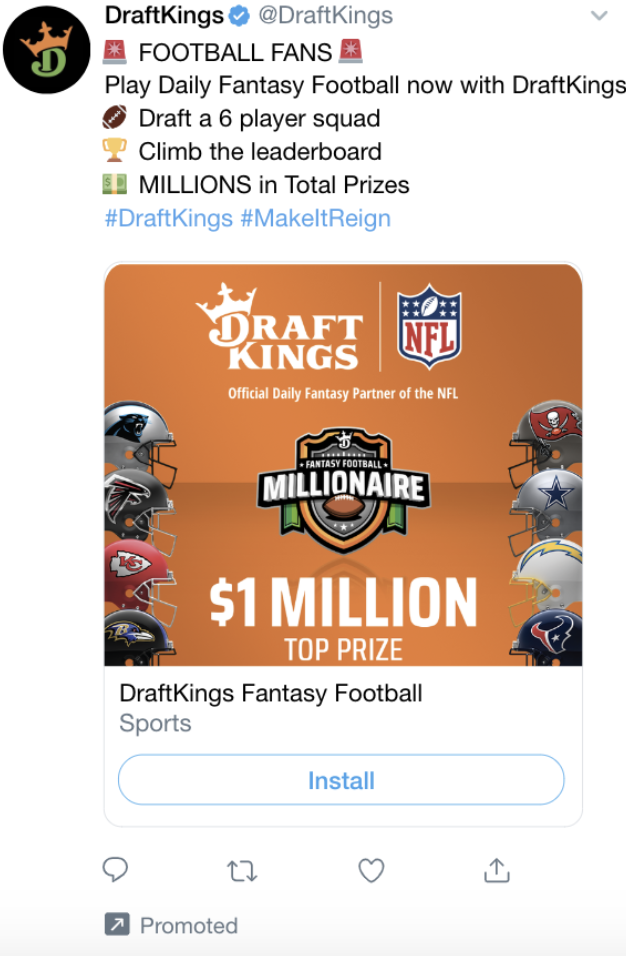 Drive conversion with Image App Cards
DraftKings then moved people down the funnel, using an Image App Card to re-engage and capture attention, then drive to the site to sign up for an account or log in. 
DraftKings had high expectations for this campaign, and Twitter delivered. In some instances, Twitter's results outperformed DraftKings' initial goals, such as the 560 first time DraftKings in-app deposits post campaign launch in Q3 2020.6
DraftKings tailored their Tweets and messaging to better reach and resonate with sports-specific themes and fans, and utilized a Branded Hashtag, Conversation Buttons, and Video Ads with strong, league-specific CTAs to drive engagement for their target audience.
These recent improvements are already paying off for our customers. In mid-2020, with the return of the NFL and NBA, DraftKings connected with the growing sports conversation on Twitter to drive engagement within its app. DraftKings leveraged Twitter's performance ad product suite to generate strong customer acquisition, and an increase in positive sentiment and mentions.
Sources
1 Brandwatch, 2020. Data comparing Q3 2019 conversation volume to Q3 2020 conversation volume
2 Brandwatch, 2020. Data comparing Q4 2020 conversation volume with competitor conversation
3 Twitter Internal Dashboard, Q3 2020
4 The ESPN Coronavirus Lockdown Fan Study. April 2020, US
5 For their Daily Fantasy Sports product only
6 Twitter Internal Dashboard, Q3 2020