Case Study
How Call of Duty: Warzone
celebrated its one-year anniversary
with gamers on Twitter

Here's how Activision Publishing, Inc. gave COD fans what they want
9 minutes
to become the #3 trend organically in the US1
20%
of gamers requested more than one report3 
+100K
reports sent in the first 36 hours2
What do you do when you're approaching your first anniversary and want your brand to stand out from the crowd? 
Just ask Activision Publishing, Inc.. Almost one full year after "Call of Duty: Warzone" was released, the gaming company needed a simple yet effective idea that would celebrate the game's success in its inaugural year with the people who knew it best: gamers. 

In 2020, people Tweeted about gaming over two billion times, proving that gamers don't just love esports, they also love connecting with members of their community on Twitter. 
Since so much of its fan base was already on the platform, Activision Blizzard got together with Twitter to launch a first-of-its-kind video game integration. And knowing how much gamers care about their gameplay stats, Activision Blizzard gave fans the chance to claim a personalized #WarzoneReport directly from @CallofDuty. 
Sound off and spread the word.
Twitter created a Conversation Button with an explicit call to action: Share your Call of Duty Gamertag, and we'll send back your #WarzoneReport. To make it easier for people on Twitter to join the conversation, when they clicked the Conversation Button, they received a pre-populated Tweet with the appropriate hashtag and Twitter handle already prepped to share.
Have one-on-one conversations at scale.
When their #WarzoneReport was ready, gamers received a Branded Notification enabling @CallofDuty to share personalized gamer stats directly with their audience at scale. When it was go time, @CallofDuty replied to participating gamers' original Tweets with their #WarzoneReport, which featured real-time stats and, of course, their Gamertag.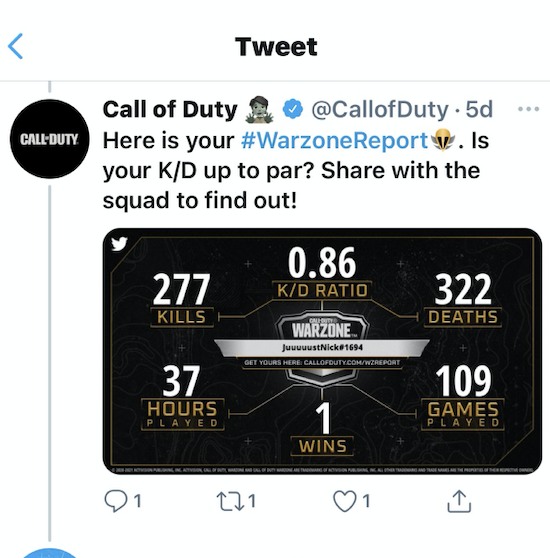 Let your brand's personality come through.
When people Tweeted the Branded Hashtag #WarzoneReport, Twitter added a fun on-brand creative emoji. This small detail brought color to people's feeds while keeping the @CallofDuty branding a consistent part of the conversation.
Bragging rights are in order! "Call of Duty: Warzone" aced the launch by tapping into the conversational nature of Twitter. Activision successfully engaged players with what they love to brag about: their stats. 
In just nine minutes, #WarzoneReport became the third-highest trending topic on Twitter, reaching number one in less than 25 minutes. Thousands of people replied to @CallofDuty almost immediately, and word traveled fast: 100,000 successful reports were sent in during the first 36 hours and 20% requested at least one more report. 
Giving your fan base what they want doesn't have to be a battle (pun intended). With the right partners in the right space, Activision Blizzard gave fans an extra perk just for playing the game. 
Need more proof? We'll let Call of Duty's Senior Manager, Digital Marketing do the talking: 
At Activision, we are constantly looking for innovative ways for our community to have a more connected and social gaming experience. Partnering with Twitter presented us with a unique opportunity for Call of Duty players to share their hard-earned Warzone stats into their social feeds in real time. Since launch, the #WarzoneReport has continued to drive ongoing engagement and conversation with our players.
Sources
1 Twitter Internal 2021
2 Twitter Internal 2021
3 Twitter Internal 2021