Success story
When it comes to driving website visits, Bloomberg means business

How Bloomberg, in partnership with Kepler, converted Tweet engagements into website traffic
52%
Lower cost per site visit (CPSV) compared to conversions optimization
87%
Lower cost per site visit (CPSV) compared to link clicks optimization
While Bloomberg (@business) has found success serving financial news content to an active audience on Twitter, the media giant had a goal of converting those engagements into site interactions. The potential for more site traffic was there, but what could @business do to drive its audience to financial news articles and stories on Bloomberg.com? 
Knowing @business's goal was to increase site visits and drive higher traffic to feature articles on Bloomberg.com, the brand tapped into Twitter's new buying model, Site Visits Optimization, which is dedicated to helping find and serve ads to audiences most likely to visit a brand's website and attributing those site visits back to Twitter Ads campaigns.
With this in mind, @business partnered with Twitter and Kepler to run a Site Visits Optimization campaign dedicated to helping find audiences most likely to visit Bloomberg.com and serving ads to them with an intent to drive site visits. Here's how they did it.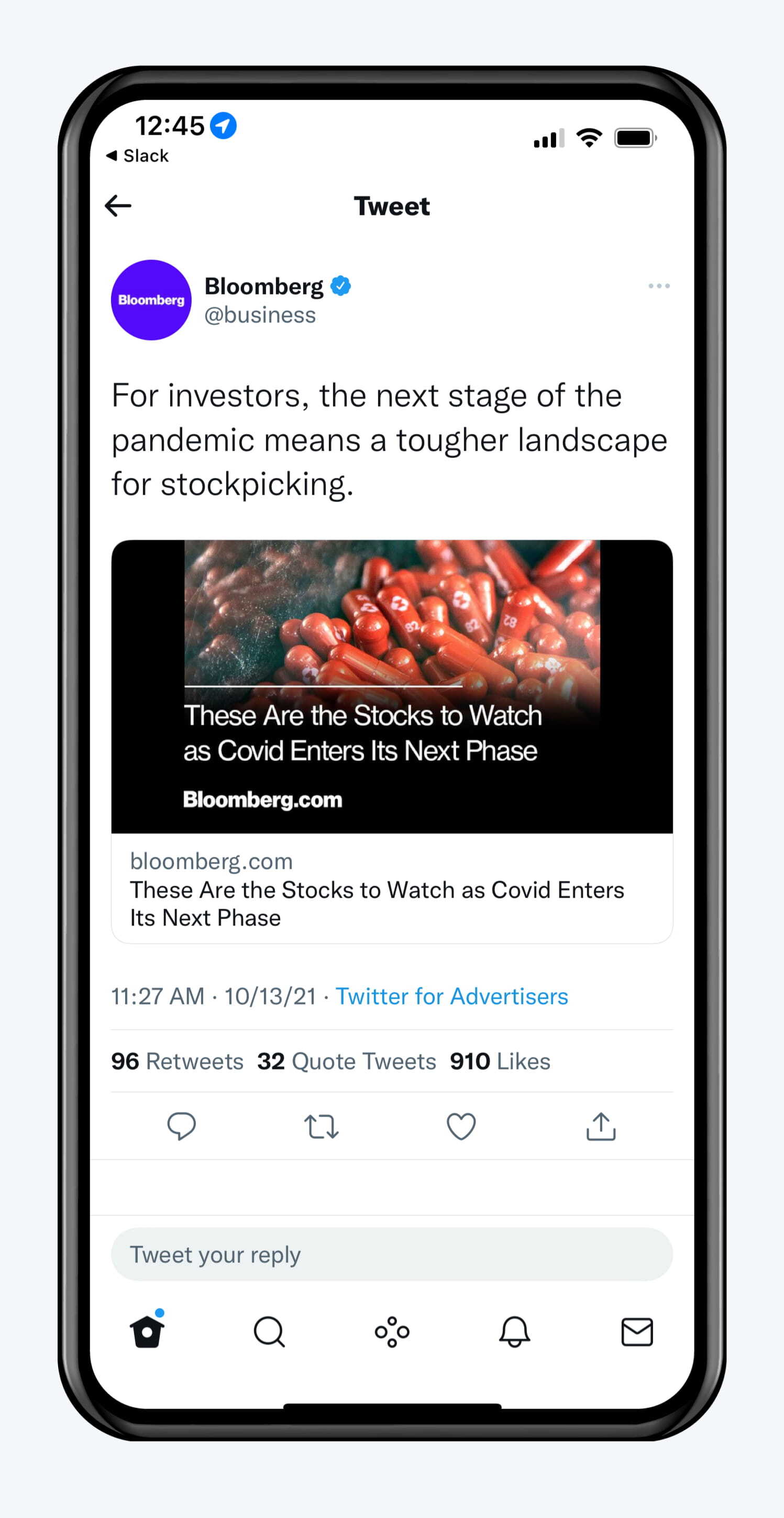 Identify the right audience
If the wrong people are seeing your ads, then your marketing budget isn't being spent well. That's why @business decided to utilize Twitter's new Site Visits Optimization goal to maximize their spend by getting their campaign to the audience most likely to interact with it.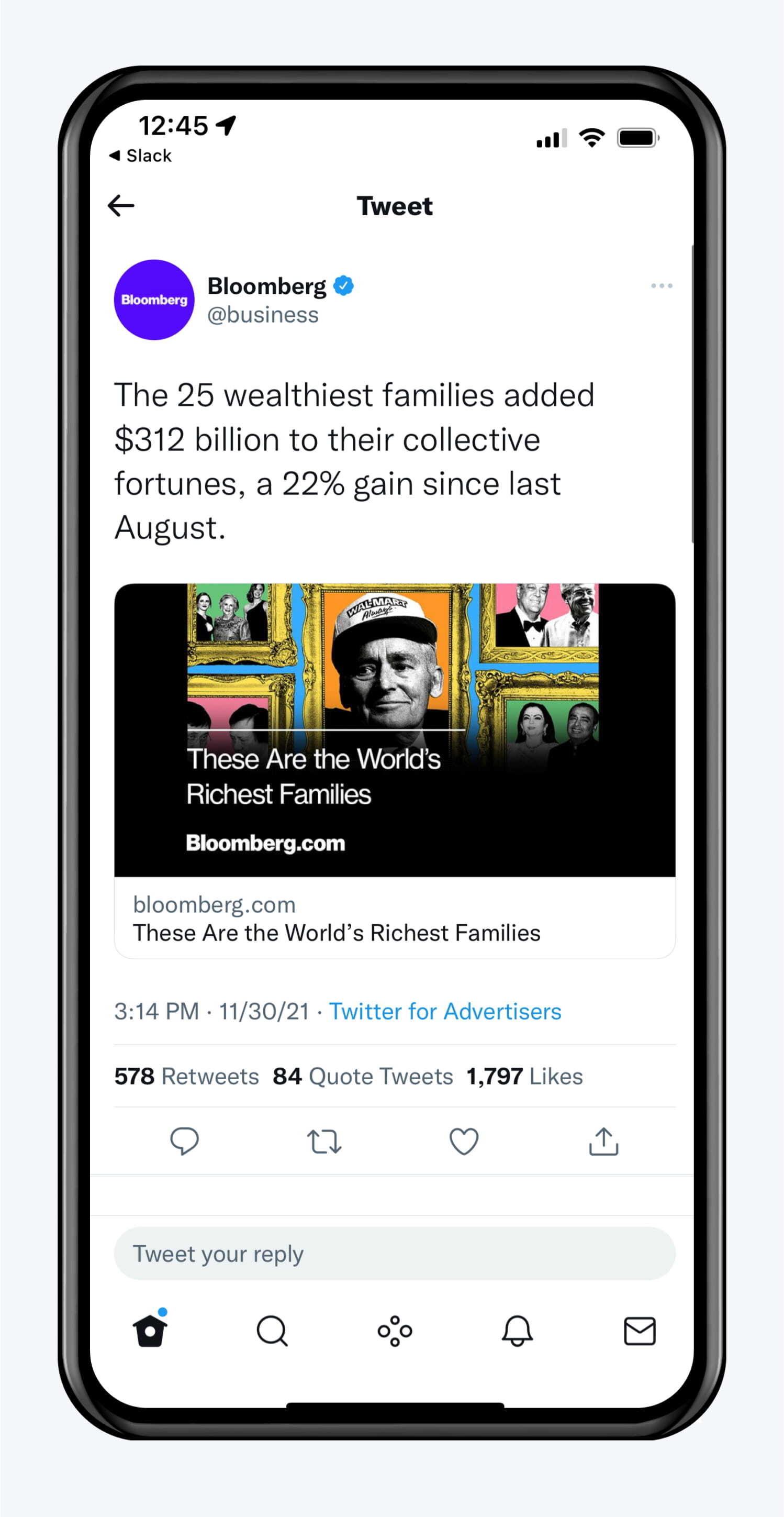 Serve relevant ads to engaged audience members 
As was the case for @business, Site Visits Optimization helped ensure that Tweets promoting feature articles were served to a relevant demographic. Targeting the most relevant audience members benefited both the financial media company and its readers by giving them both more of what they needed: site views and information, respectively. 
Through Site Visits Optimization, @business accomplished the results they were looking for: 52% lower cost per site visit compared to conversions optimization and 87% lower cost per site visit compared to link clicks optimization. 1 People on Twitter were making their way over to Bloomberg.com and engaging not only with promoted content, but clicking through other site content too. 
Because @business was connecting with the right people on Twitter, there was a higher likelihood of those people visiting Bloomberg.com and spending time with the content on the site. Site Visits Optimization helped make that connection between casual engagement and click-through happen. And this is how marketers, as they say in the business world, close deals. 
At Bloomberg Media, we are committed to a test-and-learn ethos that puts our audience at the center of everything we do. We know our audience is consuming journalism on platforms like Twitter, so our goal is to show up where they are spending time and provide surprise and delight experiences. The evolution of Twitter's ad product allows us to continue to find new ways to deliver value to our audience which helps to deliver on the bottom line for our business.
Sources
1 Twitter funded advertiser tests conducted November through December 2021, comparing performance between 15 website campaigns using Site Visits Optimization and 15 website campaigns using Conversions Optimization and optimizing for a Site Visit event.