Case Study
How Audi used Twitter to drive conversation and connect with auto enthusiasts

3.20 %
Takeover engagement rate
+46%
View rate vs nearest competitor
When launching a trilogy of concept cars, how do you ensure that third time is still the charm? For the reveal of their new urbansphere concept car, Audi (@AudiOfficial) and its partner agency We Are Social (@WeAreSocialDE) turned to Twitter to boost the launch, tapping into millions of auto enthusiasts on the platform to drive real-time conversation.

Activated in Germany, Austria, Switzerland, and Finland, the first stage of Audi's urbansphere campaign was raising awareness of the pending livestream launch. To do this, Audi utilised a Video Ad, teasing the upcoming launch and offering brand notifications to encourage sign-ups for the event. All users who signed up received a reminder notification on the day to watch the launch, which effectively drove audiences through to the livestream page.
To amplify awareness further, a Twitter Takeover was also deployed on the day of launch, with Audi placing the urbansphere's teaser content at the top of the Timeline and the Explore tab, linking audiences to Audi's livestream to discover more. This ensured that auto-enthusiasts were aware of the launch as it happened, encouraging engagement with the campaign there and then. 
After the successful livestream, Audi didn't rest on the laurels of a successful launch. The original Twitter Takeover asset was updated to showcase the newly revealed urbansphere, allowing @AudiOfficial to promote the concept to the widest audience possible. 
In the following days, conversation around the launch was humming amongst the auto enthusiasts, with over 1.9k mentions of the #WorldPremiere hashtag used after the urbansphere's launch. This buzz was sustained by @AudiOfficial through further video ads, which promoted the urbansphere reveal to those who had missed out on launch day.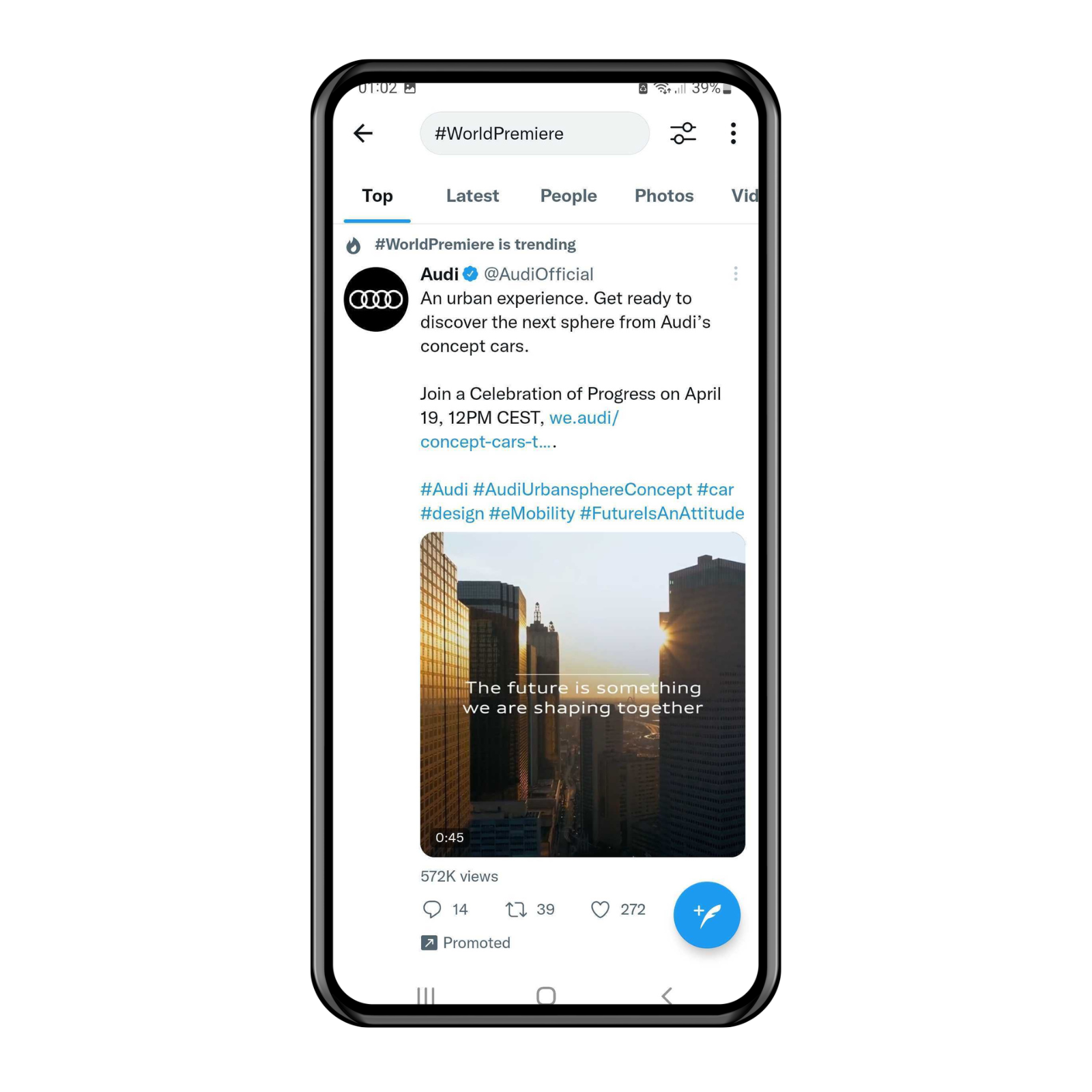 Build hype with teaser content
The best way to pique interest is to build hype before launch. @AudiOfficial's teaser built brand awareness and ad recall by giving glimpses of the futuristic-looking concept car and exciting audiences ahead of the launch event.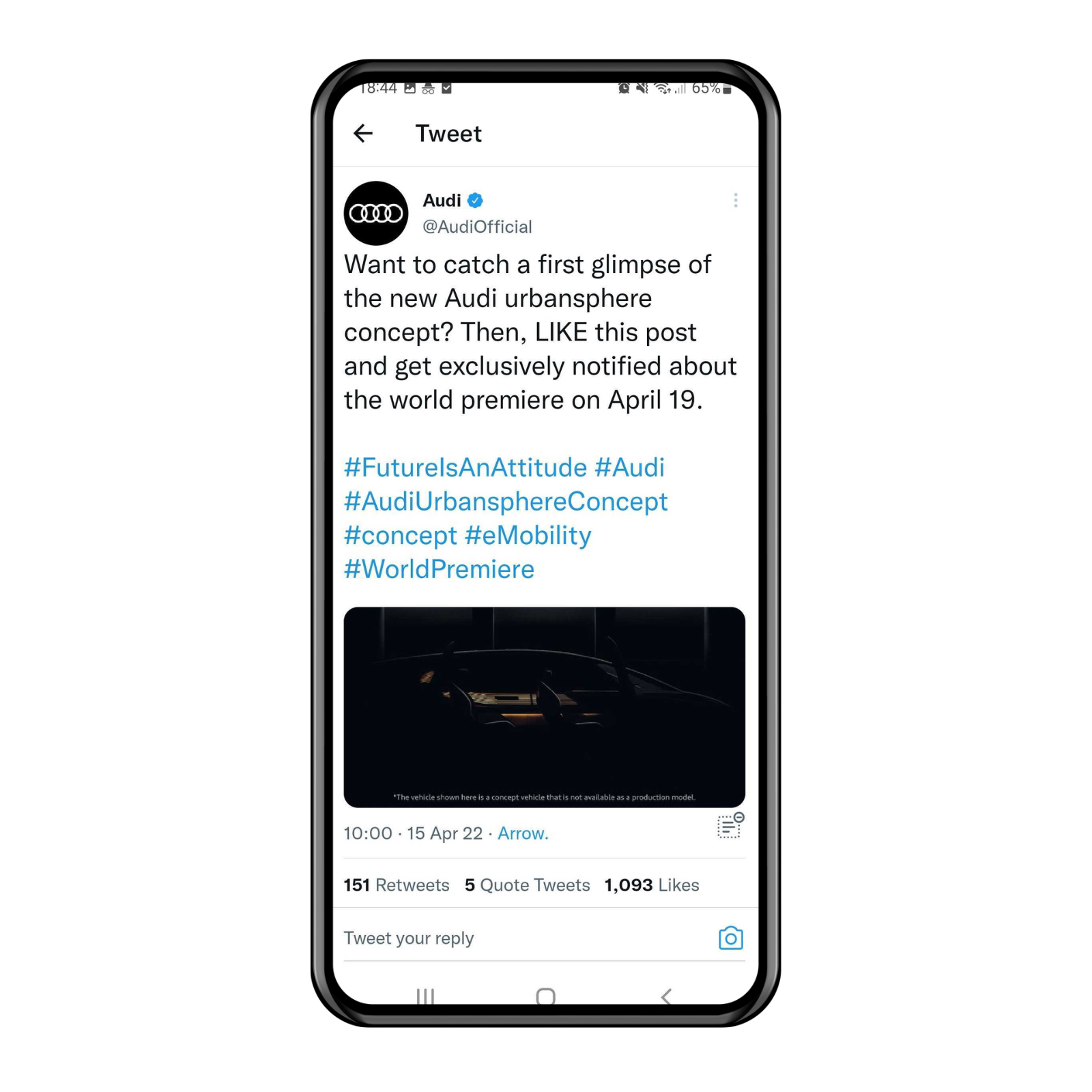 Set the Stage with Brand Notifications
The smartest campaigns make the journey as easy as possible for your audience, and Audi did just that. By using Brand Notifications, Audi were able to encourage audiences to sign up for their livestream, providing reminders on the day of launch to ensure they didn't miss out.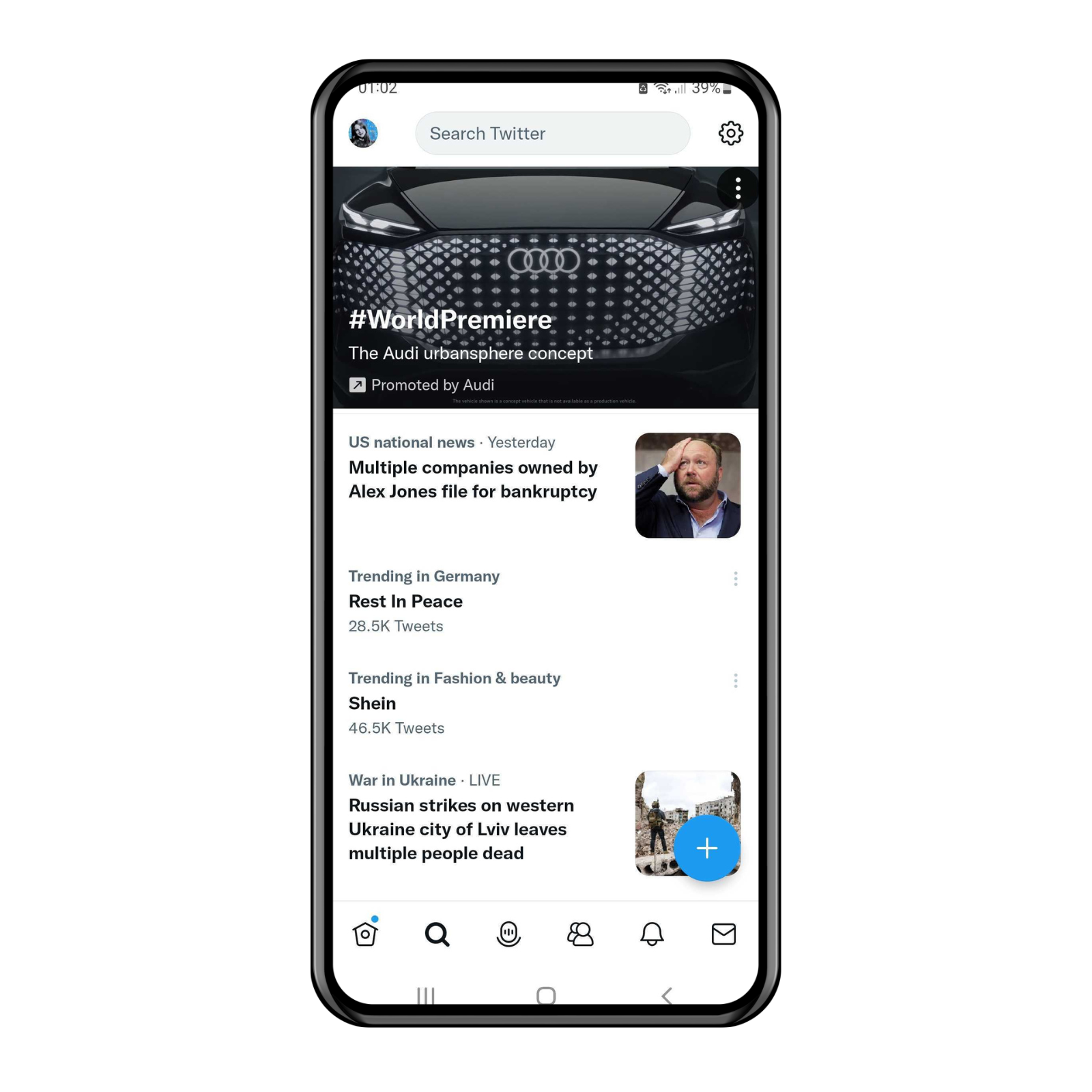 Seize the moment with a Twitter Takeover
Running a Twitter Takeover on the livestream launch day ensured maximum reach and awareness for their event, securing additional audiences that Audi may have missed with their initial teaser campaign, while providing a great reminder for those that had.
With a total of 8.9 million impressions for their Twitter Takeover and a 3.2% engagement rate, Audi's campaign was a phenomenal success. Having successfully reached the auto enthusiast audience, not only did they continue to drive engagement and discussion around their concept car launch for a third time, but @AudiOfficial also achieved a video view rate that was 46% higher than its nearest competitor.

Twitter was an integral part of our campaign, providing a space for us to inform our followers about the upcoming reveal date. We used scheduled notifications to communicate the date and time as well as to remind them to tune in, which was a great feature and a unique aspect of the campaign. Combined with other elements of the campaign on Twitter, the reveal of the Audi Urbansphere concept was a great success