This brand uses Twitter to build positive sentiment
See how you can achieve similar success
See how you can achieve similar success

Got milk? (@gotmilk) promotes the benefits of dairy milk on behalf of the California Milk Processor Board. Although got milk? is only responsible for targeting the state of California, they recognize that they are stewards of a brand that's a household name that spreads a positive message about milk far beyond the state's borders.
Got milk? wanted to own the conversation around #NationalMilkDay (1/11/21) and to promote messages of positivity that would (hopefully) generate positive word of mouth about the brand and dairy milk.
To do this, the California Milk Processor Board and their agency of record GALLEGOS United (@GallegosUnited), launched a "Milk Grams" delivery service to pay homage to the first milk men by "delivering" messages through Promoted Ads. The Tweet "grams" had notes of wellness and positivity and people were encouraged to tag friends who should hear the messages.
Twitter was the ideal platform for this campaign for a few reasons. Tweets are versatile and allowed got milk? to be creative with their desired content. Tweets can also be quickly amplified. And Twitter is the perfect platform for 1-on-1 interactions with got milk?'s community.

They have a wide range of audience segments that represent the diverse audience within California, but their core focuses on Millennials to increase consideration and give them a positive impression of the brand and of dairy milk. Even though their target market is in California, they didn't limit their ads to California-only, deciding that got milk? is a national (and sometimes international!) brand.
Often on Twitter, audiences overlap. Got milk? used the platform to drive video views but they also scored a few viral Tweets talking to stars of the Korean Pop band, BTS — completely unexpected but very much appreciated audience members.
Twitter is the place to own and jump into community conversations which was a major goal for the brand.
The majority of their #NationalMilkDay efforts were focused on Twitter. To measure the results, got milk? used Twitter's Tweet Activity dashboard as well as Sprout Social for additional social listening. Their approach of encouraging their audience toward wellness and kindness was successful.
positive sentiment compared to 2020's #NationalMilkDay
Source: Pulsar: "#NationalMilkDay" 1/11/20-1/24/20 - 1/11/21-1/24/21
on paid #NationalMilkDay Tweets
Rather than hard sell milk and its wholesome goodness, got milk?'s goal was to use the CTA "tag a friend" to subscribe users to the milk gram delivery service.
This CTA gave people on Twitter something fun from the legacy brand that they could share with friends, but it also helped amplify the positive milk messaging among friend and follower networks.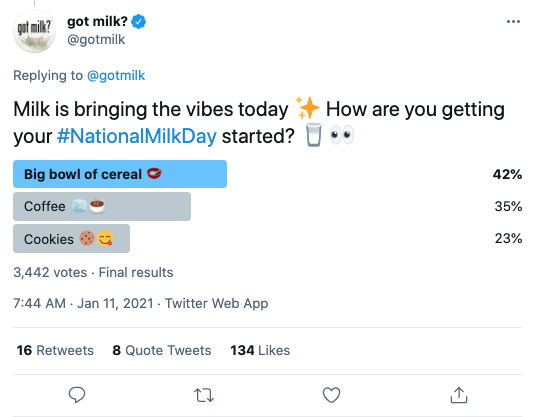 Got milk? leveraged several Tweet formats (Twitter Polls, Twitter Moments, Quote Tweeting or Retweeting influencers, etc).
The variation proved successful because the Twitter Moment generated their highest engagement rate and lowest cost-per-engagement. The Twitter Poll attracted the second highest engagement rate, and both formats out-performed got milk?'s standard text Tweets.
The new Tweet Composer feature provided got milk? with a quicker set-up for their ads. In it, one can make a Promoted Ad, add a video, a carousel with landing pages, headlines, and/or Tweet copy, all in one place.
Twitter is a place where cultures, trends, and ideas are all happening and forming at the same time. We feel like Twitter helps keep brands relevant by opening doors of opportunity for us to connect with our target audience and other interesting adjacent communities.