Success story
How Ford helped drive the electric vehicle conversation on Twitter with its F-150 Lightning launch

How Ford helped drive the electric vehicle conversation on Twitter with its F-150 Lightning launch 
Over 1.56B
Brand impressions
39%
EV share of voice on Twitter
If electric vehicles (EVs) are the transportation of the future, how can we get people on Twitter to think about a 119-year-old company as the one driving us toward that reality? 
@Ford was looking to create a big reveal with its F-150 Lightning truck, and by doing so, dominate the EV conversation and shift perceptions of America's pioneer automobile manufacturer. And if there's one place to get it all done, it's on Twitter. 
The EV conversation on Twitter is powered up. It's happening at a rate of 11.2M Tweets in the last year alone.1  Since Ford was looking to fuel the conversation, it made sense for them to tap into the existing buzz surging on Twitter. If Ford wanted to raise even more awareness for an EV launch, then they needed a major viral moment on Twitter.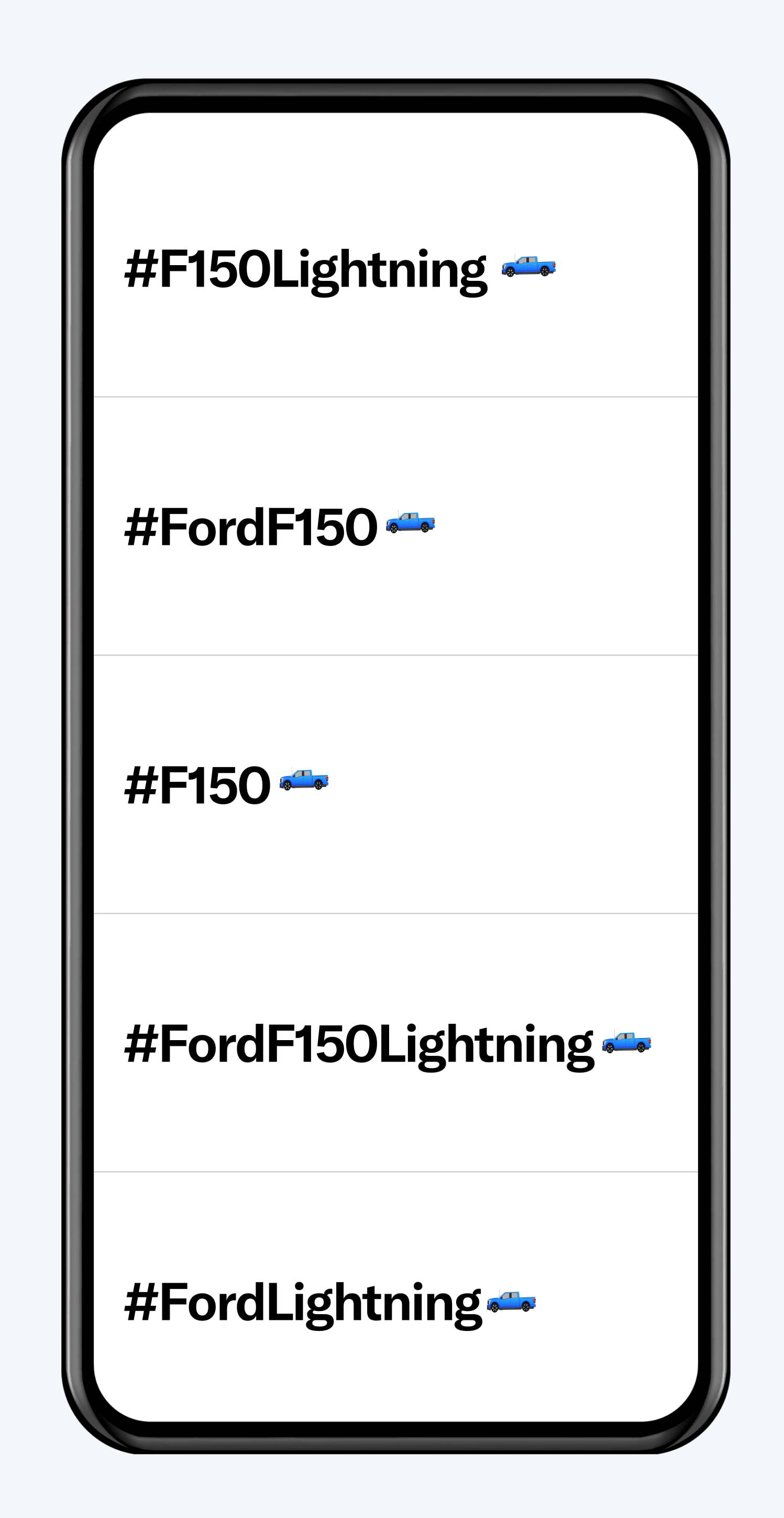 Use custom Branded Hashtags to showcase brand personality.
When joining the conversation, why use words when you can go with emojis? Ford collaborated with Twitter Arthouse, Twitter's in-house art collective, and created custom Branded Hashtags, which revealed an emoji whenever people used the #F150Lightning hashtag. These specially designed emojis stood out on the timeline and gave Ford a presence and personality within the EV conversation.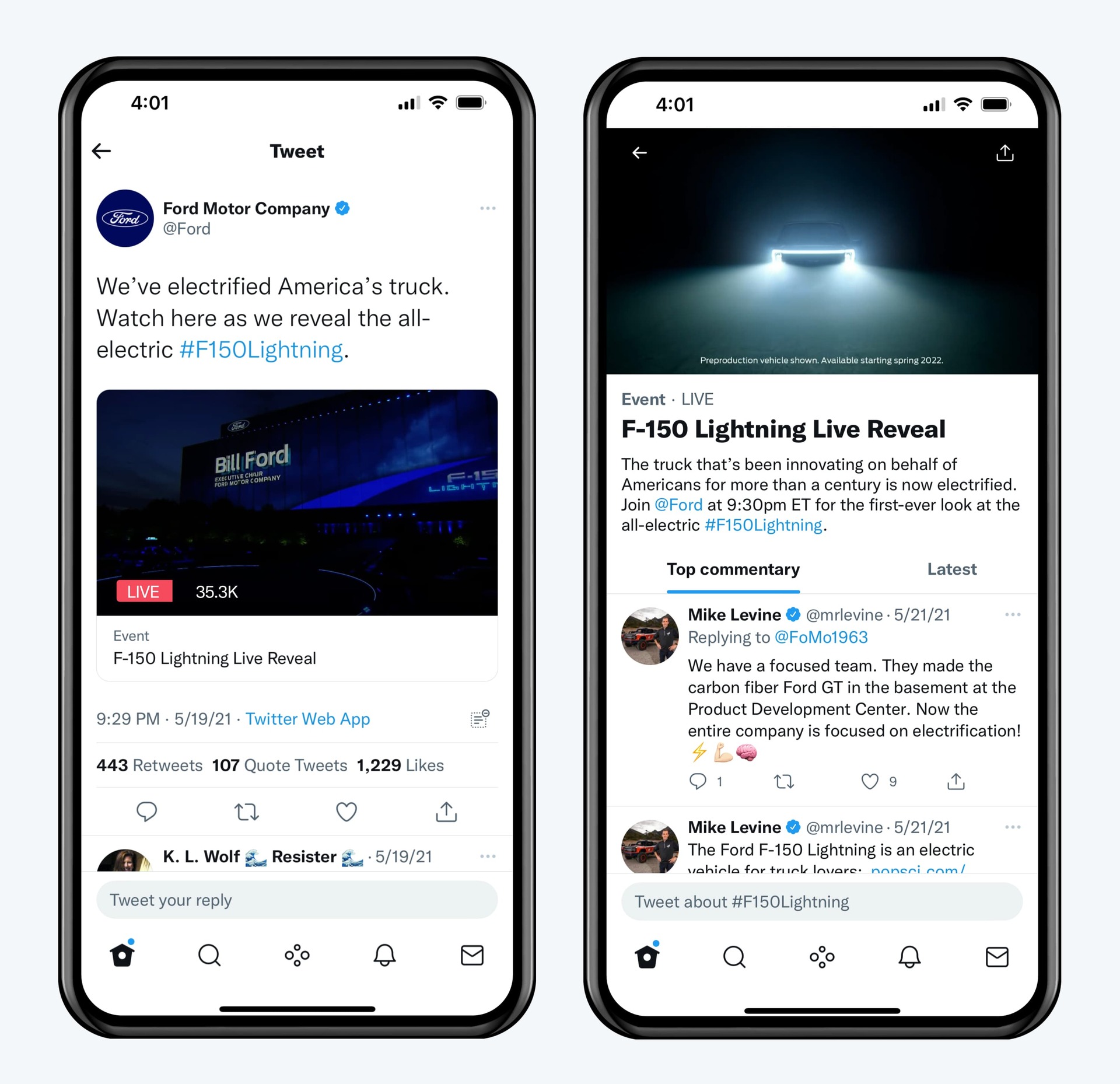 Create a big reveal moment on Twitter. 
Ford decided to go big with its F-150 Lighting launch by revealing its newest EV truck on Twitter through a Live Event Card and a Live Event Page. Together with Twitter's Live Brand Studio, Ford created a moment that not only drove massive awareness but generated excitement all over the world for its newest electric pickup truck.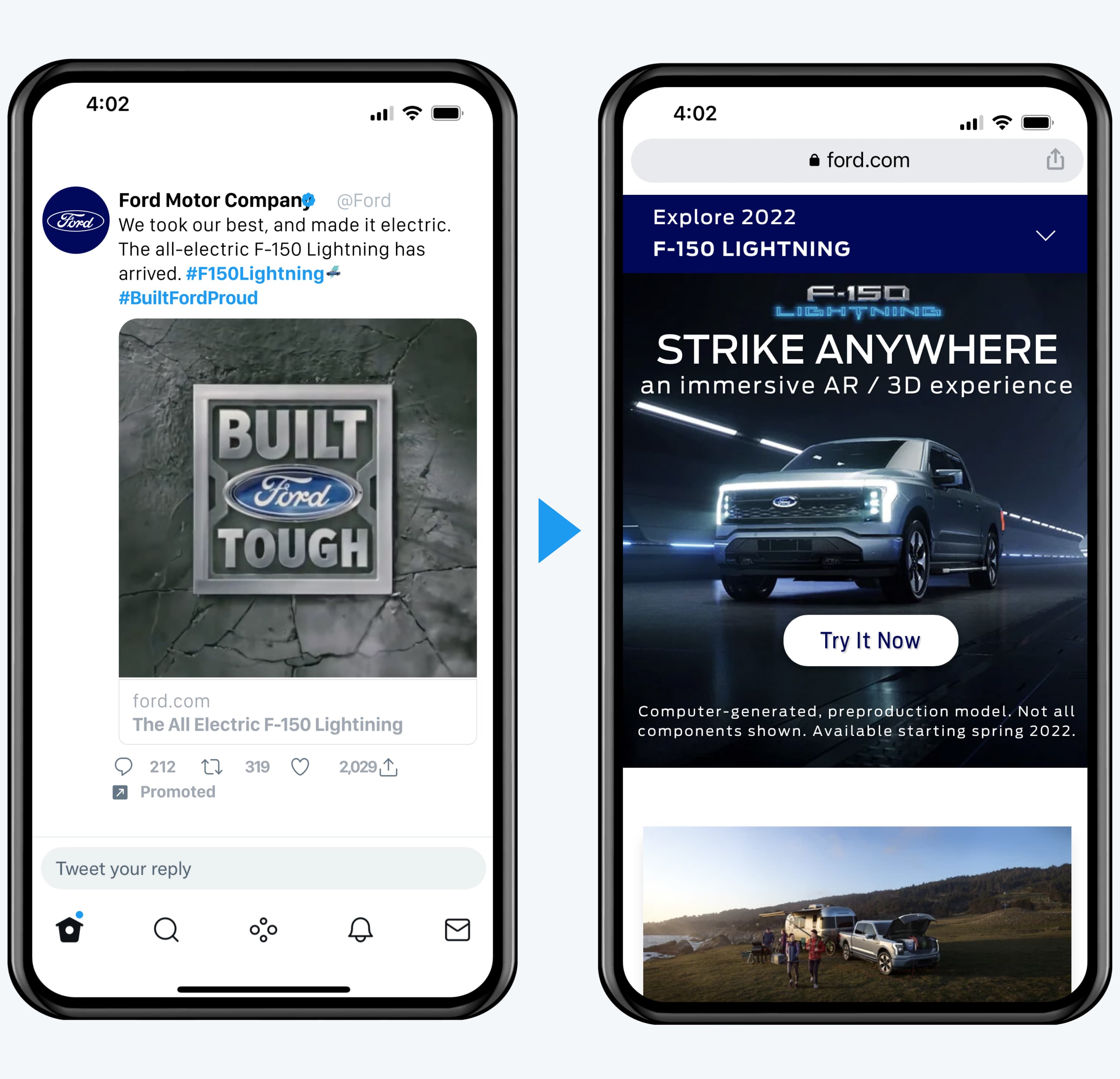 Test out Trend and Timeline Takeover+ to increase awareness.
Putting the wheels in motion, Ford stayed at the forefront of the conversation as the first ad of the day on people's feeds with a Timeline Takeover and a Trend Takeover+. Using both Twitter brand tools, the F-150 conversation was parked right alongside the trending conversations of the moment. When people explored the "Trends for you" or the "What's Happening" module on their Twitter homepages, they interacted with the Ford campaign. Here, Ford gave people an opportunity to reserve the newly announced F-150 with a Video Website Card.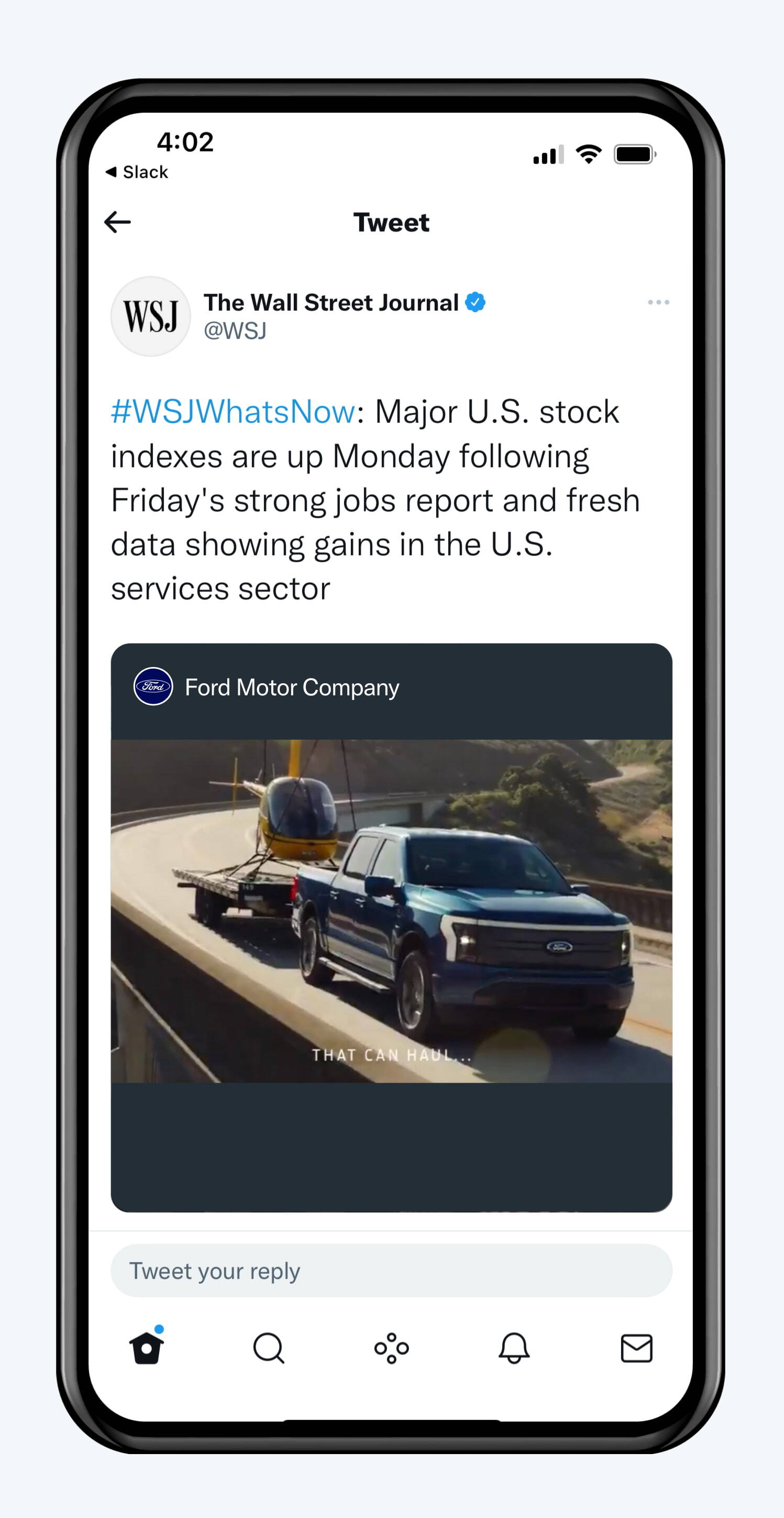 Leverage Twitter Amplify to align with premium video.
In an effort to expand the audience even further, Ford used Twitter Amplify Sponsorships. These unique partnerships allow brands to connect with a new demographic and put them in the driver's seat by aligning campaigns with premium video content publishers. And that's exactly what Ford did when it ran Pre-roll in front of relevant Wall Street Journal content. They also extended the reach of their broadcast integration by partnering with Late Night Television programming in creating unique content. 
Re-engage viewers with Video Website Cards.
People on Twitter are using the platform now more than ever to consume video content, so when it comes to exposure and awareness, Twitter Video Website Cards are highly effective. This tool uses the power of video to engage people dynamically as they scroll through their timelines. Then the video educates the audience and encourages them to take action in the moment. For Ford, it meant driving people from Twitter to a designated website where they could learn more about the F-150. 
Ford delivered a truly comprehensive campaign and drove awareness for its newest truck through Branded Hashtags, a designated Live Event Page, Timeline and Trend Takeovers+, Twitter Amplify, and Twitter Video Website Cards. But more importantly, it made the F-150 Lightning the most talked about EV truck on the market. 
The F-150 campaign also helped place Ford in the center of the EV conversation and inspired confidence in Ford as a leader and innovator within the EV space. Once again, Ford was seen as an industry pioneer, which is pretty impressive for a 119-year-old. 
It's rare, but lightning struck twice with this one. Twitter's real-time nature coupled with our live reveal streaming event of the F-150 Lightning ignited enthusiasm and drove demand almost instantly. So far, we've secured over 150K reservations for the new F-150 Lightning.
You could feel it at the live event, and every time you opened the Twitter app that night — the excitement was … electrifying. Twitter's real-time coverage of what was happening at the live reveal merged the physical and digital worlds — amplifying the buzz and driving immediate demand. It hasn't really stopped since with our 150K reservations for the new F-150 Lightning.
Sources
1 Twitter Internal Data, 2021