Success story
How E! News turned up the TV content with 'While You Were Streaming,' a digital-first show only on Twitter

1.5MM
average Amplify video views per show1
215%
above industry engagement benchmarks for partner2
34%
more efficient CPM for partner2
50%
above industry view rate benchmarks for live show for partner2
Twitter is the collective living room couch for TV fans to discuss and debate the latest episodes of the shows that everyone is obsessing over. Over 250M Tweets yearly represent a vibrant community of TV fans and the home of culture around entertainment.3
During the premiere of a new show, season, or any major TV moment, streamers turn to Twitter to discuss with their fellow fans. They use the timeline as a tool to keep up to date with the latest tea from their favorite shows. With fans consuming content across multitudes of platforms, and converging on Twitter altogether, E! News saw an opportunity they couldn't switch the channel on.
With a thriving market of both established and new streaming services, and a wide array of premium shows for audiences to choose from, E! News wanted to tap into the most talked about shows into one place, while connecting with audiences who want to go deeper into their favorite topics. And with Twitter's engaged TV community, E! News knew Twitter was the space for their new show. The show, "While You Were Streaming," is a digital-first livestream covering the biggest TV premieres and trending moments each week, exclusively on Twitter.
But that's not all. Streamers are dispersed across a variety of platforms and some of those services are ad free. It makes reaching this audience even harder for brands when deciding where and when to put campaign dollars. As a result, E! News' new show became the perfect place for brand sponsorship, reaching streamers where they all come together, on Twitter.
So the question then became, how could E! News and corresponding sponsors connect with this leaned-in, tv-obsessed streaming audience to create awareness and provide a complementary experience for TV-viewers? Look no further than the timeline.
Twitter is where the TV talk is loudest and the timeline is the ultimate second screen experience. People on Twitter are 44% more likely than non-users to stream three or more platforms, and they come to Twitter to talk about their TV fandoms, favorite cast members, and connect with people across their favorite content.4
TV fans on Twitter discuss and debate characters and plot lines before, during, and after a show airs. Giving E! the blueprint for "While You Were Streaming" and matching the organic audience behavior on the timeline.
And that's when a sponsorship entered the chat.
A beverage brand partnered with E! as the sponsor of "While You Were Streaming" and aligned with a host of Twitter Amplify products to bring their new messaging to streaming audiences.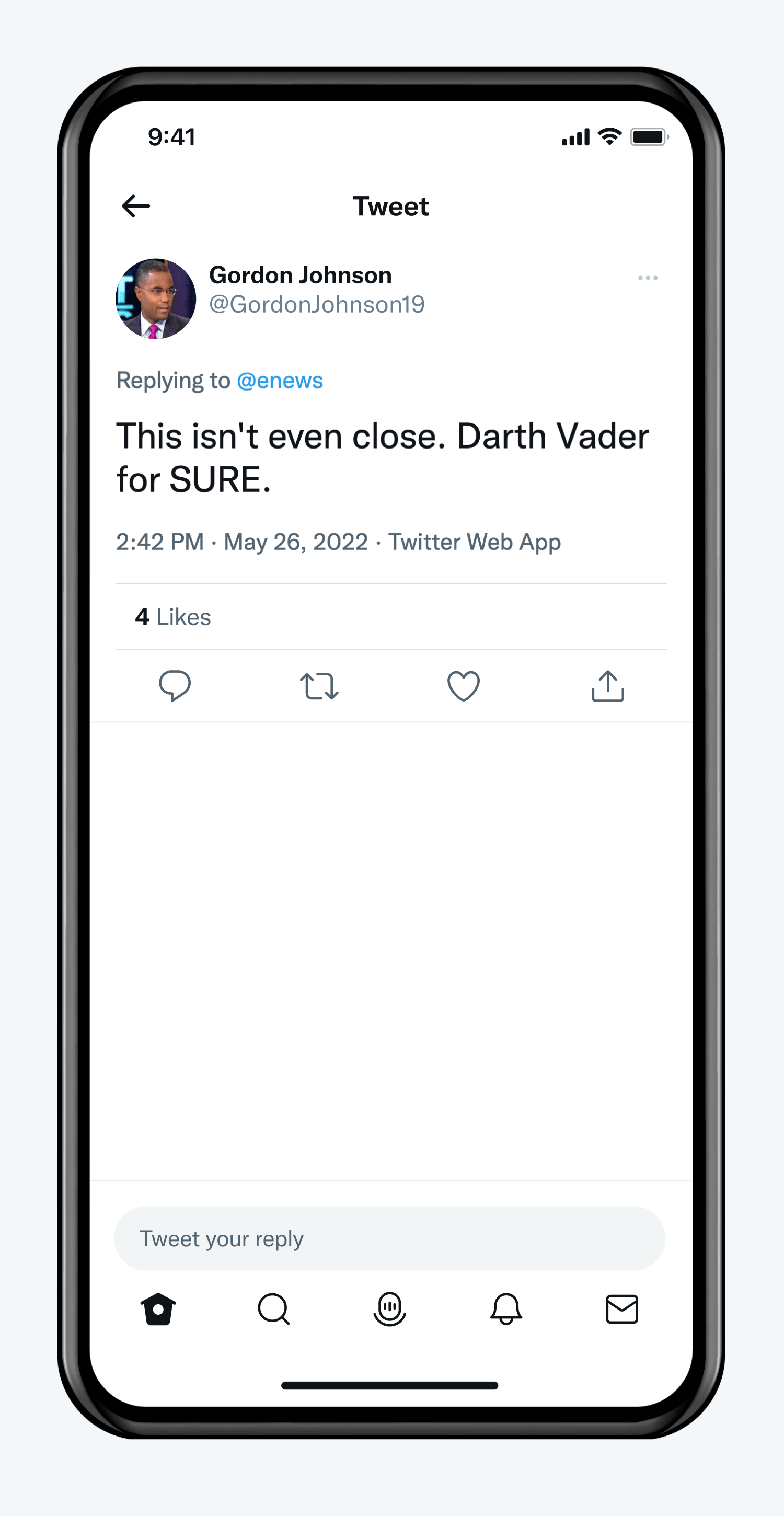 E! News kicked off the conversation during their premier of 'While You Were Streaming,' engaging viewers with live questions and posts that teased a simultaneous discussion. Fans came alive when asked which characters were they most excited to see again in Obi-Wan Kenobi.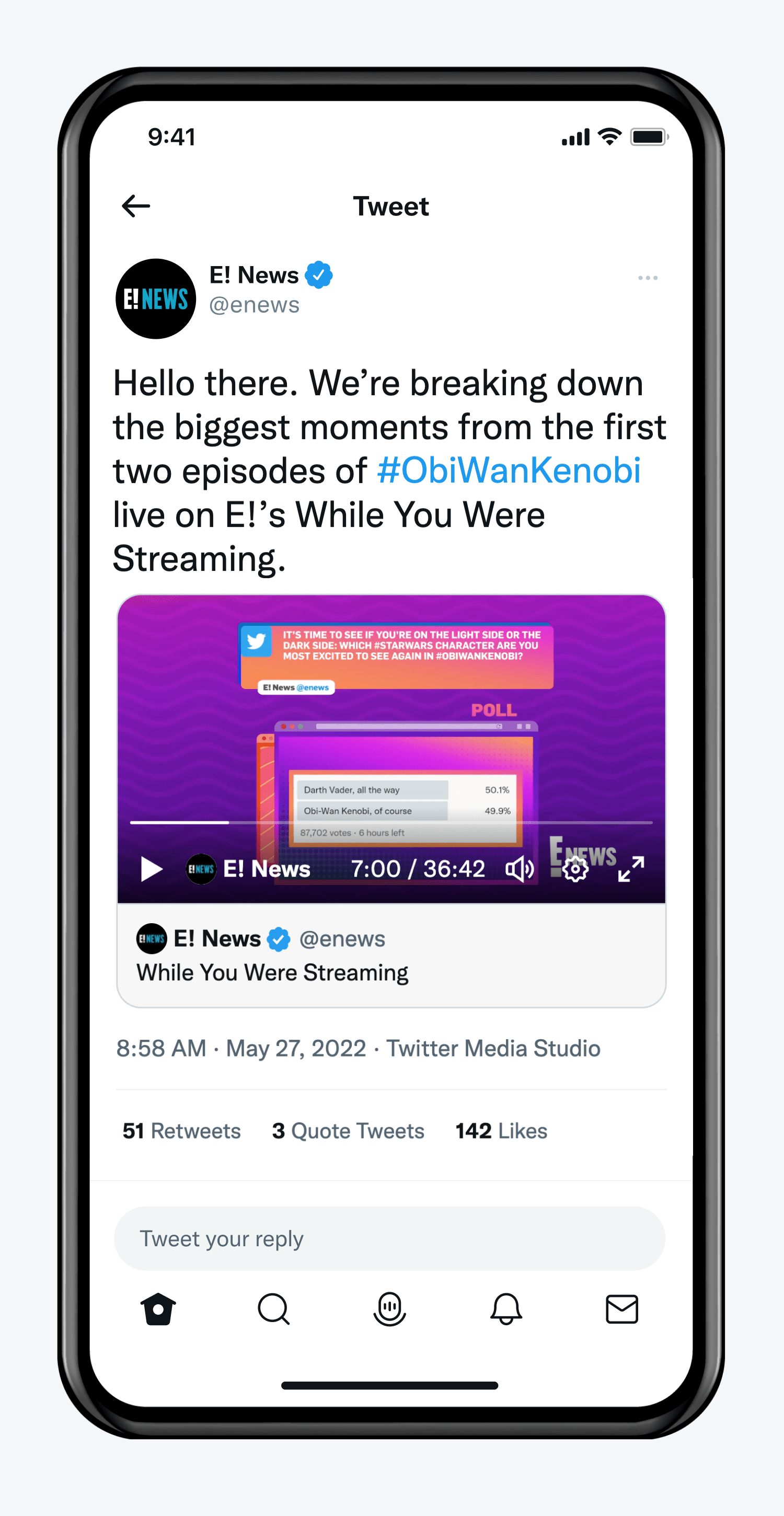 Reward fans for keeping the conversation hot
The next morning, fans were rewarded with a livestream offering exclusive access and interviews to unpack the most jaw-dropping moments that unfolded on screen, exclusively on Twitter. 
Develop and strategically place Pre-roll clips
The livestream was cut into sponsored Video on Demand clips that were distributed across Twitter, fueling the conversation post show. Even fans who missed the live stream were able to enjoy the content.
E! News turned on the power of TV Twitter. The livestreams amassed on average more than 1.5MM viewers per show. For example, during the "House of the Dragons" livestream, the show amassed over 3.4MM viewers who were scrolling the timeline to keep up with the show. 
And the sponsor partnership with E! and Twitter put the brands amidst the cultural heat of TV conversation. Show sponsorship delivered efficient reach as CPMs were 34% more efficient and engagement was 215% higher than industry benchmarks for the launch sponsor. 
The collab had TV fans turning up on the timeline.
Sources:
1. Twitter Internal data (05/25-06/29).
2. Twitter Internal data (05/25-06/29) media polls compared to media polls for amplify campaigns in the US Alc vertical in Q2 2022.
3. Twitter Internal Data (Semantic Core). Global Tweets (including RTs) from 7/30/2021-7/25/2022. Retrieved July 2022.
4. YouGov RealTime Survey. "Which, if any, of the following streaming services have you ever watched content from? This includes services you're subscribed to and services you've watched content from". Selected at least 3 options. Active Twitter Users, n=211. Non-Twitter social media users (Facebook, LinkedIn, Pinterest, Tumblr, Instagram, Snapchat, Reddit, WeChat, Qzone, Meetup, Weibo, Tiktok OR YouTube). Active Twitter Users. UK n=733,SP n=454,CA n=292,BR n=296,US n=473,ID n=1,137,MX n=334,FR n=166,JP n=421.