Case Study
Costa brews up a storm with sparkling Christmas coffee campaign

3x
higher engagement than benchmark
5.3K
mentions of campaign hashtag
Known for having limited edition flavours each Christmas, Costa Coffee (@CostaCoffee) was keen to create buzz around the launch of its new seasonal line of drinks.
Knowing 7 in 10 people on Twitter in the UK planned to celebrate Christmas in 2021 the same or bigger than in 2020, it turned to the platform to stoke excitement and drive action.1
To ensure it reached and resonated with coffee lovers and Christmas fans on Twitter, @CostaCoffee ran a phased integrated campaign, kept fresh with multiple creative formats. It kicked off with a Branded Notification, which let people like a teaser Tweet to opt in for a custom notification when the four new festive drinks became available in its stores.
On launch day, @CostaCoffee chose maximum impact with a Trend Takeover+, meaning its lively creative for the big reveal topped the Explore tab for 24 hours. A Branded Hashtag to accompany the campaign hashtag provided an extra shot of fun on the day.
To sustain the conversation, the coffee chain used a multi-destination Carousel Ad to allow people on Twitter to discover each of the new flavours in an interactive format.
Harnessing Amplify Pre-Roll Ads, @CostaCoffee maintained that momentum to help it position the campaign in line with premium content favoured by foodies and coffee fans. Conversational Cards, which marry video and polls to drive engagement, kept the chatter going. Lastly, the coffeehouse chain used App Install Cards to drive downloads and to flag its million-coffee giveaway.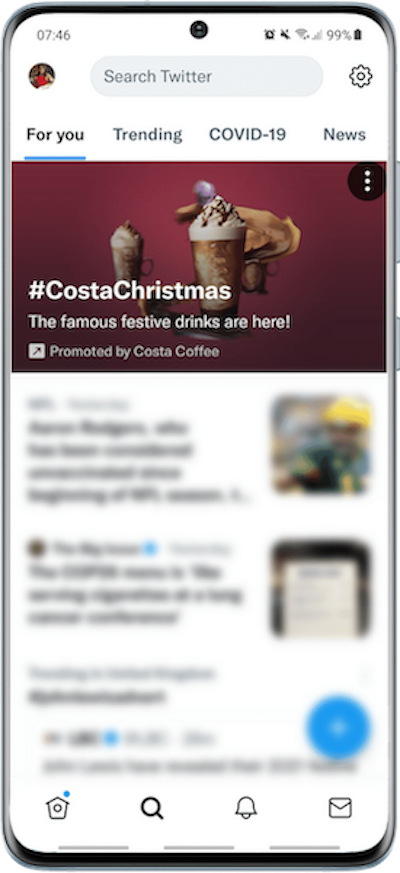 Get noticed with a Trend Takeover+
The Trend Takeover+ makes a big statement, as it leads trending topics on the Explore tab. The lively custom creative introducing the new Christmas drinks made sure people noticed @CostaCoffee.
Enable discovery with an interactive Carousel
To spur engagement and conversation, @CostaCoffee used a multi-destination Carousel Ad. This meant people on Twitter could discover each of the new flavours in an interactive, video-first format.
Think long-term with an App Install campaign
Keen to build consumer loyalty through the festive period and beyond, @CostaCoffee made sure to incorporate an App Install campaign with an appealing promotion into its overall plan.
This energetic, interactive campaign caught the attention of coffee lovers on Twitter in the UK. With 41M total impressions, it had an engagement rate of 9.1%, three times higher than the benchmark.
Over the course of the campaign, there were 5.6K mentions of the campaign hashtag – #CostaChristmas – and more than 4,000 people opted in to hear about the new flavours once they launched.
Source:
1. Twitter Insiders, UK only, Feb 7th 2022, n=626. Q: How often do you watch TV on the following? Live TV (i.e. as it's broadcast) / Streaming services (e.g. Netflix etc) / Catch up TV services (e.g. BBC iPlayer etc).
Christmas at Costa is such a massive deal. We're always looking at ways to do something bigger and better each year. We wanted to launch this year's campaign with a big bang, so using a combination of Twitter products gave us that. The Branded Hashtag was a particular winner.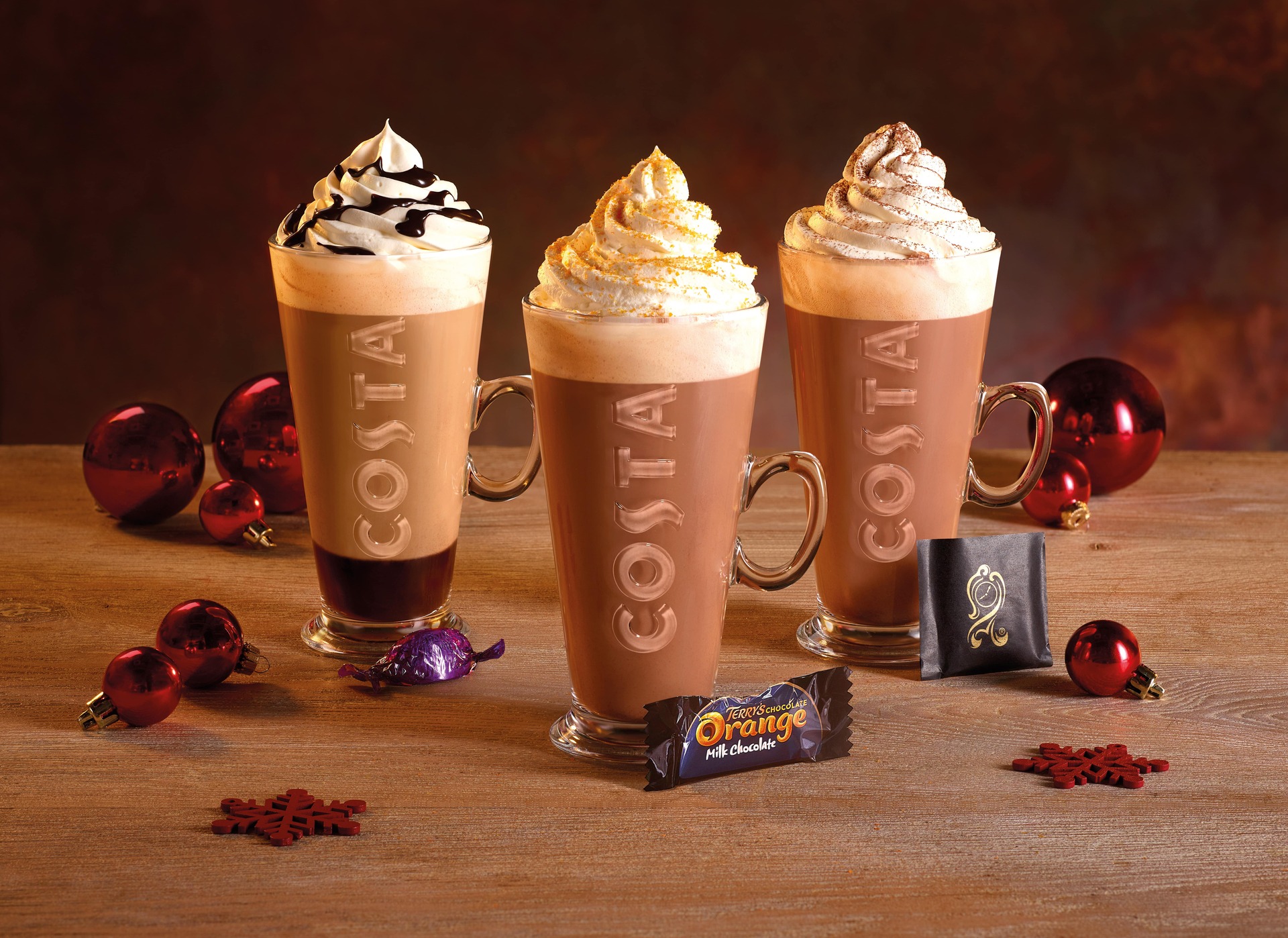 You want your message to be heard by the right person. Let Twitter's targeting capabilities help.
Reach your most valuable audience at scale when it matters most.