Success story
How CeraVe brought awareness to the heroes behind the masks with the #ThankYouNurses campaign

99%
positive to neutral sentiment
+56%
higher engagement rate compared to benchmarks
+19%
higher impressions compared to benchmarks
As a brand developed with dermatologists and the medical community, CeraVe's (@cerave) #ThankYouNurses campaign was looking to express appreciation for the "heroes behind the mask" that helped keep us safe during the pandemic.  
But when it came to the conversation on Twitter, how could @cerave bring mass awareness to this worthwhile sentiment in an effort to shine a light on the country's nurses?
The perfect day for celebrating nurses? Nurses Day, naturally. And the perfect platform? Twitter. 
With almost half of all health care professionals in the US using Twitter on a monthly basis2, on May 12th, @cerave unveiled its #ThankYouNurses campaign on the platform in celebration of health care professionals nationwide. 
Here's how they did it.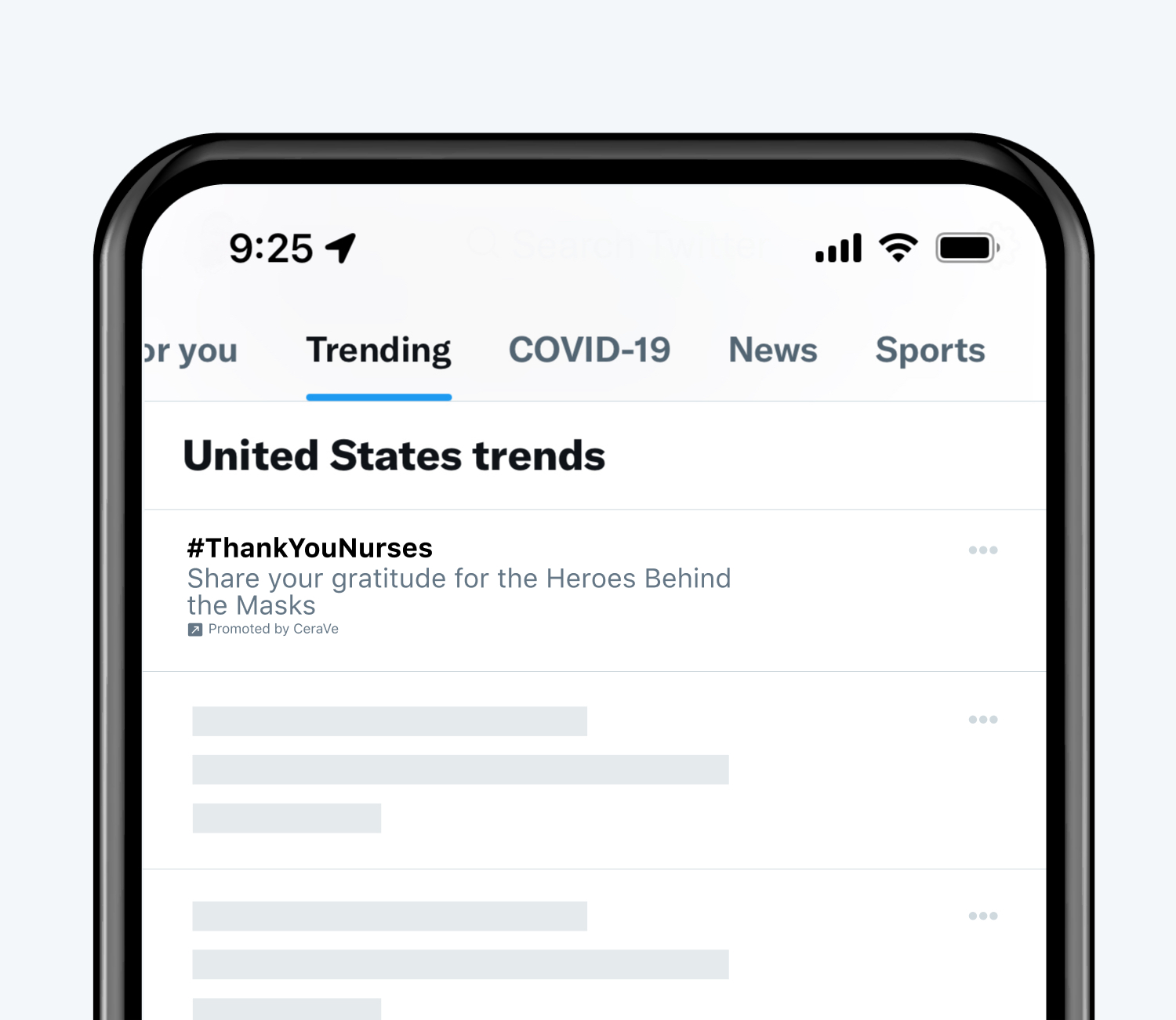 Create awareness with a Twitter Trend Takeover
Generating the hashtag was one thing, but @cerave wanted to amp up the awareness of the celebration. 

The skincare company kicked off their #ThankYouNurses campaign with a Twitter Trend Takeover and promoted the launch by aligning it with the trending stories of the day. So when people on Twitter checked out what conversations were happening in the moment, the first thing they saw was a warranted shout-out to our health care professionals.

Highlight Heroes with a Carousel Ad
Connecting with people in the Trending tab was a great start, but @cerave was looking to inspire conversation within the timeline itself.
 
Through a Carousel ad, @cerave profiled four brave nurses who exemplified the best of humanity and delivered on care — both emotionally and physically — to those suffering during the Covid-19 pandemic.
 
@cerave then leveraged a second Promoted Tweet prompting people to tag a nurse and show them their gratitude for their contributions during this challenging time.
 
Just how much awareness did @cerave generate for #ThankYouNurses? The campaign, which ran on National Nurses Day, proved so successful that it generated a 99% positive/neutral sentiment, +19% higher impressions compared to benchmarks, and 56% higher engagement rate compared to benchmarks.3
In the end, nurses were thanked, a worthwhile cause was met with a worthwhile engagement, and @cerave reminded us of a sentiment we should be expressing every day of the year, no matter the circumstances.
Sources:
1. Twitter Internal Data, 2021
2. comScore Plan Metrix, Mobile only, Mar 2021, US.Audience definition:
Healthcare Practitioner (doctors, dentists, nurses, therapists, technicians), 45% monthly reach
3. Twitter Internal, 2021