Success story
How Amazon Games welcomed gamers on Twitter into their New World

307M
overall impressions1
14.23M
hours watched on Twitch3
The volume on gaming Twitter is turned all the way up. Around 74% of people on Twitter are gamers and with over over 2B Tweets about gaming in 2020,1 the timeline is where the community gathers to share their love of new games.
To break through the noise, Amazon Games needed to create an entirely new fandom for their most ambitious game, New World. And Amazon recognized Twitter's ability to level up a campaign, whether it's launching something new or sustaining and connecting with the engaged gaming community. 
Amazon Games knew that the timeline was the place to enter their New World.
Amazon grabbed the attention of gamers with a full-funnel tease, launch, and sustain campaign. And it had gamers watching New World on Twitch by the millions.4
To create massive buzz prior to launch, New World met gamers where they already were. Last year alone, there were 44M gaming Tweets from 2M unique authors.5 So New World streamed the beta-launched version of New World with select gamers to build anticipation and conversation before everyone else got their hands on it.  
Next was the epic launch. Only 15% of brands are successful at meeting their launch KPIs. However, brands that include Twitter in their launch plans are 2.3X more likely to meet their launch KPIs.6

Here's exactly how Amazon Games ignited out-of-this-world results, conversions, and conversations with the help of gaming Twitter.

Build excitement with Branded Notifications
New World hyped up their launch by delivering time-triggered automated responses targeted to engaged beta testers in three different languages. And as a result, these notifications drove tune-ins to the Live Closed Beta Devcast.
Create a big premiere moment with a Live Event Page
New World maximized viewership of the Closed Beta Devcast in July with a Live Event Page featuring a carousel of top New World videos right under the stream, along with a live feed of curated #PlayNewWorld commentary to keep fans in-the-know.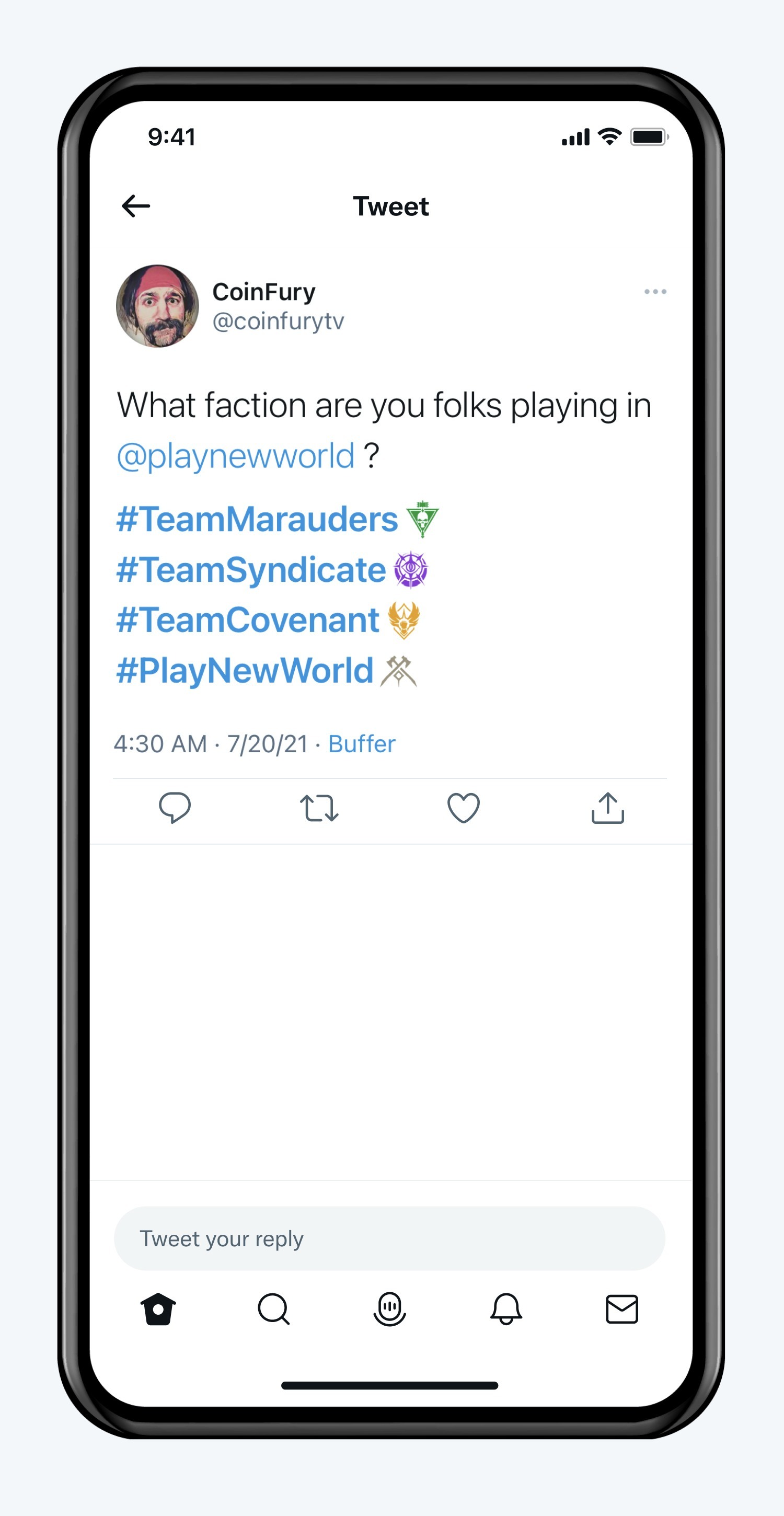 Get personal with Branded Hashtags
New World leveraged four custom-branded hashtags to build brand association and drive the #PlayNewWorld conversation in an eye-catching and authentic way. This gave players an opportunity to express their allegiance to the different factions of the game and bring the fun to the timeline and their followers.
Celebrate the worldwide release of New World with a first view Timeline Takeover and Branded Like
At the worldwide launch, gamers all over the globe who liked any #PlayNewWorld Tweet would see an animation of axes crossing for a custom-branded experience. And every gamer in the US was given the opportunity to engage with New World as the first ad they saw on their timeline for a 24-hour period.
Amazon Games tapped into Twitter's epic gaming audience with the arrival of New World. The campaign teased, launched, and sustained the momentum of their arrival all on Twitter's timeline. With Twitter's Branded Notifications, Branded Likes, and Branded Hashtags, New World personalized the gaming experience for new players and created a big splash. 
And the campaign strategy turned into real-world results as Amazon converted gamers on Twitter to Twitch viewers with over 14.23 million hours watched of New World, making it 2021's single largest video game launch day of the year.7
Source
1. Twitter Internal Data, 2021 
2. Data from July 2021 through October 2021 only; Brand Lift results reflect Kantar engaged users
3. Amazon Internal Data, 2021
4. Amazon Internal Data, 2021
5. Twitter Internal: Gaming 2021. FR; January 1,2021 - December 31, 2021) 89% people on Twitter say "being on Twitter helps me to immerse myself fully in the gaming content" (Source: Sparkler, commissioned by Twitter, Premium Video Consumption Behaviors, January 2021, USA. Q22) How much do you agree or disagree with the following statements about using [platform] while streaming [genre]? Q28) Thinking about [platform] in relation to when you are actively streaming, how much do you agree with the following statements? Base: those that second screen with platform, across genre: Twitter (n=72), Facebook (n=72), Instagram (n=45), Snapchat (n=194), YouTube (n=74)
6. Amazon Internal Data, 2021
7. Amazon Internal Data, 2021