How to grow your audience
Introduce your business to its next loyal customer
Twitter is where people follow their interests and discover new things.

The greatest gift you can give your business this holiday season? An audience of relevant and engaged Twitter followers.
Advocacy
67%
---
of users have Retweeted content from the small businesses they follow*
Sales
60%
---
of followers have purchased something from a small business because of Twitter*
Loyalty
43%
---
of users plan to purchase regularly from small businesses they follow on Twitter*
Running an always-on followers campaign means you'll be continuously adding to an audience that's likely to respond to your offers and products. Followers of a business have 24% higher purchase intent when they see advertisements from that business, compared to non-followers.**
Start a campaign now to build a primed audience — then set up a Website Cards campaign to share your holiday offers with your followers. We make it easy: your campaigns will always target your followers as a default setting. 
You can then build on that base by remarketing to people who have visited your website, signed up for your newsletter, and more.
 
Grow an engaged audience — then activate them with your holiday offers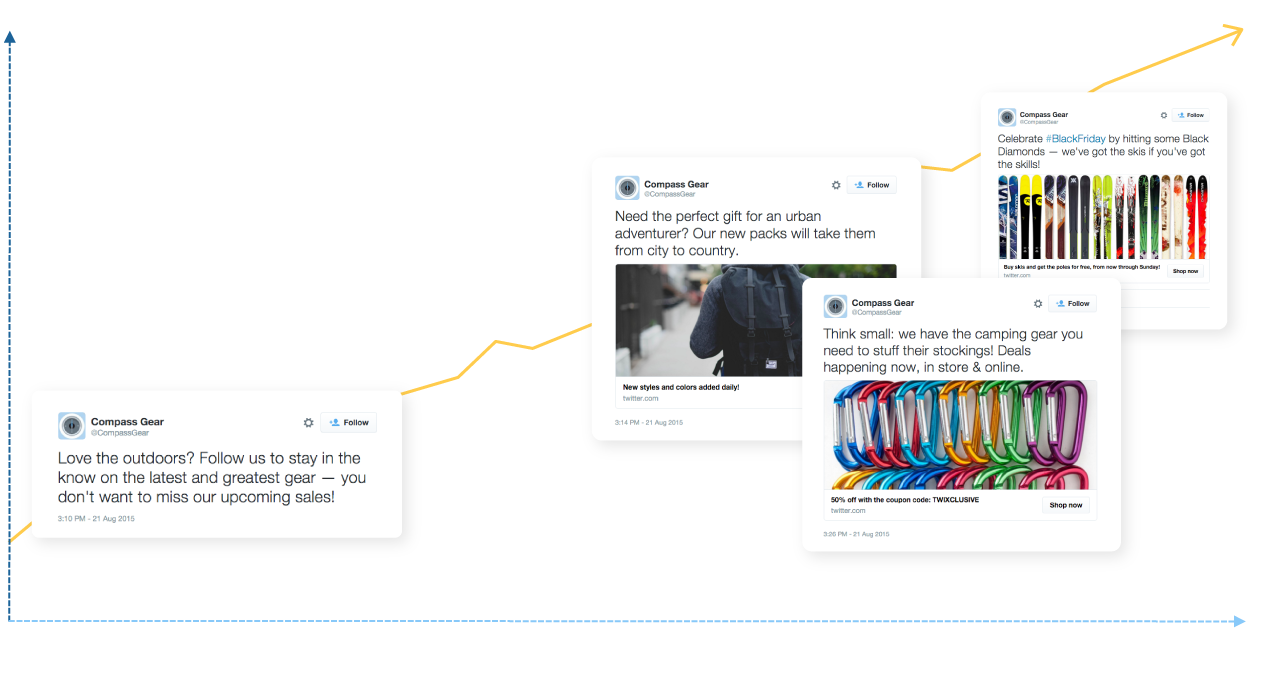 Followers    
 Time
Best practices for your followers campaign
Test ads with and without photos to see which approach resonates the most with your target audience.
Include the word "Follow" in your copy to give people a clear next step. Make sure they know what they'll be getting in return — this is the perfect place to tease upcoming holiday promotions and offers.
Avoid including links, hashtags, or additional usernames in your copy — keep it focused on the follow.
*Twitter + DB5 Study, 2014
**Twitter Brand Affect Norms, 12.31.2013