Design seasonal Twitter Ads that get noticed
The holiday season is the perfect time to get creative on Twitter — shoppers are looking for small businesses to support, so it's important to stand out from the competition.

Research
37%
---
of respondents said they were planning to use Twitter for holiday shopping this year*
Discovery
73%
---
of consumers are more likely to buy from a small business during the holidays if they see a sale, deal, or special on Twitter*
Purchases
58%
---
of users have seen something on Twitter that prompted them to make a holiday purchase*
Website Cards are designed to make it easy for you to showcase your business and seamlessly bring people to your site from Twitter. To make sure the Website Cards in your Twitter Ads campaigns are working as hard as you are over the holidays, read on for creative best practices.
 
The anatomy of a Website Card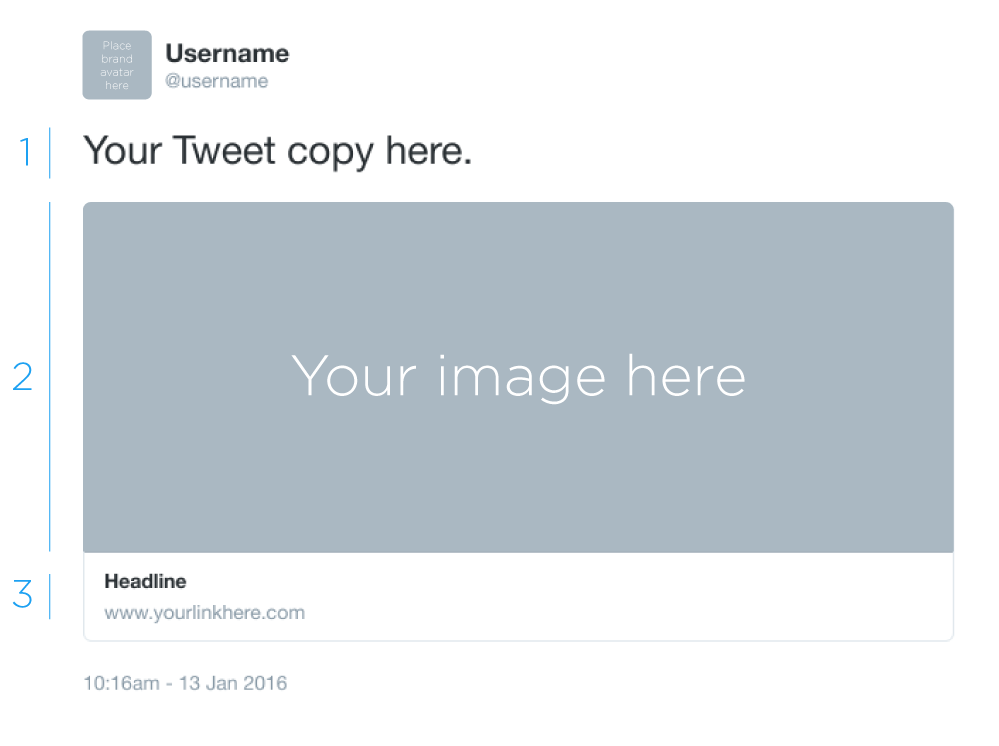 Each element serves a purpose:

The Tweet copy generates intrigue and interest.


The headline and call-to-action give shoppers an actionable next step.


The image shows off your business or products.

Best practices for increasing your website traffic and holiday sales
Tweet copy
Create a sense of urgency. Let shoppers know you're having a 24-hour holiday sale or that you're running out of your best sellers. You can even countdown the days left until a major holiday to remind them that it's time to shop!
Minimize distractions. Website Cards without hashtags or usernames in the copy get 23% more clicks.**
Ask a question. It could be as simple as asking people if they've crossed every person off of their gifting list. Website Cards with questions in the copy get 25% more clicks.**
Create a strong headline
Use the headline to expand on your offer. Free shipping and coupon codes are compelling. Don't hide them on your website! Use the 70 characters in the headline to call out any additional information.
Image

Showcase your products. Use an image of your holiday best-sellers, your unique gifts, or anything else that will tell people what you're offering at a glance.
Avoid generic holiday images. Feel free to add some festive context to your images, but keep the focus on your products.
Share the company you keep. If you're featuring amazing holiday deals on coveted brands or hard-to-find products, highlight them visually.
*Twitter Small Business Holiday Insights, Twitter + Millward Brown 2015.
**Twitter internal data, 2015