Drop your products in a buzzworthy moment.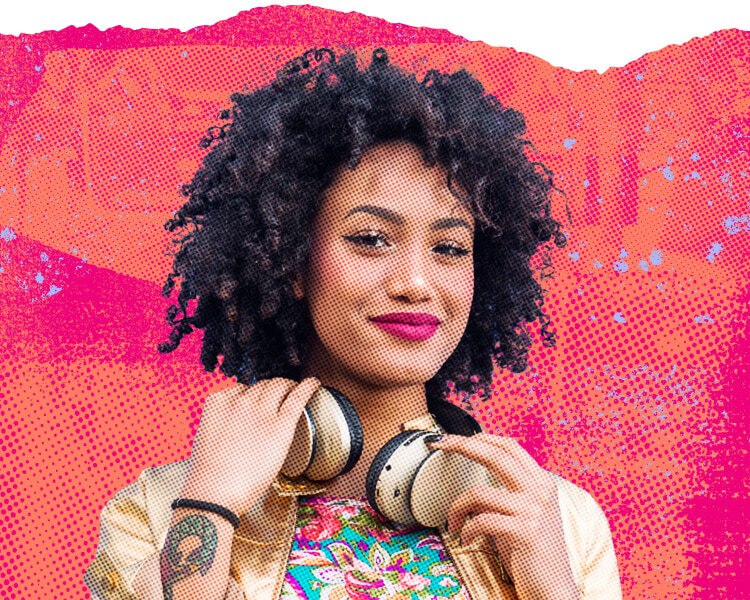 Launch your products with hype
Product Drops empower merchants to launch their hottest product in front of their biggest fans natively on Twitter, and for people to shop the drop with automated push reminders.

Accelerate the hype around your next big product launch, drive sales, and take full advantage of the viral and conversational nature of Twitter with Product Drops.
Currently available to all eligible merchants and shoppers on iOS and Android in the US.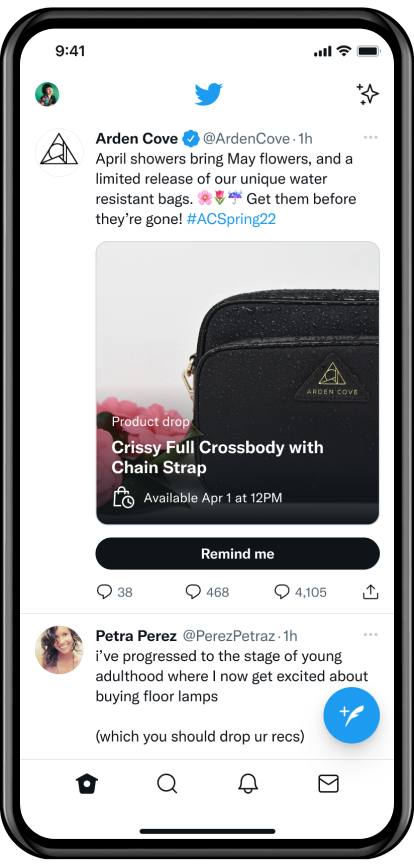 Drops surface just like any other Tweet
Drops render the same as a regular Tweet — allowing fans to discover, join in, Retweet, engage directly with merchants, bookmark, and converse with like-minded shoppers.

Shoppers can also share your Drop with their followers and communities, generating further conversation on Twitter around your product launch.
Auto-remind fans when it's time to shop the drop
No need for your fans to set their own calendar reminders anymore! People on Twitter can now subscribe to your product launches on Twitter and be prompted to shop the drop at go time. 
Customers will receive a push notification 15 minutes ahead of and at the time of the Product Drop, so they can be among the first to shop. Goodbye FOMO!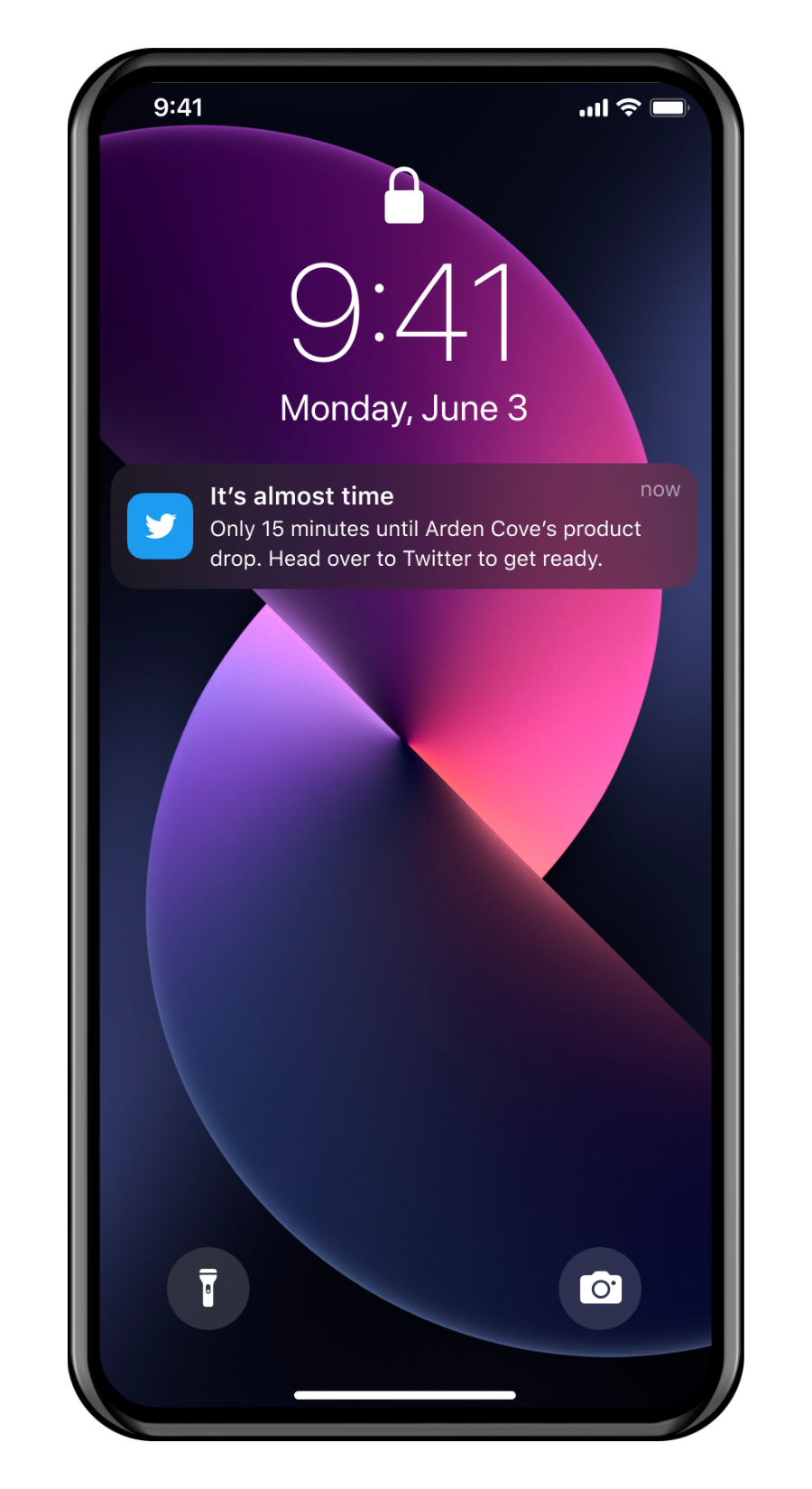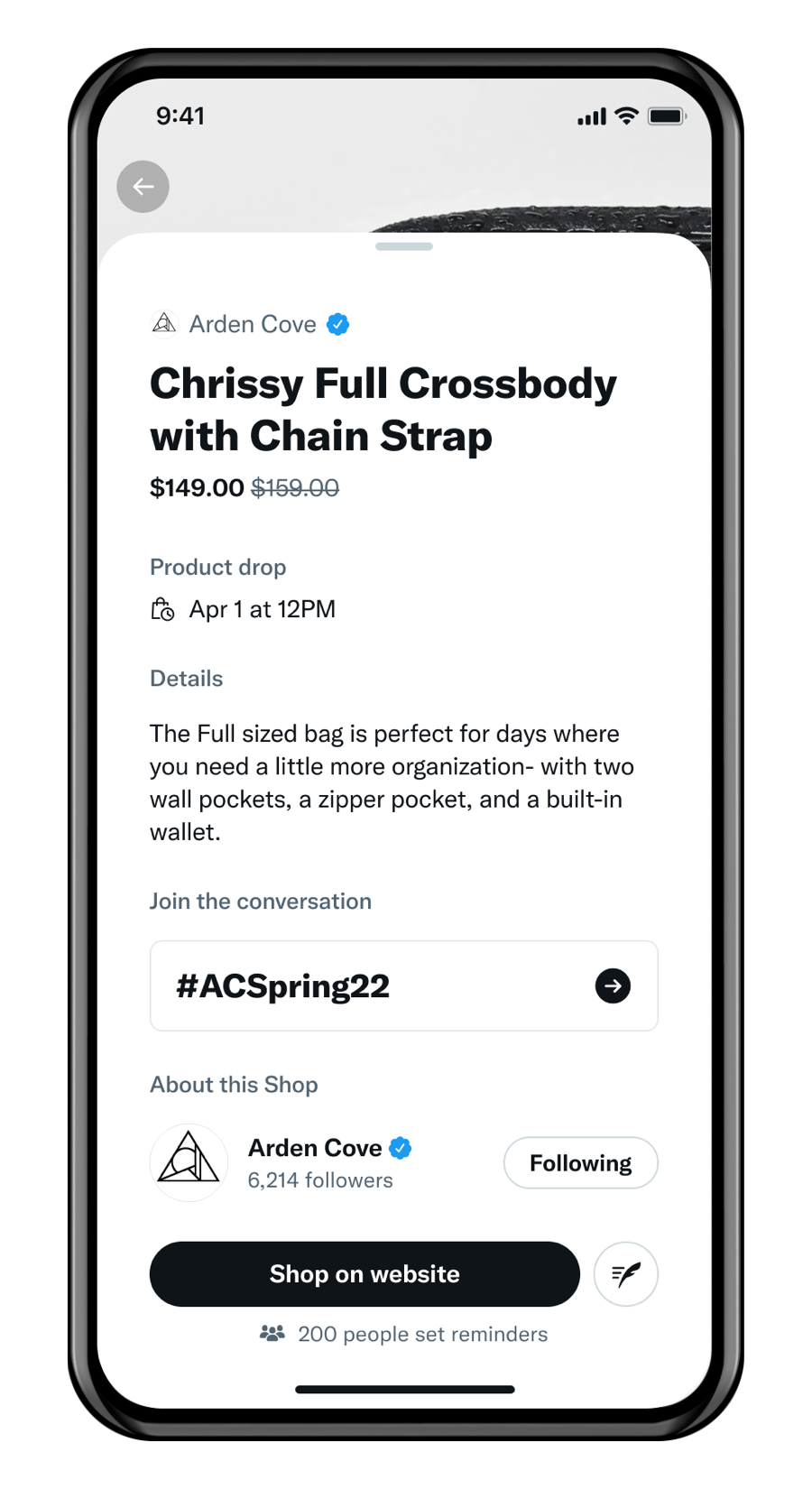 Display your product details in a fully immersive space
Each Drop links to a Product Details Page — an inspirational space with a carousel of product photos and all of the information shoppers need to make their purchase with confidence.
Here, you can view and join in on all of the conversation taking place around that product on Twitter, providing a layer of social proof for your customers.
Insights
Your biggest fans want Drops
People on Twitter already know how to shop a drop. In fact, in a recent survey of Twitter users, 70% of Gen Z respondents said they use Twitter to learn about new product drops.* And 64% of Twitter users always research a product before making a purchase**, which gives us insight into how essential Product Details are to Product Drops.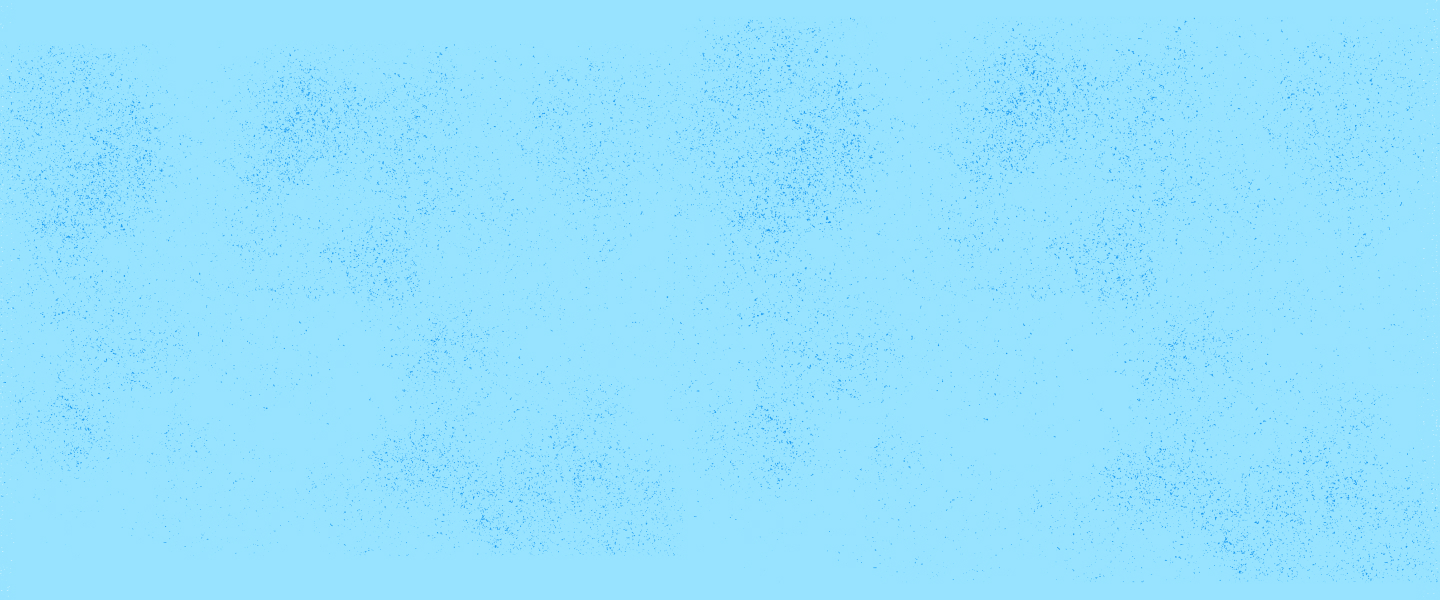 It's all in the (product) details
Include all of the need-to-know info on your Product Details Page that will answer your fans' burning questions and persuade them to purchase. Cover the basics such as color and size, but also details such as your shipping turnaround, return policy, eco-friendly status, and any additional unique selling points. You'll add all of this in the "Description" field of your product upload to Twitter Shopping Manager.
Put your best photos forward
You can include up to 11 images in your Product Details Page, but we recommend including at least three for the best shopper experience. Images can be added during your product upload flow. Showcase your product from different angles and in use to capture shoppers' attention in a fully-immersive scrollable experience. 
To create your Product Drop, upload your product(s) to Shopping Manager as shown in our instructions and create a Product Set with only the single item you plan to drop. Then navigate to "Storefront" > "Product drops" > "Create drop".
Once created, you'll be able to view your full list of past and present Drops here. Click on the three dots on the right to delete or Tweet about these Drops.

TIP! If you're launching multiple products, you'll need to repeat the same steps to create more Drops on Twitter.
You'll be brought to the form below to input all of your Drop information. Make sure all of this is entered correctly!
Name: Enter the name of your new product launch (max 130 characters)

Date & time: Select the exact date, time, and timezone that your product will be live and shoppable. This must be at least 12 hours away from the present time.

Hashtag: Create a short, memorable, and relevant branded hashtag shoppers can use to talk about your Drop

Product set: Select the product set you created earlier from this drop-down menu

Visibility: Keep this turned ON to make sure that your Drop Card is visible and discoverable by shoppers! Turning this off will prevent the Drop from being discovered too early but will also remove the Drop Card from all published Tweets.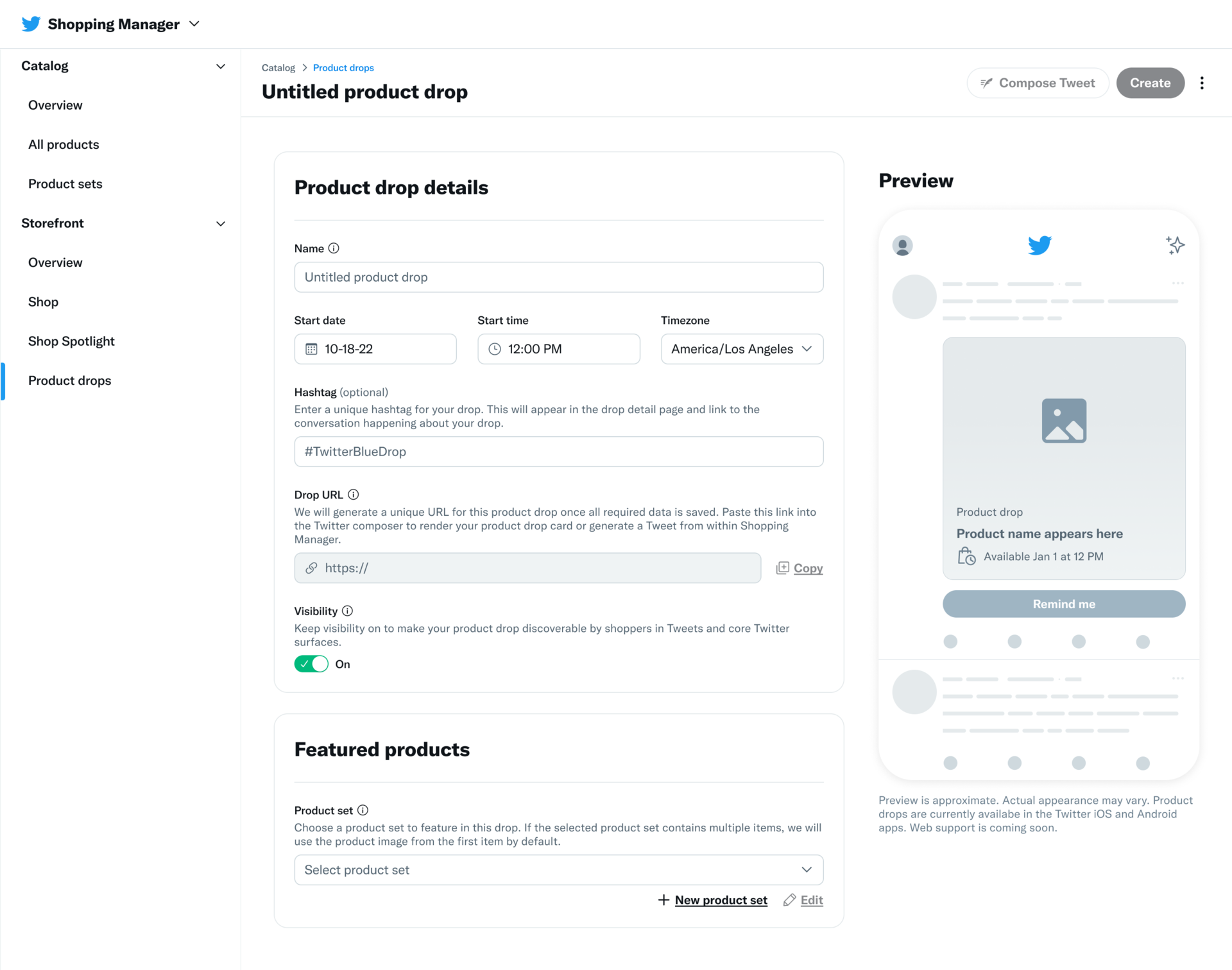 Once all of the information is inputted, click "Create" at the top-right corner. This will auto-generate the Drop URL field for you to use later and generate a confirmation message to let you know your Drop was successfully created.

You can come back here to make any changes to your Drop up to 15 minutes before your set start time. This is to ensure the Drop notifications deliver to shoppers successfully. Click "Update" at the top-right corner of the form to confirm any changes. Within 15 minutes of your Drop time, the form will be in a Read-only state.
Drive discovery of your Product Drop
Once your Product Drop has been successfully created, it's time to Tweet it out to spread the word and get shoppers excited!

Click "Compose Tweet" at the top-right of your Drop creation page, and follow through to the Twitter interface to post your Tweet. This will auto-populate your set Drop hashtag and URL, but please make sure to add your own original Tweet copy!

You can Tweet out your upcoming Drop as many times as you want, but we recommend Tweeting at least 12-24 hours prior to the start time to give people enough time to discover, learn more, and subscribe to your Drop before it goes live.
And once your Drop is live, you'll want to Tweet to let your audience know and draw more eyes.
For now, the Drop Card will only be visible on mobile devices in the US, but your Tweet copy will render on Desktop and ex-US devices globally, so make sure the copy makes sense standalone too.

Don't forget to monitor your Drop hashtag and engage with your most leaned-in shoppers! And be sure to get any brand partners or influencers to Retweet your Drop Tweet to maximize awareness.
To drive more discovery, we also encourage you to pin your Drop Tweet to your profile and promote your Drop Tweet in an Engagements campaign through Twitter Ads Manager! You can select your Drop Tweet under the "Creatives" section of your campaign setup on ads.twitter.com. For best results, we recommend targeting iOS and Android-based US audiences.

Once you're 24 hours away from the Drop, your Drop Card will automatically render a 24-hour countdown in the upper right corner. Once the Drop is live, all 'Reminder' buttons will automatically change to 'Shop on Website'.
If it's not sold out, you can update your always-on Twitter Shopping presence (Twitter Shop and/or Shop Spotlight) to include your newly-dropped product(s) via Shopping Manager.
Twitter Shopping, including Product Drops, only supports physical goods. We cannot support the sale of any digital products at this time, including tickets, gift cards, subscriptions, reservations, NFTs, etc. There's no immediate timeline for this to evolve.
Depending on your needs, you may be able to use one of our other tools for Professionals to drive people to take action directly from your profile.
Consumers can view Product Drops only on iOS and Android devices in the United States, with their device language set to English. The accompanying Tweet copy will appear on Desktop and ex-US devices globally, but the Drop Card and functionality is currently US-only at this time.
Product Drops are part of our suite of free Twitter Shopping tools, accessible through Shopping Manager. It's entirely free to use, shoppers check out on your own website, and we don't take a cut of sales.
Drop your next product on Twitter
* Bovitz, Conversation as a Superpower Study, commissioned by Twitter, 2021, 1153 Twitter US respondents
** Influence Study, 2021, Base: Twitter Users (n=1794), Non-Twitter Users (n=4206)