All set?
Get started with Twitter Ads.

What are Promoted Accounts?
Promoted Accounts suggest Twitter accounts that people don't currently follow and may find interesting. They help introduce an wider variety of accounts people may enjoy. Promoted Accounts are the result of creating a Followers campaign.
Where?
Promoted Accounts are displayed in in multiple locations across Twitter, including your timeline, "Who to Follow" section, and search results. 
You may see a Promoted Account listed in these areas if a Promoted Account is relevant to you. 
As with Promoted Trends and Promoted Tweets, this suggestion is labeled as "Promoted" to distinguish it from other recommended accounts.
When? 
Promoted Accounts boost your follower growth, so they're best used when you want to build an engaged audience to amplify your message — on and off Twitter. People who follow you not only see your Tweets, but they're also likely to become brand advocates and customers.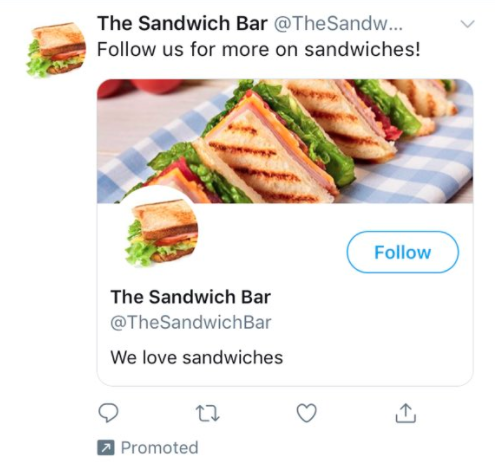 FAQs on Promoted Accounts