What are Conversation Buttons?
Conversational Buttons are standard features that can be added to Image or Video Ads, that add a call-to-action button and customizable hashtags to your ad. They prompt people to spread your message to their followers, further expanding your reach and engagement.
Conversational Buttons are not available by default for self-serve advertisers. To request access, please file a support ticket.
How do I set up a conversational ad?
Log in to your Twitter Ads account and select "Create new campaign".  Select either the engagements objective for an Image Ad, or the video views objective for a Video Ad.


Under the "Create or select creative" section, click "use a conversational card", which will allow you to configure your card.

Fill in the details of the conversational card, including:

The image or video in your card

The number of hashtags in your card

The Tweet copy that will be pre-populated in the Tweet when users interact with your card

A headline (appears above the hashtag) in a one-choice hashtag option

Thank you text (appears after a user has Tweeted your message)

Thank you URL (optional URL to drive a user to after they've set up the card)

Configure the rest of your campaign options (bidding and targeting) and launch your campaign!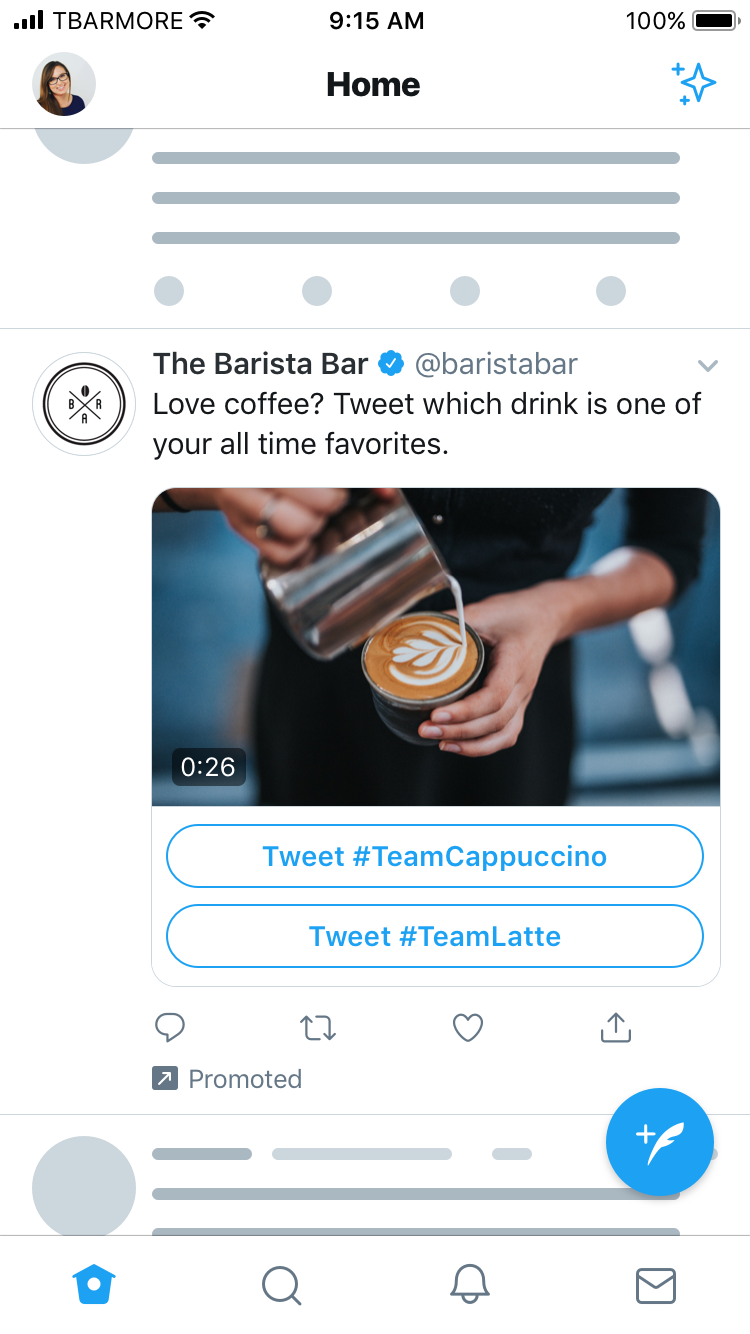 What image specifications should I follow?

Recommended minimum width: 800 pixels
Aspect ratio: 1.91:1
File types: JPEG, PNG, or non-animated GIFs 
File size: Max 3MB
What video specifications should I follow?
Video length: Recommended 15 seconds or less. Max: 2 minutes and 20 seconds.
File types: MP4 or MOV

File size: For optimal performance, keep files under 30MB. Max file size is 1GB.
Branding: Highly recommended throughout; if using a logo, it should be persistent in the upper left-hand corner.
Captions: Closed captioning or text overlays are strongly recommended.
More information is available on our creative ad specs page. 

What counts as engagement?
On mobile and web, tapping on any pixel in the ad counts as engagement.
What is the engagement type recorded when someone clicks on the hashtag?
Any click, anywhere on the ad, is counted as a click in the analytics and Tweet activity dashboards.