The audience summary section provides advertisers with an estimated audience size based on the configured targeting options and bid for the campaign. This tool allows advertisers to see the estimated audience of their campaign and make the necessary edits to ensure they're reaching the largest audience possible.
In the campaign creation, simply enter the specific targeting options you want to target. By entering targeting options (such as follower look-alikes, language, and more), you'll start to see an estimated audience size display on the right side of your screen.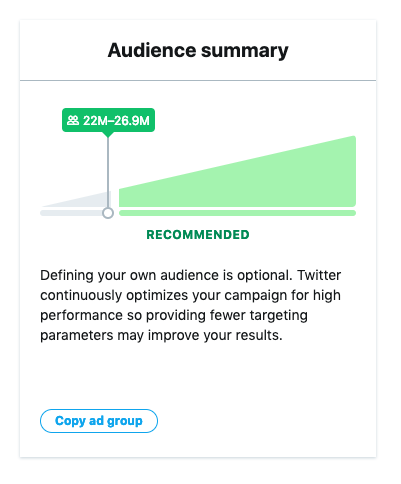 How targeting affects campaign serve

The targeting you choose determines the size of your campaign's audience. Generally speaking, the larger your campaign audience, the more easily your campaign will serve, as there are more people to serve the ad to.
For more information about how targeting may affect your campaign serve, please see here. As a rule of thumb, your audience summary should be in the middle of the green recommended range.
Why is the audience summary displaying "Not available"?
During the campaign creation process, you will see "Not available" displayed when your targeting is too broad. Try adding additional targeting criteria to help define your audience.
Does the audience summary take the campaign flight dates into account?
Yes - the audience summary will consider targeting, flight length, budget, and bid into account to determine estimates.