Ads editor troubleshooting
If there is anything wrong with your ads editor file, you'll see a red error upon upload. Use the list below to troubleshoot potential reasons. 

How to troubleshoot your Ads Editor file
Upload your Ads Editor excel spreadsheet under the "Import" tab of the Ads Editor tool by clicking "Upload & preview"
If your file has an error, you will see it now
Read the error(s) and note their location in the "Location" column. This column corresponds to Rows and cells in your Ads Editor excel spreadsheet
Find the column that is mentioned by your Error message. In this example, the error says "serving_status cannot be changed from Non-Draft to draft mode," so we'd look in the Campaign Status (Column F) on our Ads Editor file in Row 2
Change the value that is specified. In this case, we would change the value in cell F2 from "DRAFT" to "ACTIVE"
Save the updated version of your Ads Editor excel spreadsheet
Import again to the Ads Editor tool by clicking "Upload & preview" 
If you've fixed all errors in your file, you will see a Validation screen. If not, continue troubleshooting according to new error message(s)
Remember, you can only make changes and setup campaigns in Ads Editor that you could otherwise do in the campaign setup form.  If you cannot make a change in the campaign setup form, you cannot make it using Ads Editor.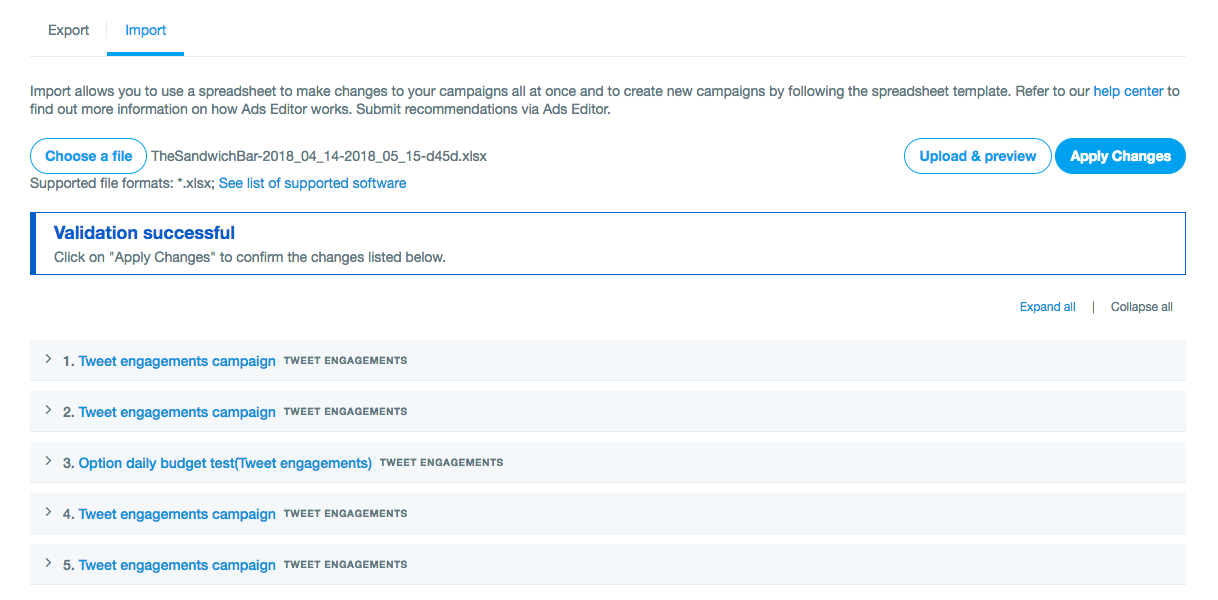 Common Ads Editor errors
When you Import your Ads Editor file and there is (1) a missing required field or (2) an incorrectly formatted field, it will show an error. 
It will detail the exact errors in your Ads editor file below, as well as the corresponding Row number. Look at the issue, and fix it in the row that it mentions. Be sure to check the following:
List formatting. Make sure all targeting is separated by a semicolon (;)
Spacing. Make sure there are no accidental spaces after your targeting lists. For example, "i981828007756206081;i972257579379302401*SPACE* will cause an error when importing

Start and end dates. If you're creating a copy of an old campaign, make sure you update the start and end dates so they're not in the past
Ad group budgets. If you're updating an Ad group total budget (Column S) for a campaign that has already spent, make sure you also update the campaign total budget (Column H) so that the ad group budget isn't greater than the campaign total budget
Incompatible bid types. Make sure the bid type you set up is available for the campaign objective you chose
Wrong serving status. When launching or editing a campaign be sure to double check what you have in both Campaign status (Column F) and Ad Group Serving Status (Column R). These columns need to both be ACTIVE in order for the campaign to serve.
@handles still current. If you're adding Follower targeting, all the @handles listed must be current active handles. Make sure to use a current list of @handles, to prevent users might have changed their @handle 
Ads Editor troubleshooting FAQs
What are the required fields for a campaign?

Required fields for a new campaign:

Campaign ID: "new C1", "new C2" in chronological order for each new campaign
Funding Source ID: input the correct funding source to use
Campaign Name: Must be new
Campaign Start Date
Delivery (Pacing): Choose standard or accelerated pacing
Total Budget
Daily Budget
Ad group ID (leave blank for new campaigns)
Ad group name

Ad group start time
Ad group placement
Campaign Objective
Optimization Preference
Promoted Product Type
Bid Type
Bid Amount
Bid Pricing Unit
Disclosure Text: Select "None" for all campaigns except political campaigns

My behavior targeting isn't working

Behavior targeting is only available in the United States and the United Kingdom. First, make sure your campaign is only targeting the United States or the United Kingdom, you cannot target both in one campaign when using Behavior targeting. 

Ensure your Ads Editor targeting contains the correct version of the behavior audience. For example, certain audiences may only be available for targeting in the U.S. and not the U.K., or vice versa. 

If you're continually having trouble adding Behavior targeting using Ads Editor, we recommend that you edit this targeting type in the campaign creation form in your Ads account UI.