Ready to go? 
Start your Twitter Ads campaign.
Ads editor ID lists
Within every downloaded ads editor file, you'll see clickable tabs along the bottom row. You can click the right arrow to scroll between them. 
Each tab contains an ID list of different parameters unique to your ads account, such as Funding sources and Tailored Audiences. 

If you're building new campaigns within Ads Editor, you can use the ID lists as a key to set up your targeting. 
More on Ads Editor here.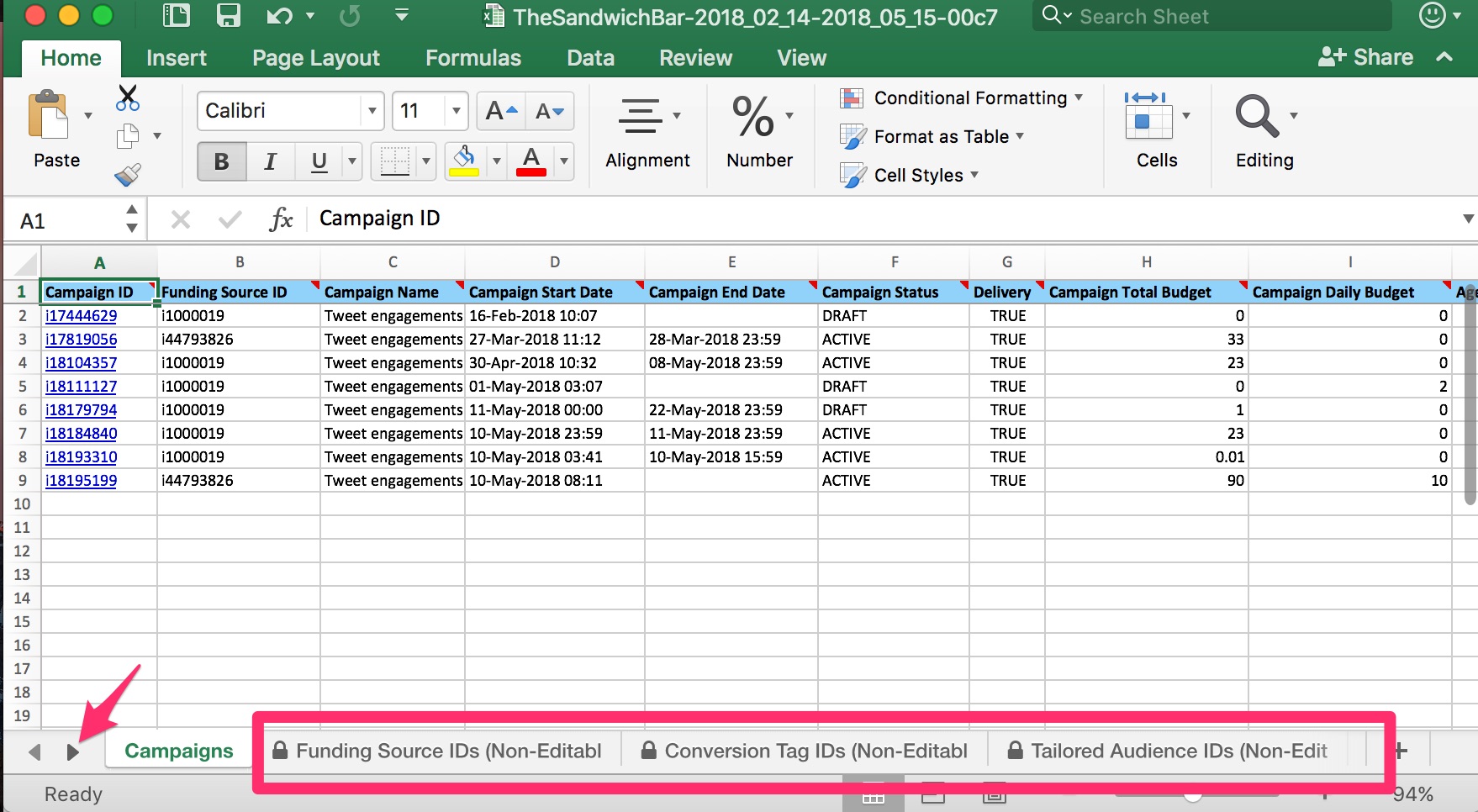 Ads editor ID list FAQs
Help! I'm confused by Ads Editor

Ads Editor #Protips: 

Ads Editor isn't required to create or edit campaigns. You can set the same exact targeting parameters in Ads Editor that you can in the campaign setup form. Try creating and editing your campaigns in your Twitter ads account at ads.twitter.com.
Create your campaign how you'd like it set up in your ads account, then download the Ads Editor file to see how it should be formatted. Match that formatting moving forward for any edits you'd like to make via Ads Editor. 
Check out our Ads Editor Help Center page with common FAQ's. 
Watch this quick video tutorial on Ads Editor. 

I'm not seeing a tab of IDs that's listed here

If you do not have a targeting feature set up in your ads account, it will not show as a tab on your Ads Editor file. For example, if you don't have any App IDs uploaded into your App manager in your ads account, there will either (a) not be anything present in the App IDs tab or (b) the App IDs tab will not show on your Ads Editor file.