We currently accept payments in the official currencies for most countries where X self-serve ads products are available. See a complete list of eligible countries here.
For some countries where X does not support the local currency, you will be charged in USD or EUR. To find out whether your country's currency is supported, please reference the FAQs at the bottom of this page.
During the X Ads account creation process, you will be prompted to select a country and time zone for your ads account. The country you select will usually be the one you're billed in, however this is not the case for all eligible countries.

For countries where the currency is supported, you will be billed in that specific currency. For example, if you choose United States, you will be billed in US Dollars. If you select Mexico as your country, you will be charged in Mexican Pesos.
If you're located where the currency is not the same as the country you selected in the account creation process, please refer to the FAQs below.

The country you select during the account creation process will determine the currency that will display for all aspects of the X Ads experience including bidding, reporting metrics, invoices, and more. Your account's currency will be automatically set to the official currency of the country you select during the sign-up process.

For some eligible countries where the country currency is not supported, you will be charged in USD or EUR. To confirm the currency you will be charged in, please refer to the FAQs below.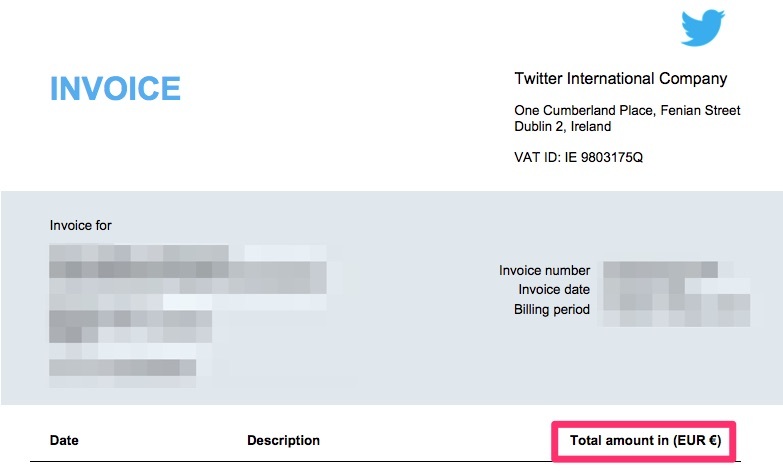 Countries charged in USD:
Afghanistan
Albania
American Samoa
Angola
Anguilla
Antarctica
Antigua and Barbuda
Armenia
Aruba
Azerbaijan
Bahamas
Bahrain
Bangladesh
Barbados
Belarus
Belize
Bermuda
Bhutan
Bonaire, Saint Eustatius and Saba
British Indian Ocean Territory
British Virgin Islands
Brunei
Cambodia
Cape Verde
Cayman Islands
Christmas Island
Cocos (Keeling) Islands
Cook Islands
Costa Rica
Curacao
Dominica
Dominican Republic
Egypt
El Salvador
Eritrea
Eswatini
Ethiopia
Faroe Islands
Fiji
Gambia
Georgia
Gibraltar
Greenland
Grenada
Guam
Guinea-bissau
Guyana
Heard Island and Mcdonald Islands
Honduras
Hong Kong
India
Iraq
Jamaica
Jersey
Jordan
Kazakhstan
Kenya
Kiribati
Laos
Lebanon
Liberia
Libya
Macau
Malawi

Malaysia
Maldives
Marshall Islands
Mauritania
Moldova
Mongolia
Montserrat
Mozambique
Namibia
Nauru
Nepal
Nicaragua
Nigeria
Niue
Norfolk Island
Northern Mariana Islands
Pakistan
Palau
Palestine
Papua New Guinea
Paraguay
Philippines
Pitcairn
Qatar
Republic of North Macedonia
Rwanda
Saint Helena, Ascension and Tristan Da Cunha
Saint Kitts and Nevis
Saint Lucia
Saint Vincent and the Grenadines
Samoa
Sao Tome and Principe
Saudi Arabia
Serbia
Seychelles
Sierra Leone
Solomon Islands
Somalia
South Georgia and the South Sandwich Islands
Sri Lanka
Suriname
Svalbard and Jan Mayen
Tajikistan
Tanzania
Thailand
Timor-leste
Tokelau
Tonga
Trinidad and Tobago
Turkmenistan
Turks and Caicos
Tuvalu
Uganda
United Arab Emirates (UAE)
United States Minor Outlying Islands
Uruguay
Uzbekistan
Vanuatu
Venezuela
Virgin Islands (US)
Western Sahara
Yemen
Zambia
Zimbabwe
Countries charged in EUR:
Algeria
Andorra
Benin
Bulgaria
Burkina Faso
Burundi
Cameroon
Central African Republic
Chad
Comoros
Cote d'Ivoire
Croatia
Cyprus
Czech Republic
Democratic Republic of Congo
Estonia
French Guiana
French Southern Territories
Gabon
Greece
Guadeloupe
Guinea
Haiti
Hungary
Iceland
Latvia
Lithuania
Madagascar
Mali
Malta
Martinique
Mayotte
Monaco

Montenegro
New Caledonia
Niger
Poland
Portugal
Republic of the Congo
Reunion
Romania
Saint Barthelemy
Saint Pierre and Miquelon
San Marino
Senegal
Togo
Turkey
Ukraine
Vatican City
Wallis and Futuna 
Frequently asked questions
What if my country's currency isn't supported?
For some countries, X does not support the local currency due to financial limitations. If you are located in a country where the currency is not supported by X you will be charged in USD or EUR.
Where can I see the currency for my account?
From your campaign dashboard, select "All campaigns". From there, in the "Budget" and "Spend" columns, you will see the currency symbol for your account. The displayed currency symbol will be the one you will be charged in.
How can I change the currency for my account?
If you would like to change your currency, please submit a support ticket. From there, we will create a new account linked to your existing X Ads account, where you will be able to select a new time zone and/or currency.
Please note, if you have campaigns on your existing account, you will need to pause or stop those campaigns to prevent future charges from accruing. Customers are responsible for charges accrued in all X Ads accounts associated with their handle, irrespective of currency settings.
What currencies do X Ads support?
See a complete list of eligible countries here.