Winning at Twitter: Tips for esports players
Looking to dominate both in-game and on Twitter? It's crucial for esports players to build a brand identity for themselves for future growth, opportunities, and marketability. Read our guidelines on how to elevate your personal branding outside of professional play.
Be part of the conversation
The esports world happens largely, well, online, so being successful, informed, and relevant in the industry is ideal. Using Twitter can help you develop a personal presence, gain a wider audience, and stay involved in the conversation around your favorite games. 
What and when you Tweet should be largely based on your interests and the time you want to devote to the platform, but some general guidelines can help you get started:
Tweet about what you're genuinely invested in. Do you have a game you specialize in or expertise in a certain type of play? Let your audience in on your knowledge.


Be conversational. Your audience will appreciate feeling like they are a part of your community.

Experiment and test when the best time to Tweet is by looking at your engagement and reach. 

Use 1-2 hashtags to connect with other people who are interested in the same topics you're Tweeting about. 

Chime in by Quote Tweeting or Retweeting relevant conversations. While grinding away at rank, consider the different ways you can potentially present yourself to your audience. Whether it's posting a highlight reel for everyone to see, replying to a fan, using Polls, or discussing the current meta, it's important to strengthen your personal brand by engaging with your community in various ways. When you interact directly with other players or people interested in gaming, you're building community and narrative.
You never know what players, analysts, fans, shoutcasters, and teams might be seeing your content. This in turn helps build your personal brand and identity on the platform, enabling passive networking opportunities. Additionally, as esports players, your social media presence allows shoutcasters and esports leagues the ability to hype you up. They often do this by including you in promotional content, narrative building for matches/playoffs, and fun league content. Be sure to start getting out there! Behavior, reputation, and security
When maintaining your public persona, it's crucial to keep in mind that your posts may last forever (even if deleted). Always think twice about the impact your Tweet will have within your audience and outside of it and the implications for yourself and your organization.
Represent your team and yourself the best way possible. Encourage positivity and change in the gaming community. 
Worried about impulse Tweeting? Twitter Blue has you covered with a 60-second recovery window to send your spicy Tweet back into drafts.

Make sure you're also protecting your own peace of mind by muting or blocking accounts that you feel are not adding to the conversation in a productive or positive way. Always remember that you don't need to engage with haters.

Two-factor authentication is an extra layer of security for your Twitter account. Instead of only entering a password to log in, you'll also enter a code or use a security key. This additional step helps make sure that you, and only you, can access your account. You'll have the option to enable 2FA via text, authentication app, and/or security key. Lastly, if you ever need to reset your password, you can do so in the same security options.
Spending time on voice comms? Might as well talk to your audience through Twitter Spaces, which allows you to connect with your mutuals and new faces through voice communication. Limit-test with Spaces to host watch parties, discuss important matches and esports news, talk about in-game patch notes, or casually connect with your broader audience. Your creative imagination is the only limit in Spaces.

Geoff Keighley, host and creator of Summer Game Fest / The Game Awards, took to his audience to answer questions, discuss, and hear ideas about this summer's shop. This is a prime example of the type of engagement and conversation you can have live on Twitter.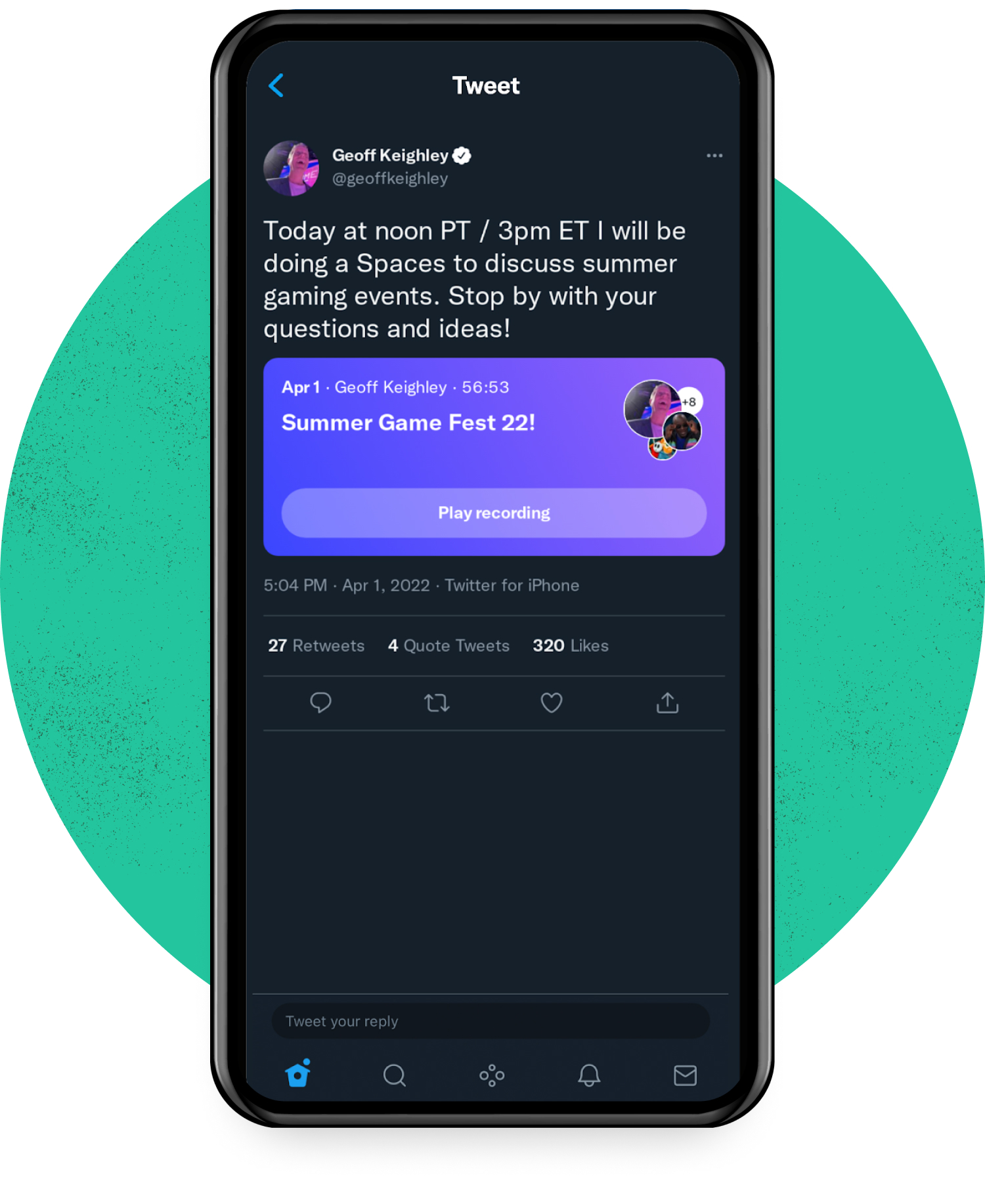 Once you've built up a loyal and dedicated fan base, consider elevating their experience (and your cash flow) to the next level with Super Follows. You can offer exclusive content to people who are interested in diving deeper and engaging with you even more. Super Follows can also help you distinguish who your top followers are and allow you to pay closer attention to the conversations they're starting with you. In addition, you're able to send out Tweets only for them, making them feel rarer than a lucrative in-game skin or cosmetic. 
Your Super Followers might enjoy participating in Polls, hearing from you in an AMA-style format, watching exclusive video of game play, or getting your behind-the-scenes, expert tips. 
You're already a professional game player, so take these tips and get top Twitter scores with your followers and fans.