What to Tweet about this fall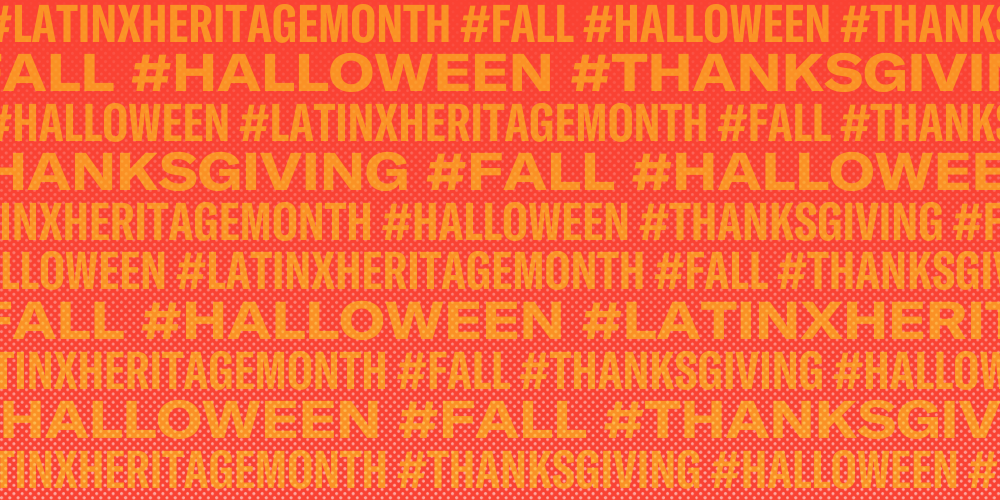 Summer's over, Christmas is coming (too soon?) and people on Twitter are talking about fall. And they're excited. In fact, there's been a huge increase in "can't wait for fall" Tweets across the US (+112% in July 2021 vs. June 2021).1
So how can your business join the conversation on Twitter?
Here are some ideas on how you can tap into the season and upcoming commerce periods and holidays such as Halloween and Thanksgiving.
@GabriellaCKelly shares her perspective on  pumpkin season. 
Autumnal colors and photos
Fall is a beautiful season with a small palette of bold colors. If you don't want to cover your profile in gourds, pumpkins, and leaf photos, consider jewel tones: ruby red, jade, plum, orange, and golden yellow. 
Seek out these colors in your photos or add them in by using festive emojis such as pumpkins or autumnal leaves. Doing this intentionally over the next few months will add a level of festivity and consistency to your content.
Lifestyle brand @carmicco shares an autumn inspired launch
@BreweryOmmegang Tweets one of their beers with an unmistakably Fall inspired leafy background
Cosy Tweets to embrace fall weather
Don't you love that first crisp morning, when summer's heat finally turns to chill? People Tweet about their own rituals around seasonality. 
They switch from iced coffee to warm cider, mourn shorts, and tank tops, rejoice in sweater weather and get very excited about pumpkin/apple/cinnamon flavoring. Do you have products that help people organize, stay warm and cosy, or better enjoy the outdoors from inside? Highlight them! 
As days get shorter, the frost moves in and outside activity will become more restricted. Do you sell something that makes people's homes brighter, more comfortable, or efficient? Now's your time to showcase that. 
Independent book store @booksmithtweets uses a Twitter Poll to encourage fall conversation
@Resers Tweets their favorite Fall meal suggestion 
Halloween and spooky season
Even if trick or treating isn't as widespread or in-person as it usually is, people will still be dressing up at home this spooky season.
And they come to Twitter to discuss ideas and start planning. If your brand has Halloween inspired clothes or decorations for customers to get spooktacular, then use Twitter to show them off. For lots of Halloween Tweet inspiration check out our blog on the top hashtags and keywords to use for Halloween.
Fitness label @TikibooFitness shares a link to their limited edition Halloween print
@MakeupRVLTN asks a Halloween-themed question to generate some fun conversation and engagement
Hispanic heritage month 
15 September to 15 October marks #LatinxHeritageMonth — a time to honor, educate, and recognize the rich cultures across Latinx communities. Use this opportunity to share diverse stories and voices from the Latinx community. 
If you're a bookshop why not share some books you have in stock by Latinx authors, if you're a restaurant or grocery store that supports Latinx producers, why not Tweet their products, or if you're having a celebratory Latinx event make sure to Tweet about that too. 
Pro tip: Whatever you Tweet make sure to use the #LatinxHeritageMonth hashtag to help increase the Tweets discoverability.
@SecondStarBooks shares children's books by their favorite Latinx authors
Thanksgiving on Twitter
Turkey, stuffing, cranberry sauce, pumpkin pie, green bean casserole — you get the idea. Thanksgiving has a more specific (and extensive) menu than any other American holiday. 
People may not be able to gather in person to the same degree as previous years, so they'll be turning to Twitter even more than normal for a sense of celebration and community.
Most of the day is spent waiting for the big meal, so people have a lot of appetite for content about meal planning, food prepping, table setting, cooking progress, and, finally, sitting down to eat.
@DoTellABelle shares thanksgiving food inspiration
Schedule Tweets of you gushing about your favorite sides or Tweet pictures of a beautifully set table. Or share your favorite nap playlist, once the meal is over and your followers have loosened their pants' top button. 
Need more Tweet ideas for marketing through the holidays? Take a look at our Twitter Business blog for lots more holiday resources.
 1Source: Twitter Internal Data. Comparing Tweets from June 1st, 2021 - June 30th, 2021 to July 1st, 2021 - July 31st, 2021. US Only.
Ready to advertise on Twitter?