5 ways you can use TV and film to connect with followers this Christmas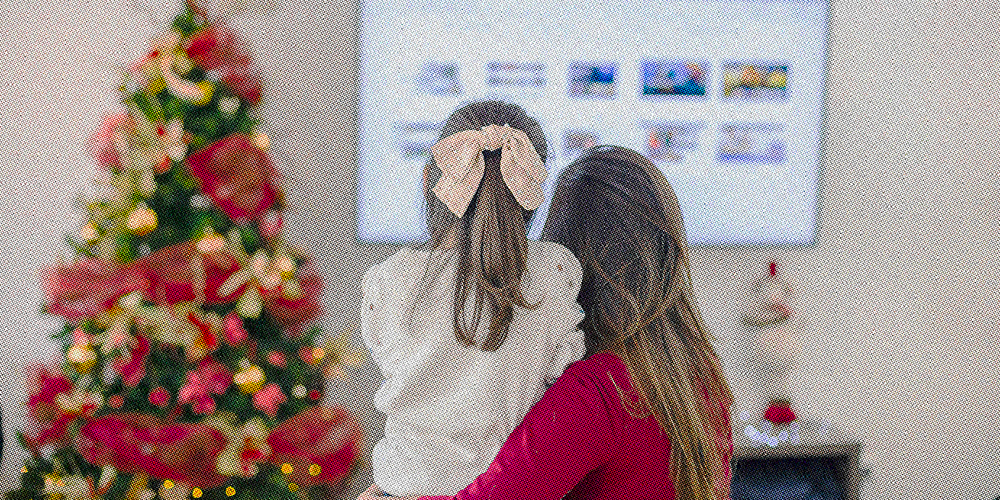 This festive season, people on Twitter are having different conversations compared to last Christmas. People are excited to Tweet more about shopping, travel, food, sport, TV, and movies. So much so, there's been a 525% year-on-year increase in Tweets about TV and movies this year.1
So how do you connect with the people watching and Tweeting about their favourite Christmas TV shows and movies?
We've got some tips, best practices and examples below.
Run polls, quizzes, and contests
Polls, quizzes, and contests are an easy way to spark conversations and learn about the types of movies and shows your followers love. Not only do they give you brilliant insights into your audience, but they're also a great way to encourage your community to come together and chat.

The Derek Duvall Show (@derekduvallshow) uses a Twitter poll to ask followers about an age-old Christmas debate.
You can also pose open-ended questions to your followers to kick off a conversation about Christmas movies and TV.

Share immersive experiences
Think of creative ways to immerse your followers in their favourite movies and shows, by bringing them to life. For example, it could be videos on how to recreate the looks of your followers' favourite TV stars or recipes for foods shown on TV.
@PAUL_UK hosted a bake-along for Bread Week on the Great British Bake Off.
Grow anticipation
Build anticipation by sharing regular updates on when movies and shows are being released. Twitter data shows as many as 59% of people watch TV as a family on Christmas Day, so your audience is already receptive to hearing about Christmas TV scheduling and updates. Why not give them a reason to engage with your brand by getting involved in the conversation and excitement?
@TKMaxx_IE taps into the holiday shopping spirit and the Irish Late Late Toy Show, encouraging their followers to start Christmas shopping.
Host a Twitter watch party or live Tweet during a show
People are looking to be entertained, but they're also looking to connect with others. Consider hosting a 'Twitter watch' party, where you and your followers enjoy and live Tweet a show or movie together. This is a great way to help people feel like they're together, even though they're apart.
You can also Tweet in real-time about the shows and movies being shown during the Christmas season. As many as 39% of people like seeing what others are saying and enjoy joining in conversations about television and movies while they're watching them, according to Twitter data.3

Keep an eye on the Explore tab for trending hashtags related to Christmas specials and movies, and use these in your Tweets.
@RenshawBaking live Tweets fun, engaging questions to their audience during the weekly #GBBO episodes.
Have some fun
With 46% of people using Twitter on Christmas Day to read amusing Tweets about Christmas4, you can definitely afford to loosen the reins (get it?), and have some fun when it comes to Tweeting about Christmas TV shows and movies.
For more tips on how to reach Twitter's receptive, leaned-in audience when they're feeling festive, take a look at Twitter's Christmas Hub.
1. Source: Twitter Internal Data (Semantic Core). Comparing Holiday-related Tweets from Jan 1st, 2020 - Aug 1st, 2020 to Jan 1st, 2021 - Aug 1st, 2021. UK Only. Excluding RTs.
2. Source: Twitter Insiders UK |
Q) Do you do any of the following on Christmas Day? (Select all that apply)
Q) Are you planning to watch any of these films over the Christmas period? (Select all that apply) Base= 466
Q) What Christmas Specials are you planning to watch over the festive season? Base who watch Christmas specials= 222
3. Source: Twitter Insiders UK | Q) How much do you agree with the following statements about film and TV over Christmas... Base= 466
4. Source:Twitter Insiders UK | Q) What will you be doing on Twitter on Christmas Day? Base who use Twitter on Christmas Day = 225 & Twitter Insiders UK, October 2020.
Ready to advertise on Twitter?