How to use TV and film to connect with followers this Christmas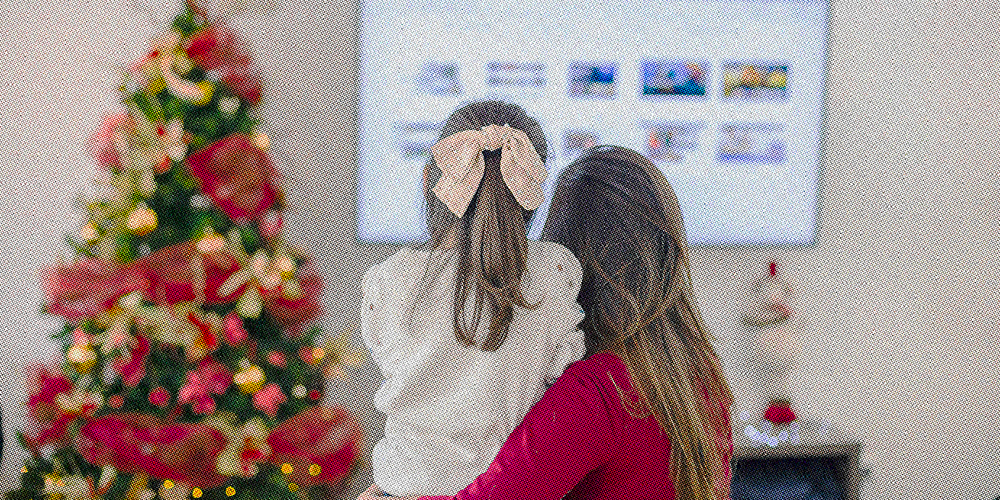 The festive season means darker evenings, more down time and lots of time to watch TV and movies. It's the perfect time of year for cozy movie nights, and people are tuning in to Twitter to join the festive TV and movie conversation. 
Here's how your brand can join the conversation, build cultural relevance, and connect with new and existing customers.
The perfect pairing: TV and Twitter
Twitter and TV are the perfect pairing, both during shows and during ad breaks — where people turn to their phones. Take sports and entertainment TV for example, commercial breaks see ratings drop but Twitter activity increases.1
On top of this, where traditional TV viewing may be dropping, it's the opposite on Twitter. In the UK there are 2.5 Tweets per second about TV2 and 53% agree Twitter enhances their live TV viewing experience.3 Comparing 2020 and 2021, video views around TV content on Twitter were also increasing +48%.4
In terms of TV versus streaming, people are increasingly moving to streaming, but scheduled TV, particularly sports and live events, make up the majority of conversation when looking at pure volume of Tweets. 
So how can you make the most of this as an advertiser, especially over the festive season?
@TKMaxx_IE taps into the holiday shopping spirit and the Irish Late Late Toy Show, encouraging their followers to start Christmas shopping.
The festive season 
Comparing Christmas Tweets from 1 Jan 2022-22 Aug 2022 to the same period 2021, there has been a +55% Movies & TV year-on-year conversation increase within Christmas related Tweets in the UK.5
And that's not even including peak viewing time, which falls around week two to three of December. This is when the conversation around Christmas movies really takes off.6
As you'd expect, the types of TV shows people watch depends on their interests and demographics. To reach the right people over the festive season consider your target audience and the types of TV and movies they may like to watch. 
You should also think about how your brand can align in a natural way, for example if your brand specializes in sweet treats, planning a campaign around the popular show 'The Great British Bake Off' could be a good fit. 
Online food store @JustIngredients Tweets a question game to connect with the Great British Bake Off show
Connecting with your target audience
Tuning in to Twitter over the festive season can be a cost efficient way to reach an engaged, targeted audience. For example you can use 'Movie & TV targeting' to reach people who Tweet about or engage with specific movies and/or TV shows. 
Twitter can also compliment TV advertising, especially taking into account that roughly 1 in 6 people on Twitter didn't see a Christmas ad on TV last year. The amount of people in the UK who haven't watched a Christmas ad on telly is also growing steadily – almost doubling in the past five years.7
Reach this potentially untapped audience by engaging with active conversations around TV and Christmas movies over the festive season. Twitter Amplify and Takeover are excellent ways to do this. 
Twitter Amplify
Amplify can help your brand build awareness and connect with always-on, brand-safe premium content across a range of categories that aligns with topics including festive TV and movies recommendations, New Year Celebrations, gift guides and World Cup holiday moments.

Based on U.S. Nielsen Brand Effect data, people who saw Amplify pre-roll ads on Twitter were 70% more likely to recall the brand's ad – versus those not exposed to Video Ads.8 Don't miss out on this opportunity over the holidays. 
Twitter Takeover
Takeover ensures your ad is placed where the conversations start on Twitter – the Explore tab  – and as the first ad that appears when people open their Twitter timeline for the first time on your chosen day. Speaking about the power of Takeover for their 2021 Christmas campaign, Ciana Gregan, Social Media Specialist at SuperValu Ireland stated:
"The use of Twitter Timeline Takeover and Trend Takeover was a first for the brand, and the results speak for themselves. This form of Twitter advertising amplified our campaign even further and helped us to reach millions of customers during the competitive Christmas season online."
The brand also live Tweeted during one of Ireland's biggest Christmas TV shows as part of their campaign. Their light-hearted, seasonal Tweets led to their #WeBelieve campaign hashtag trending on the night of the show.
@SuperValuIRL Tweet their Christmas commercial as part of their holiday campaign
Learn more about Twitter Takeover. 
Other ways to connect with TV and movie fans include asking topical questions, festive Twitter Polls, GIFs, contests, and immersive experiences such as short videos on how to recreate the looks of your followers' favorite TV stars or recipes for foods shown on TV.
Hot dog brand @NathansFranks recreates alludes to the Christmas movie Elf to connect with followers
Top tip: Keep an eye on the Explore tab for trending hashtags related to Christmas specials and movies, and use these in your Tweets.
The festive season, from Halloween all the way to Christmas and New Year, is the perfect time to join the cheer and connect with TV and movie fans on Twitter. If your brand is considering a large campaign, get in touch and one of our Twitter Ads specialists will be happy to help.
You can also check out the Twitter Holiday hub for more festive inspiration and access to our holiday webinars.
1. Source: Nielsen Custom Analysis, commissioned by Twitter, October 2021, USA Nielsen NPOWER (Live, Minute by Minute Ratings), Talkwalker Social Content Ratings, Persons 13+ , 1/5/2019 – 4/1/2021
2. Source: Twitter Internal Data (Semantic Core). Tweets from Jan, 1, 2021 - Dec 31, 2021. UK Only. Note that in August 2021 there was a change in how we tracked aggregate TV conversation which makes some of this data incomparable to previous years.
3. Source: Twitter & Kantar Cultural Relevance Research, UK, Dec 2021. n=285 (Daily Twitter users & TV watchers)
4. Source: Twitter Internal Data (Semantic Core). Comparing organic video views on Tweets from June, 1, 2020 - July 31, 2020 vs June 1, 2021 - July 31, 2021. US Only.
5.  Source: Twitter Internal Data. UK only. Comparing Christmas Tweets from 1 Jan 2022- 22 Aug 2022 vs 1 Jan 2021 - 22 Aug 2021. UK Only. Christmas Tweets are based on keywords such as 'Christmas,' "xmas,' '#Christmas,' etc. Excludes mentions of #partygate. Retrieved Aug 2022
6.  Source: Twitter internal, unique daily authors of 20 top Tweeted-about select Christmas movies, May 2022
Ready to advertise on Twitter?