The viral Tweet that helped save Chicago small business @mannysdeli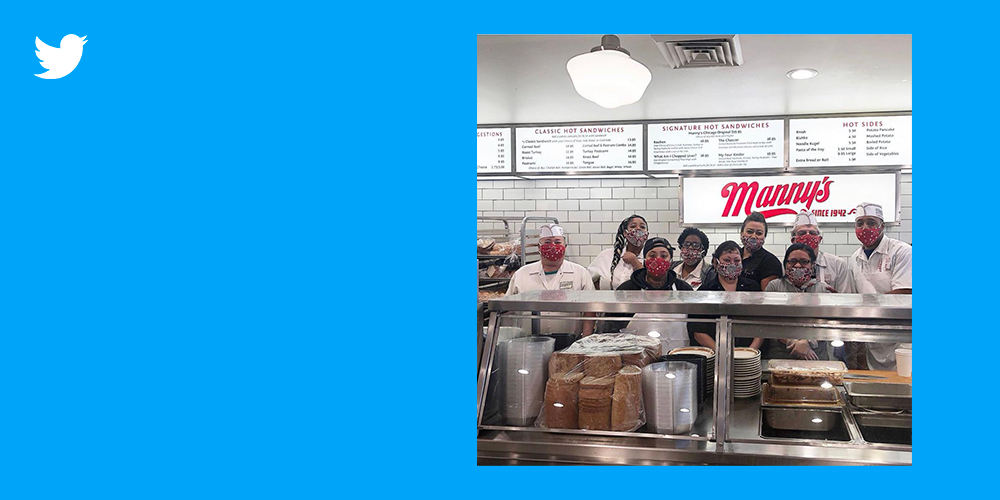 The power of Twitter is in its audience, and perhaps no one knows that better than Manny's Deli. As the beloved Chicago eatery began to feel the business impacts of COVID, they Tweeted a plea to their followers that yielded an incredible response. Read the interview with their social media agency, below, to hear the heartwarming story.
Tell us about yourself
My name is Scott Emalfarb and I'm the Founder and CEO of Fresh Content Society. I have 10+ years of social media management experience with a specialty in strategy, content, community management, influencer management, and paid media. 
I reside in Highland Park, IL with my wife Lindsay, two kids, dog Sully, and one baby on the way. I spend my free time playing softball, kayaking, and whatever my family is up to each day. 
Tell us about Manny's Deli
Manny's Deli is a Chicago staple. It's been around since 1942 and has been family owned and operated since its inception. Currently, Dan Raskin is leading the charge with his mom and dad. 
Manny's is known for their enormous and iconic sandwiches, but you can also find Jewish delicatessens like kishke, tongue, and perfect lox and bagel. 
What makes it special?
The workers at Manny's make Manny's special. There's always a familiar face. You have characters at Manny's that are pseudo-celebrities. If you mention the name Gino in Chicago, people will know that it is Gino from Manny's Deli. 

You walk in and the people over the counter make you feel like you're at home.
Tell us about @mannysdeli on Twitter
The @mannysdeli account was started in 2009, and my team has overseen their social media since 2015.
Traditionally we've used Twitter to listen for brand mentions, sentiment, source content, and push out more real-time messages. We also use Twitter to be more personable with our customers, whether that's through customer service or engaging with fans.
We've been community building since 2015 on the platform. Luckily we invested that time to establish a presence on the channel and to have a community of supporters before the pandemic hit. 
The current pandemic has challenged businesses everywhere. What were the challenges that led Manny's Deli to reach out on social media?
Manny's Deli is a high-volume restaurant. 300 seats. You go to lunch during the week at Manny's Deli and you're typically waiting in line outside the building. 
When the pandemic first hit, the restaurant was not allowed to have people inside so the business model had to shift quickly. Manny's implemented a few programs to adapt, including no-contact pickups and outdoor seating, but the challenge is how to maintain the volume when there's a pandemic happening. As most restaurants are experiencing, it's a struggle. 
Tell us about your now-viral Tweet. How did you get the idea? 
The idea stemmed from a conversation between Danny Raskin and myself. We do check-ins and discuss how the business is doing almost weekly, and for the first time he mentioned that things were not as great as they needed to be and that they would consider cutting hours. Knowing that the employees at Manny's were going to suffer, I felt it in my heart to ask for help.
The reason I posted it on Twitter is that we were getting decent traction on our posts and I didn't have an image to go with the message. I love posting on Twitter because you don't always need a visual to get your message out. 
Did you have any idea it would take off?
No. I've been doing this long enough that it's a unicorn when you go viral. Anyone that says they knew their Tweet was going to go viral is lying! No one knows –– it's like hitting a home run in baseball. You can take swings and swing hard, but you never know if it'll go over the fence. 
I knew it was taking off when people were texting and calling me asking what they can do to help Manny's out. I was shocked to see the outpouring support from Chicago. They truly had Manny's back and thank goodness for Twitter to get the message spread quickly. 
What were the results?
The Tweet made national headlines We also got coverage from what seemed like EVERY single Chicago media outlet and digital media outlet. The Tweet went much further than Twitter. It was amazing to see the catapult effect. 
We aggregated the data and these are the results: 
1,500% increase in sales
20 million media impressions (across all channels and media pickup)
500,000 engagements (across all channels and media pickup)
How can people at home, inside and outside of Chicago, continue to support Manny's Deli?
People can support Manny's by making it a priority to order and support Manny's during this time. They can eat in, eat outside, curbside pickup, delivery in Chicago, order merch from the website, or ship Manny's out of state.
Any final tips for small businesses? On or off Twitter?
On Twitter, be persistent, and be present. The brand personality can shine on this platform. Find your niche community and start engaging daily with different accounts that align with your business goals. Also, be a human when it comes to brand content. Authenticity is key. 
Ready to advertise on Twitter?